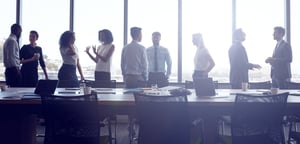 Establishing the right meeting rhythm with your executive team is key. Many executives spend the majority of their days in one meeting or another; when you consider their salaries and the many other demands on their time, you want to ensure you are doing everything possible to only have meetings that add value.
Many executive teams are in a rhythm of meeting weekly to update each other on the status of projects and priorities. While it is important to have clear communication and keep each other in the loop on these important topics, the time you spend with your executive team would be far more valuable if you replaced boring weekly status update meetings with weekly meetings that energize your team around solving problems before it is too late to hit your quarterly goals.
Weekly Problem Solving Meeting (Adjustment Meeting)
Your weekly problem solving meeting should be the most powerful problem solving meeting you have. Your team should be looking forward to working with each other to capture opportunities and helping each other get unstuck.
80% of your time should be spent on creating solutions, problem solving and making adjustments to your plan.
Recommended Agenda for a Weekly Problem Solving Meeting
1) Start with a round of good news
2) Discuss solution for KPIs that are off track
3) Discuss solutions for quarterly rocks, priorities and OKRs that are off track
4) Share your week sync note with the team. This is your person plan for the week and promotes organizational alignment
5) Review action items that are overdue or have the team stuck to come to a solution
6) Share client and employee feedback
Download the effective weekly meeting agenda.
Adjustment meetings are focused on the future and how the team can use their dashboards to have the right discussions to make necessary adjustments. Rather than individuals presenting updates, the whole team is contributing ideas and working together on solutions to achieve the company plan.
Status meetings only give a picture of what has already happened in the past that you can't change. The focus in a weekly status meeting is on one individual giving a presentation of results or progress.
Think about the time you could be spending solving problems if you upgraded your weekly team meetings to problem solving meetings to make adjustments to your plan.
Every quarter, you have 13 weekly meetings with your executive team
Most teams meet for 2 hours for their weekly meeting.
The average executive team member spends 26 hours each quarter in this one meeting.
If 70% of that time is updating status, they've spent 2 full work days on updates.
Weekly Status Meeting (Update Meeting)
Status meetings are boring and a waste of time. They just don't work. People come to them because they have to, not because they want to or find value in the time spent. They don't think it helps them get the real work done. That doesn't mean that you should spend some time updating the team, but only in the context of what they need to improve the metrics for the company and aligning the team.
An effective status meeting can only work if you also spend time thinking about how the current status affects the actions that you will take in the future to make the project a success. The meeting facilitator should make sure that we don't get too bogged down in the details of the status and put any necessary information into the meeting minutes. The team leader should make this sharing of information productive and focus on how these learnings can help the future of the project. The purpose of the meeting isn't project management, meetings are ineffective if they cover ONLY status during the meeting.
80% of your time is spent updating your colleagues on the status of your projects, rather than solving problems in your weekly meeting.
The infographic below is a comparison of Weekly Adjustment Meetings and Weekly Status Meetings.

Click here to download weekly status meeting vs weekly adjustment meeting infographic.

Additional Rhythm Systems Meeting Resources:
How To Have Effective Weekly Staff Meetings (With Sample Agenda Template)
Download our weekly meeting agenda
Are You Having Weekly Meetings with Yourself?
Supercharge Your Meetings with This Effective Weekly Meeting Agenda
8 Ways to Make Weekly Meetings Strategic vs. Tactical (Video)
Consider using Rhythm Software to run your weekly meeting, where the status and agenda are automatically created every week to keep you on track!
Editor's Note: This post was originally published on Dec. 12, 2014, and has been updated.
Photo credit: iStock by Getty Images
Photo Credit: iStock by Getty Images