In the fall, we had our first annual Breakthrough Conference in Charlotte, NC. The gods did not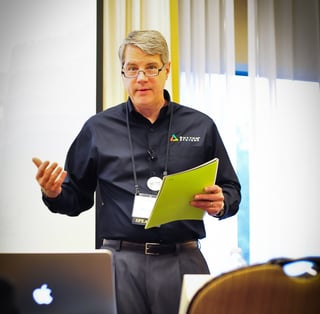 provide us with abundant sunshine for the event, although they did provide us with an abundance of breakthroughs for our customers!
The event consisted of two-keynote sessions from none other than our own Patrick Thean. Both were incredibly well received, and as one of our consultants said in our debrief session, I was not sure if I was a participant or part of the conference team, as I sat there in full learning mode.
We promised our attendees this would be a working conference, and working it was. We were constantly striving to foster breakthroughs for our attendees, and I spoke with so many people that experienced one.
I ran the session on "Winning Moves to 2X your Business." The goal of the session was to teach the process of determining Winning Moves, advancing them and how to execute them throughout the year.
Here are a few of the participant breakthroughs recorded from the session that you may find useful:
"The need to concentrate on Winning Moves"
"Plotting 'impact on revenue' and 'ability to execute' - assumption vs. real world"
"Think 3-5 years out to develop Winning Moves that will help you reach your BHAG"
"Importance of assumptions & importance of having multiple winning moves that add up to 2x the business in 3-5 yrs"
"Find a new winning move"
"Strategy is key to the overall plan and not just the quarterly plan"
"Understand the connection between Winning Moves and Key Thrusts"
"Criteria for selecting Winning Moves and the value of testing and validation"
"Hold Winning Move meetings on a regular basis and to commit to a 'Think' rhythm"
"Formal 'Do the Work' methodology"
"Difference between Key Thrusts and Winning Moves, AND how they complement one another"
There were a lot more breakthroughs that happened throughout the two days, but these are a few from the session I ran.
So, ask yourself if you have had any breakthroughs around your Winning Moves lately. Do any of those listed above spark your thinking or planning efforts? Here is a link to more resources on Winning Moves that may help you make a breakthrough.
Good luck, and please let me know how it goes.
Grow with purpose, Alan
Photo Credit: iStock by Getty Images