Patterns are an "easy button" for success. If you want to be good at something, look for the patterns from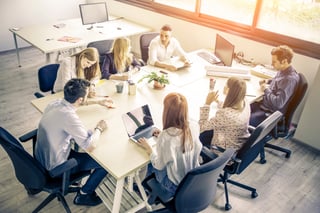 people who have already figured it out. Highly successful people are masters at identifying and using patterns to their advantage. Therefore, it was no surprise that a CEO, new to Rhythm, asked me: "What do other really successful Rhythm companies do differently?"
It's a powerful question. What do they do that we can do better?
Here are four patterns from highly-successful Rhythm companies:
Rhythm is who we are. Rhythm is the company's "operating system" and houses all of the strategic and execution plans for the organization. The CEO drives usage, models strong habits and is a power-user of the methodology and software tool.
Rhythm is what we do. Rhythm Certification is required and part of onboarding for new hires at a management level. Learning and using Rhythm is not negotiable (see above!) and everyone is expected to speak the same language when it comes to the methodology and the tool. Everyone in the organization completes Rhythm Fan Certification. All software users complete Rhythm User Certification.
Rhythm is how we manage. All managers use Rhythm to set clear expectations and drive alignment within their team. They use Job Scorecards with their direct reports. They plan cross functionally and have weekly meetings with their teams to make adjustments and hold people accountable. Managers complete Rhythm Group Leader Certification.
Rhythm is how we execute. All teams use Rhythm in Weekly Meetings and monthly meetings and make the shift from status to problem-solving. Weekly Meetings are where adjustments happen in order to keep quarterly plans on track. Teams use Rhythm in the meeting to record Action Items and guide the right discussions. Teams use Rhythm to collaborate across teams.
So, which of these patterns have you mastered? What's your plan to improve on those that could use work? Trust the patterns and watch your team take off!
Photo Credit: iStock by Getty Images
Photo Credit: iStock by Getty Images