At Rhythm Systems, some of our team works in the office, but most of us work remotely. As an office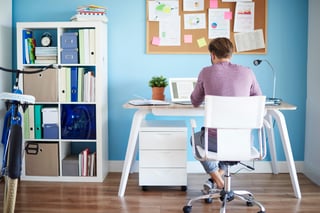 worker with the flexibility to work remotely on occasion, I can appreciate the challenge of both settings. In the office, you've got the drive by "Do you have a minute?" conversations and the typical water cooler chat that can be distractions, and at home, you've got the temptations of family members, pets, domestic work, and your favorite TV show on Netflix vying for your attention. So, which is better? As working from home (WFH) becomes more prevalent as we work to stop the spread of the Coronavirus (COVID-19) I thought it would be helpful to update this blog post this may be new to you, but it applies to all remote employees whether it is temporary or a more permanent situation.
One study cited in the Harvard Business Review found that "in comparison with the employees who came into the office, the at-home workers were not only happier and less likely to quit but also more productive." The company was a call center, and they found that "people working from home completed 13.5% more calls than the staff in the office did—meaning that Ctrip got almost an extra workday a week out of them." The remote workers also reported higher job satisfaction, and the company "estimated that it saved $1,900 per employee for the nine months." Those results are pretty impressive. And, while remote work is certainly not right for every person or every role, it can be a great solution for workers looking for more flexibility and companies looking to expand their talent pool.
Here are 5 Best Practices to Effectively Manage Remote Employees:
Choose your remote workers carefully. When hiring remote workers or considering who on your team may be able to work remotely, you have to consider more than just the requirements and skills for the job. You need to be sure to hire someone who is self-motivated, wants to work remotely, and has the skills to be successful; according to an article in Forbes, "to be effective at working remotely, employees must be proactive communicators who are adept at time management."
Hopefully, these tips will help you engage your remote employees and develop accountable leaders and teams. Please share any tips of your own in the comments below!
Want more information on Engaging Remote Employees that work from home?
Take Our Team Accountability Assessment to see how your team stacks up.
Engaging Remote Employees Through Culture
How to Engage Remote Employees
Managing Remote Employees: 5 Best Practices
A Better Way to Manage Team Performance
5 Steps to Having a Productive Virtual Monthly Meeting
Company Alignment: The CEO's Roadmap to Organizational Bliss
Photo Credit: iStock by Getty Images
Editor's note: This post was originally published Oct. 17, 2017, and has been updated.
Photo Credit: iStock by Getty Images