Did you know that $37 billion is lost every year to unproductive meetings? I will let that sink in for a minute.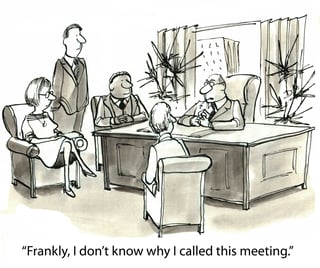 If you are wasting even a fraction of that, you need to de-suck your meetings and get productive! How do you know that your weekly meetings are time wasters instead of time savers?
Here are five reasons why meetings suck, and a couple of tips to de-suck them.
1. You spend your meeting going over Red KPIs, but no one is working to fix it.
You review your KPIs and the same KPIs show up red week after week. No one is working to resolve them. It's like a false alarm going off repeatedly, so people get used to it and just ignore it. Unfortunately, it is not a false alarm. Red KPIs don't fix themselves. Your red KPI tells you the house is burning, but it takes people to put the fire out. So, fix it. Your weekly meeting will become exciting if the team works together to come up with solutions and actions to solve problems
2. People on a virtual meeting are distracted and doing other things.
It's easy for people to be distracted when they are not in the room. If they work from home, they can be distracted by their dog, the laundry, or even the delivery man. If you feel like virtual participants are distracted, you will get distracted, too, and the meeting goes downhill from there. A virtual meeting is always challenging. Don't allow it to be even more challenging by having meetings while people are running through airports and getting distracted by animals. Try this instead. Get on video! Make sure that you use a platform that provides video conferencing, and gets everyone on video. Then, hold each other accountable to be focused during the meeting.
3. I can't wait to get out of the meetings to get real work done.
I hear this all the time. Don't kill the messenger. Solve the problem. The problem could be that the discussions are not inclusive of every team member, or we are just going over status after status, and team members don't find this helpful towards getting their work done. Instead, provide status to priorities and KPIs ahead of time, and come prepared to solve problems that need the wisdom of the entire team. Look, it's a very expensive meeting. Your whole team is burning a couple of hours. Let's shift and get real work done together. Don't waste your time doing something that could have been done outside this meeting. Do you want a status? Get your team to provide it and read it before the meeting. Don't try and cover everything. Instead, shift to solve one big thing together.
4. The meeting is disorganized and needs a facilitator.
Get organized with a tight agenda and a facilitator. Make sure people know the agenda ahead of time. If data needs to be collected to solve a problem, do that ahead of time. Then have a facilitator help ensure equal participation during discussions. You don't want the smartest guy in the room to dominate a discussion. Instead, you want to harness the brains of everyone in the room. And make sure your facilitator knows how to facilitate meetings and discussions.
5. Death by status updates...
This is a trap that most people fall into. In fact, most people refer to this as their weekly status meeting. I hate to break it to you, but hearing statuses on everyone's priorities and KPIs is really boring. And if I don't know how to contribute to my teammates' priorities and KPIs, we just 10x-ed my boredom. Enough with the updates already! Use a dashboard system to provide status ahead of time. Every team member should review statuses and come prepared to work on solving a problem, making an adjustment so that an initiative that is stuck can get unstuck. And if you don't have a good dashboard, check out ours. Our Rhythm software provides dashboards for priorities and KPIs that are aligned to executing the company's strategies. It's really cool - check it out.
What are your meetings like? Are you plagued by any of the above reasons? If you are, don't feel bad, you are in great company. Try a couple of these tips and let me know if they work for you. Love to hear from you.
Additional Rhythm Systems Meeting Resources:
How To Have Effective Weekly Staff Meetings (With Sample Agenda Template)
Download our weekly meeting agenda
Are You Having Weekly Meetings with Yourself?
Supercharge Your Meetings with This Effective Weekly Meeting Agenda
Weekly Adjustment Meetings vs. Weekly Status Meetings (Infographic)
Consider using Rhythm Software to run your weekly meeting, where the status and agenda are automatically created every week to keep you on track!
Photo Credit: iStock by Getty Images