If you are like many of our clients, you may be considering adjusting travel plans for your team in the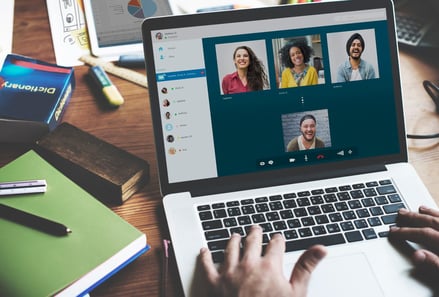 midst of the concern surrounding COVID-19. This will obviously have a big impact on most businesses, which makes it more important than ever to prioritize your team's quarterly planning session. You'll need to spend time thinking about the impacts to your team and your business, so even if you are canceling travel, don't cancel your session.
Here are some tips for having your next quarterly planning session if some (or all) of you team members have to join remotely:
Use video. Even if some of you are in the same room, have everyone join the virtual meeting with a webcam turned on. This will keep you all more engaged throughout the meeting and make it less tempting to multitask.
Rethink your agenda. Don't just push through the agenda as planned. Give the session more thought, and adjust the agenda to maximize the time and effectiveness of your team. You might decide to spend more time on the discussions portion of the day to work through opportunities and threats related to COVID-19 and less time on another agenda item that's not as pressing (maybe you finish that Core Customer discussion next quarter, for example). If the thought of doing two straight days virtually is just too daunting, can you break your meeting up over the course of the week? Maybe plan multiple 2-3 hour blocks for virtual planning instead of two straight days to break it up.
Take more frequent breaks. In an in person meeting, it's easier to look away from the screens, stand up when you need to, take a quick coffee or bio break. Your remote participants need more structured breaks. If you need to, remind everyone to stand up, do some stretching, and walk around a little every couple of hours at least.
Start with virtual participants. If you are going around the room round-robin style to share something as a group, always start with the virtual participants first. This ensures they aren't forgotten and feel included and tuned in to the meeting.
Consider the visuals. If you have people joining remotely, do not rely on white boards and flip chart sheets. The virtual participants cannot see them and will be frustrated and distracted. Use online collaboration tools instead, like Google Docs or Rhythm software, where everyone can see, follow along, and add their input.
Read the room. The facilitator should keep an eye on the virtual folks as well as the people in the room - are people checking out, glancing at emails, getting antsy? Be aware of when you may need to call everyone back to attention, take a break, or mix up the format of the discussion. If you have two days, be sure to get feedback at the end of day 1 so you can make adjustments for day 2.
Mix up the format. To keep the team engaged, try some different formats. For example, maybe you can break the team up into smaller sub-teams of 2-4 people for some of the exercises (like writing Red-Yellow-Green on Priorities or voting on top Start, Stop, Keep ideas for the quarter). Some virtual meeting tools, like Zoom, offer "Breakout Rooms" where you can divide virtual participants into smaller groups. For the portion of the meeting where the team is working on individual Priorities and Red-Yellow-Green, ask everyone to physically get up and move to a different location to do this individual work. Maybe even ask them to print a paper tool and go outside to fill it out.
If facilitating a remote planning session seems daunting, let us help you! Our expert facilitators can lead virtual sessions as well as in-person planning to help your team navigate success in these times.
5 Best Practices to Manage Remote Employees
How to Engage Remote Employees
5 Steps to Having a Productive Virtual Monthly Meeting
The Anatomy of a Great Quarterly Plan (Infographic)
Rhythm Systems Quarterly Planning Resource Center
Photo Credit: iStock by Getty Images