Many of our Annual Planning tools get used, well, annually. So, it seems a good time to pull them from the shelf and dust them off in preparation for a great year. Many executive teams I work with have heard of SWOT but aren't that familiar with how to leverage it for their business plan. Perhaps in the definition of SWOT lies the very reason that it has become just another exercise.
SWOT is a tool that identifies the strengths, weaknesses, opportunities and threats of an organization. SWOT is a simple to use, straightforward model that guides you to assess what your organization can, and cannot, do well and identifies potential opportunities and threats that exist in your environment. SWOT may be used to:
•Complete an objective analysis of your company or team
•Identify sources of competitive advantage and potential liabilities
•Evaluate investment worthiness of new projects, initiatives, or acquisitions
A SWOT is more than just a 2x2 matrix as shown in the graphic. It is a tool to leverage the thinking and energy of more than one person for collaboration, which is one reason we built it directly into the dashboard of Rhythm® software. And, collaboration is one of the keys to establishing a healthy communication rhythm in your company.
The birth of SWOT analysis came from the research conducted at Stanford Research Institute from 1960-1970. The development of SWOT stemmed from the need to find out why corporate planning failed. It was research funded by several Fortune 500 companies to discover the elusive elixir to cure this planning failure. So, it all began with good intent, considerable effort, and the worthy objective of effective planning.
Even so, there began to be unanimous opinion in these sponsoring companies that corporate planning was not working, did not offer ROI, and was too expensive. Before discovering the principles outlined in Execute Without Drama, Mastering the Rockefeller Habits, and Rhythm®, you may have felt the same way.
The SWOT development work included a questionnaire completed by over 5,000 executives. I won't overwhelm you with the details but will draw a direct link between the conclusion from the questionnaire and your company. Here it is: The CEO should be the chief planner, and the executive or senior team should be the senior planning team.
An additional conclusion from this effort was that any business was divided into (essentially) two parts: your core business and your development or learning business. Dr. Peter Senge, in The Fifth Discipline, described a learning organization as " …a place where people continually expand their capacity to create results they truly desire, where new and expensive patterns of thinking are nurtured, where collective aspiration is set free and where people are continually learning how to learn."
It may help you to understand the expected output of a SWOT tool so your efforts may be maximized – and, so you can avoid using it only as an exercise. The outcome we wish is to categorize the positive and negative influence of internal and external forces, thus creating four categories:
Internal forces (we have control)
1.

Strengths

(positive: to capitalize on).
Something that you do very well that competitors may find hard to duplicate: volume, brand recognition, skilled/trained workforce, intellectual property, etc. You should attempt to gain fast traction with skills, resources, and knowledge already in place.
2. Weakness (negative: to mitigate).
Areas that are holding you back, that with the right energy and effort could possibly be improved: negative brand recognition, expiring intellectual property, unskilled workforce, lack of resources, etc. You should be aware of your weaknesses and make improvements where you can.
External (we do not have control)
3. Opportunities (positive: potential areas to invest in).
These could include new technology, relaxing regulations, elimination of trade barriers, changing consumer preferences, etc. Spend money wisely on the largest potential opportunities based on your 3-5 year and annual plan.
4. Threats (negative: to shore up against).
Emergence of new competitors (for example WalMart who took over grocery sales in just a few years), pending regulations, increased trade barriers, pending lawsuits, new technology, etc. It's important to identify these so you can accept, mitigate, or insure against.
Let's look at how to conduct a SWOT analysis in a way that is not just an exercise. First collect data to populate the SWOT. You need insights from employees and from customers.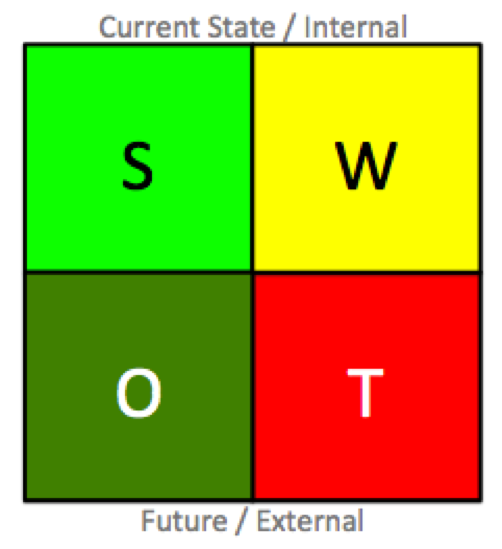 Working on the internal forces (top row of the graphic), this could include capabilities (resources, money, brand, assets, etc.), as well as processes (communication, AP, AR, manufacturing, purchasing, etc.).
In the bottom row of the graphic, you will identify external forces. This is secondary data that informs us about the business environment in which we operate. Examples include regulation, mortgage rates, interest rates, industry data, competitive data, plus some first-hand data from customers or employees that might be an opportunity or a threat.
One approach for evaluating your ideas and efforts in the 2x2 matrix is threefold:
1) Match strengths to opportunities – allowing you to identify any overlooked synergy.
2) Compare strengths to weaknesses looking for offsets.
3) Align weaknesses to threats for the most likely "gotchas."
Just thinking through your business to this point in your analysis will make your team smarter than most of your competition.
Next, you can supercharge your effort by creating a list of revenue generating growth ideas to vote on as a team. This allows CEOs and executive teams the opportunity to put their limited energy and resources toward your best growth opportunities, based on your internal strengths and weaknesses and the external environment you are operating in. These revenue generating growth ideas could become your Winning Moves. We have a patented tool built in to Rhythm® software that makes this easy for clients. If you aren't a Rhythm user, you can download our Winning Moves tool.
Finally, to answer the question I often hear, "why do this every year or consider revisiting each quarter?" The simple answer is because things change. By focusing on the top 3-5 company initiatives combined with your SWOT analysis, your team will enjoy challenge and victory … and are less likely to be blindsided. This will be the encouragement to continue the discipline of thinking on your business.
I look forward to hearing your thoughts and examples of SWOT in the comment section below.
Send in your SWOT team for success!