With the launch of the Rhythm book, new breakthrough software features and 8 new hires, 2014 was a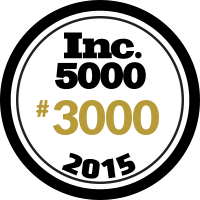 big year for us. Obviously, I was excited to hear that Rhythm Systems was listed as #3000 on the Inc. 5000 list. (#3000, crazy number right?) But, after reading through the list, I was even more excited to see the number of our clients who also made the list.
Our company purpose is to change the world, one entrepreneur at a time, by helping them achieve their dreams and goals. It's wonderful to see our clients succeeding.
Congratulations to all!
Inc. 5000
Inc. 5000 Europe
Veeam Software (#2548)
Want to execute like these fast growing companies? We can help ~ Contact us!