As many of our clients find themselves leading remote teams of people who are working from home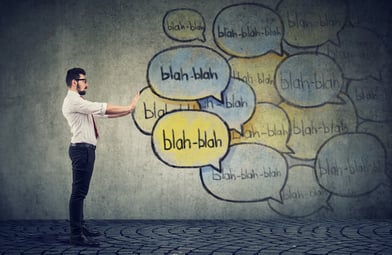 for the first time or spreading out shifts so that they can better practice social distancing, the Daily Huddle is making a big come back. Even for teams who previously did not find value in the practice are adopting the daily sync-up as a necessary way to stay connected and aligned in this rapidly changing environment.
If you've been doing huddles for years, or even if it is a new habit over the last several weeks, now is a good time to evaluate how well your Daily Huddle is serving your team. I recommend starting the process of evaluating your huddle by writing an objective statement. What are you trying to accomplish with the huddle? Once you are clear on the purpose, you can better answer the question of whether your current practice is satisfying your goals.

Here's an example of an objective statement for a Daily Huddle:
To: Sync up with my direct reports every morning
In a way that:
Provides a connection point for the team
Allows us to understand what everyone is focused on for the day
Gives insight into the team's health and productivity
Takes less than thirty minutes
So that: we are aligned and focused on the right things to help our business succeed
Your objectives for the Daily Huddle may be different—just be sure you clearly articulate why you are doing this, what value you want to see from the time spent in this meeting.
Now that you are clear on the purpose of the meeting, think about what you are doing. Here are some things to think about:
Does the time of day work for maximizing the team's productivity? Should it be first thing in the morning, right after lunch or before the end of a shift? If you have people in different time zones, consider this in your decision-making. Also, think about whether there's a time of day that most of your team is engaged with customers or prospects, and try not to have the Daily Huddle at a time that will disrupt important work.
Do you have the right facilitator for your huddle? Your facilitator should help keep the meeting on track, feel comfortable cutting off conversations that are better handled offline and be responsible for starting and ending the meeting on time.
Do you have the right group of people in your huddle? If including all of your team members means having a huddle with 30 people in it, that will probably not be an effective use of time. That's too many people to have a meaningful Daily Huddle. Consider splitting into smaller groups and having a huddle every other day, or maybe have everyone submit their huddle responses in writing and come to the huddle only to share a stuck.
Do you have the right agenda for your Daily Huddle? If your agenda doesn't help you accomplish your objectives from your objective statement, mix it up. If team health is important to you, consider making it a topic in your agenda to start with a health check from each person. If you need to better understand a key metric for your business, include a report out on that number from each person. Be sure to keep the agenda tight - no more than 2-3 things per person to share.
Is your huddle getting stale? If you have the right time of day, the right facilitator, the right team, and the right agenda but you still aren't accomplishing your goals, you may need to try something different. Sometimes the team just gets burnt out on the same thing every day. Some of our clients are asking a different question to start the huddle each day. You might try a different format. If you're doing huddles over the phone, try Zoom or other video conferencing apps where you can see everyone's face. If you are already using video, have a contest for the best virtual background to make it more fun. If you are finding that people aren't showing up consistently, incentivize them with a participation trophy or small prize. Get creative.
Begin with the purpose, consider these questions, and try out some new ideas to give your Daily Huddle a makeover. If you have some creative suggestions for keeping the team aligned and engaged, feel free to drop them in the comments. Thanks!
Want to learn more about Daily Huddle Meetings? Check out these additional resources:
Implement the Rockefeller Habits with Software
Daily Huddle: The Most Valuable 10 Minutes of Your Day
The Art of the Daily Huddle: Cascading Huddles
How to Keep Daily Huddles Useful (Infographic)
Photo Credit: iStock by Getty Images