Recently while attending a trade show, I watched my young junior sales rep presenting our execution platform to a group of prospects. His style and deliver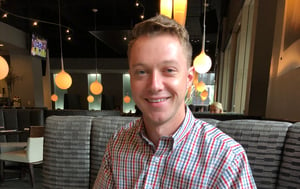 y had attracted a crowd. His small booth was full. People were looking over others' shoulders and blocking the aisle to see him.

Jarret was doing what he's done since the day I hired him, giving an enthusiastic presentation. He is new to business, not enough years of experience to be outbound and admittedly, he has much to learn.

When he is in front of a prospect, it is show time; he transfers every wealth of knowledge he has. While out one night at a conference, Jarret was granted the opportunity to meet Ken Courtright of Income Store. While at his company meeting, Ken announced what had actually happened that night at the bar. Ken told his team "Jarret from Rhythm flipped the game on me. He asked me something so profound: Are all of your divisions profitable? I responded, 'Yes I believe so,' and Jarret asked me how I knew. I told him that I guess I didn't really know, and he informed me that we needed his software. He leaves in mid-conversation and comes back with the Rhythm book. After months of staring at the book sitting on my shelf, I decided to see what it was...after the first few chapters, I said Ok, let's do this thing."

My young rep combines two skills: He knows his platform and the reasoning beyond the methodology, and he matches that with his strong business inquiry. His second skill is talking about his products with unrestrained enthusiasm. Prospects walk away feeling they have seen the ultimate solution.

I remember one occasion when Jarret stood in front of a key decision-maker. The equipment was dead and could not even be turned on. Jarret took charge, giving a stand-up presentation that identified their needs, discussed how they would be met by the execution platform, referenced other clients that had solved similar problems, and explained how the system would work for them. He did this with such enthusiasm and conviction that the technology company left happy that they had found the strategy tool, and wanted to team up on their critical project.

Does enthusiasm help selling? Seeing Jarret will remind you how important it is and how it's almost disappeared from many sales reps' skill sets.

Where has all the enthusiasm gone? Has our work environment become such a pressure cooker that we've stripped it of excitement? Are our goals so difficult to achieve that we have no room to overachieve? Have prospects become so analytical in decision making that nothing but price matters?

As our products age, we lose a little excitement with each demonstration. Losing sales also mellows our enthusiasm. If we are not enthusiastic about our products when we show them to customers, how do we expect clients to get enthusiastic enough to buy them?

Is enthusiasm an important part of your business? It might be a good time for a checkup. Start by looking at simple things in your office—begin at the front door. Have customers ever complimented your initial customer experience?

How do reps feel about their company, their positions? Do they take pride in the company's history and brand promise? Do they feel good about their contributions to the company strategy? Do employees stay after work simply to discuss performance, offer new ideas, share viewpoints, or do they only stay when they are late on deadlines? How do your sales reps present your products? Are they excited to get up and speak about them? Are they proud of their sales successes? Do they go out of their way to talk about happy users?

As a leader, it's important for you to be enthusiastic: Your example will influence the entire staff. Share your enthusiasm with every employee. Make it fashionable to be enthusiastic in the office.
Check your performance goals—are they realistic or impossible to achieve? If they are too difficult, lower them. Allow your employees to hit SuperGreen - overachieve. They will feel better and increase the enthusiasm they take to all new prospects. Show all positive results, such as sales activities, top performers, and improved customer response. Present plaques and awards. They're small investments that return dividends in increased effort, more attention to detail and a wish to be recognized again.

Enthusiasm belongs in our business. It makes the long hours, travel and competitive environment fun. I almost forgot how important it is — don't take my word for it, call Jarret to see for yourself.
Want to learn more about increasing sales? Check out these additional resources:
10 Examples of Key Performance Indicators that Drive Sales
5 Steps to Build a World-Class Sales Organization
Learn How to use KPIs to Drive Sales [Video]
3 Action Steps from Jack Daly to Increase Sales
Setting Your Sales Team Up for Success
Photo Credit: Patrick Thean
Photo Credit: iStock by Getty Images