You can make an argument that your company's annual planning meeting is the most important thing you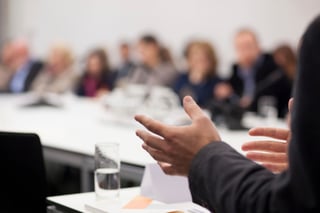 do all year. It is where you have your entire leadership team discusses all of the key issues facing your company and industry. Each of your quarterly execution plans will anchor off of the decisions you make during the yearly planning meeting, and those quarterly plans are what drive the focus of your team's weekly and daily execution. Plus, your Annual Plan has to move your company's long-term strategic goals forward and be aligned to your core foundational strategy. Not to mention that you usually have your company's most expensive leadership team in the room for one or two days - the cost is high and there's a lot riding on this important business planning meeting. Don't worry, we have over a dozen years of experience in strategic planning meetings, and we can help get you on the right track. Do you need to plan for a potential 2023 recession?
No pressure, right? To make sure that you have an effective strategic planning session make sure that you state the purpose of the meeting to team members several weeks prior to the annual planning meeting so that they can prepare for the meeting and bring up any agenda items they want to discuss. (Bonus Tip - Don't forget to book the conference room and announce the meeting time!) Don't worry we have perfected the strategic planning process needed while building over a hundred thousand plans for our customers over the last two decades, and helping them achieve their goals with Rhythm Strategic Planning Software.
The key to having a great yearly planning meeting is to being prepared, determine the right annual planning meeting agenda, and follow a process to ensure that you get the maximum value out of the investment you're making in annual planning. Successful meetings require that everyone come prepared as being prepared will save you time when working with your team in the session itself and allow you to focus on the important agenda items. Our consultants have worked with hundreds of companies over the last decade to help them write annual plans that inspire and align the entire company around the main focus and a few key initiatives for the year. Let me share a few of the patterns we've learned for conducting an effective Annual Planning meeting and make it productive for everyone to attend the meeting. An effective meeting agenda will have all of the meeting participants on the same page prior to setting foot in the room.
Your Annual Planning Meeting Agenda has 2 Main Parts:
Annual Planning Part 1: Long Term Strategic Planning Session

Annual Planning Part 2: Quarterly Execution Planning Session
When you design your annual planning agenda, be sure to include time to review and refine your core strategy. Not sure which elements of your core strategy need work? If you are a Rhythm client, your consultant can diagnose which elements need attention now based on the opportunities or challenges you are currently facing. What are biggest challenges facing your company over the next year? What are the strengths and weaknesses of your company to meet those challenges? You may need to create some action items for team members to brainstorm on these issues or gather data to create an effective planning session. People should also come prepared to discuss what they need to do this year to work towards their 3-5 year strategic plan, you find out how to facilitate a strategic planning session in that popular blog article or see some 3 year strategic plan examples.
Spend time revisiting your 3-5 year financial targets and your Winning Moves, or revenue strategic initiatives to double your top line revenue over the next 3-5 years. You should be working on these strategies throughout the year, having discussions about whether your assumptions are panning out during your weekly or monthly strategy meeting. But, your annual planning session is a great time to revisit moves that are currently being executed and answer key questions, like "What adjustments do we need to make in our execution of this strategy? Is there a way to make it even more successful?" Or, "Is this really a losing move that we need to stop working on?" You should also be sure you have a few potential Winning Moves on your idea bench at all times. You may need to spend some time brainstorming potential new Winning Moves for the future.
After you've worked on your strategy, it's time to move to execution planning for the next year. If your strategy is the "what," then execution planning is the "how." For a complete Annual Plan, we recommend documenting a Main Focus for the year along with success criteria, Targets and Critical Numbers for the year, and 3-5 key Annual Initiatives with Red-Yellow-Green success criteria for all of you annual initiatives. Create a two day strategic planning agenda based on our annual planning meeting agenda template, or check out our virtual planning services to hire a professional to help you.
As you work on your main focus and key initiatives for the year, here are a few things to keep in mind:
If this sounds like a tall order, it certainly is. Many of our clients choose to bring in an outside facilitator to help with their annual planning meeting so that they can focus on participating with their team on the strategy and execution plan for the year. If you do decide to do it yourself, we have resources for our clients including slide decks, annual planning agendas, and pre-work in Rhythm University. Some small business leaders view this as an expense, however it is really an investment and a good idea that continues to provide return on investment throughout the year.
As a bonus, here are five tips to have the best annual planning meeting ever. You can read all of the tips with descriptions at Annual Planning: 9 Tips to Focus & Align Your Team With a Great Plan.
Tip 1: Begin with the end in mind.
Tip 2: Create a great annual planning session agenda. (Or use our annual planning agenda)
Tip 3: Come prepared with data and agenda items needed.
Tip 4: Use a facilitator to get maximum value from your team.
Tip 5: Set the right tone to be positive when speaking about challenges.
Tip 6: Be effective versus efficient.
Tip 7: Use a parking lot to keep the team on track.
Tip 8: Eat the baby elephants in the room before they become grown-ups - have the difficult conversations
Tip 9: Cut if off when the team is tired and pick it up later.
One more thing… one extra tip for CEOs. Spend more time listening than speaking. Be truly curious and use these effective listening strategies. Be the last one to provide input in the discussions. Effective meetings are run by great facilitators that allow everyone to contribute and create an agenda to include input from the cross-functional teams that need to execute the strategic initiatives.
Looking for more Annual Planning Meeting information to help get you started? Check out our additional resources:
Annual Planning: 9 Tips to Focus & Align Your Team with a Great Plan
Annual Planning Playbook: 5 Steps to Create a Winning Annual Plan
How CEOs Can Avoid High-Cost Mistakes in Annual Planning
Best Practices for Annual Planning
Rhythm Systems Annual Planning Resource Center
Photo Credit: iStock by Getty Images
Photo Credit: iStock by Getty Images