You can make an argument that your company's annual planning meeting is the most important thing you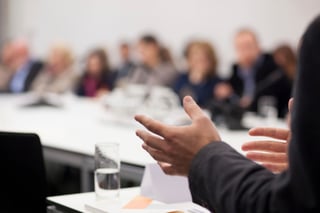 do all year. Each of your quarterly execution plans will anchor off of the decisions you make during this session, and those quarterly plans are what drive the focus of your team's weekly and daily execution. Plus, your Annual Plan has to move your company's long-term strategic goals forward and be aligned to your core foundational strategy. Not to mention that you usually have your company's most expensive executives in the room for one or two days - the cost is high and there's a lot riding on this one meeting.
No pressure, right?
The key to having a great yearly planning meeting is to being prepared, determine the right annual planning agenda, and follow a process to ensure that you get the maximum value out of the investment you're making in annual planning. Our consultants have worked with hundreds of companies over the last decade to help them write annual plans that inspire and align the entire company around a main focus and a few key initiatives for the year. Let me share a few of the patterns we've learned for conducting an effective Annual Planning meeting.
Your Annual Planning Meeting has 2 main parts:
Annual Planning Part 1: Strategic Thinking Session

Annual Planning Part 2: Execution Planning Session
When you design your annual planning agenda, be sure to include time to review and refine your core strategy. Not sure which elements of your core strategy need work? If you are a Rhythm client, your consultant can diagnose which elements need attention now based on the opportunities or challenges you are currently facing.
Spend time revisiting your 3-5 year financial targets and your Winning Moves, or revenue growth strategies to double your top line over the next 3-5 years. You should be working on these strategies throughout the year, having discussions about whether your assumptions are panning out during your weekly or monthly think rhythms. But, your annual planning session is a great time to revisit moves that are currently being executed and answer key questions, like "What adjustments do we need to make in our execution of this strategy? Is there a way to make it even more successful?" Or, "Is this really a losing move that we need to stop working on?" You should also be sure you have a few potential Winning Moves on your idea bench at all times. You may need to spend some time brainstorming potential new Winning Moves for the future.
After you've worked on your strategy, it's time to move to execution planning for the next year. If your strategy is the "what," then execution planning is the "how." For a complete Annual Plan, we recommend documenting a Main Focus for the year along with success criteria, Targets and Critical Numbers for the year, and 3-5 key Annual Initiatives with Red-Yellow-Green success criteria.
As you work on your main focus and key initiatives for the year, here are a few things to keep in mind:

If this sounds like a tall order, it certainly is. Many of our clients choose to bring in an outside facilitator to help with annual planning so that they can focus on participating with their team on the strategy and execution plan for the year. If you do decide to do it yourself, we have resources for our clients including slide decks, annual planning agendas, and pre-work in Rhythm University, and we have a free Complete Annual Planning guide that anyone can download and use to facilitate their own session.

Looking for more Annual Planning Meeting information to help get you started? Check out our additional resources:
Annual Planning: 9 Tips to Focus & Align Your Team with a Great Plan
Annual Planning Playbook: 5 Steps to Create a Winning Annual Plan
How CEOs Can Avoid High-Cost Mistakes in Annual Planning
Best Practices for Annual Planning
Rhythm Systems Annual Planning Resource Center
Photo Credit: iStock by Getty Images