Are your meetings the butt of work-related jokes? Why is it that we roll our eyes with disdain when our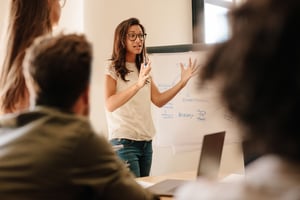 calendar is loaded with meetings, and more specifically, why do we dread the planning meetings that are so important to our strategic success? Let me ask, have you used senior team members as facilitators? If so, you've very likely chosen the wrong facilitator. Save yourself a bad decision before your next planning session. Don't choose your CEO or an executive team member for strategic planning facilitation. If you do, you'll pay for it all year (or quarter) based on the plan developed and the pain to get there. Most executives are great at their jobs, but they don't have all of the qualities of a good team facilitator. When you are in charge, it is hard to be an active listener, which is extremely important to bring out all of the great ideas from the team.
Consider this: when senior team members facilitate your important planning meetings, it can cause participants to withhold agendas or thoughts, to resist challenging others, to not be challenged in their thinking, and to not be fully engaged. An effective facilitator can get all of the team members contributing positively.
This is not to argue that you need an outside facilitator with all of the characteristics a good facilitator, only to make the point of who should not facilitate. Everyone has attended unproductive meetings, and being part of the system that created these conditions in the first place (i.e. senior team members), is one more reason you should exclude them from facilitation duties.
How to be a good facilitator
Internal facilitators can save time, and reduce the complexity of getting an outside facilitator up-to-speed on your business, internal language, team members and nuance of operations. Just because they are a great leader doesn't mean that they have all of the qualities of good facilitator. At first glance it appears a good move, so let me get you P-A-I-D U-P on the additional reasons to get your senior leaders out of the facilitation process:
P – Participation. No one can fully participate in the process and discussions while also holding the duties of facilitating – no matter how good their skill. Using a facilitator who isn't part of the session creates an "even" playing field, allowing all individuals to participate fully.
A – Accountable. Each participant has the same expectations and is accountable for the same level of preparation and engagement.
I – Impartial. Personal agendas, past history, and patterns of communication are often a detriment in planning. An impartial facilitator can recognize the cues and help to control missteps.
D – Discipline. Disciplines of time, respect, outcomes, commitments and more will increase with measurement – especially when facilitated by someone not part of the session.
U – Usual. Facilitators who are not normally part of your week-to-week meetings probably won't be satisfied with your "usual" outcomes. They're more likely to press for well thought through (and defended) results rather than settle for less.
P – Probe. External facilitators can more likely probe for real answers without risking offense. This is not always the case for a peer. This approach helps keep discussions challenging and professional while delivering a better outcome.
Now that you've P-A-I-D U-P, consider the complexity of your planning session. How complicated is the scope of your session and how much effort is required to prepare, manage, and deliver objectives?
Complexity
This could include your industry, team knowledge, economic conditions, and current business challenges. What's the objective of the session and how complex will the path be to get there?
Time and Effort
How much preparation effort will be needed? Is the facilitator familiar with your planning methodology? Will they need time with the CEO or senior team members in preparation? Have you allowed the internal facilitator time to prepare within their daily schedule? Excellent facilitators will know your methodology and be prepared for the strategy meeting with every leadership team member prepared.
The answers to the questions on complexity and effort will help you think through who might be your best internal facilitation candidate. And, your next consideration should be the characteristics of a good facilitator. Choose a person who will be objective and neutral throughout the process. This will allow key individuals to participate fully in the listening, thinking, observing, and participation needed for business planning success.
To help you choose, here are the Top 10 Qualities of a good facilitator: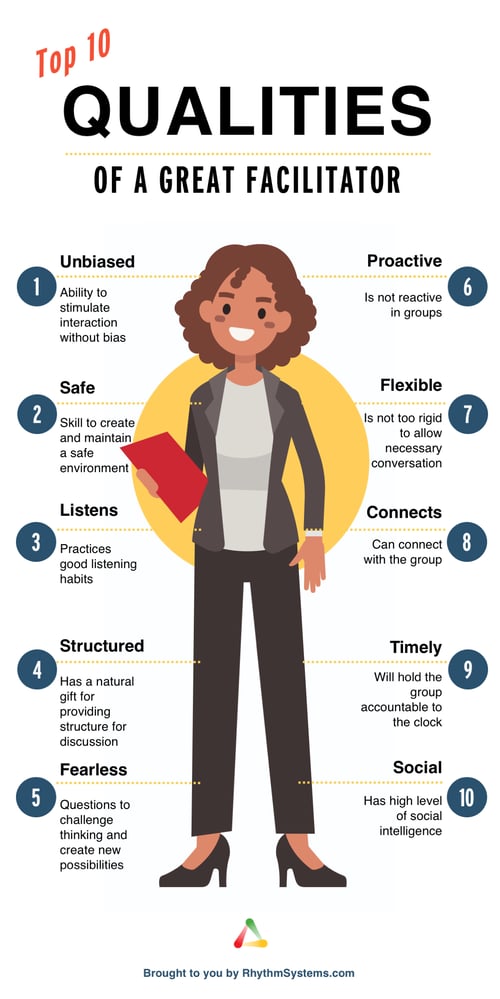 Ability to stimulate interaction without bias

Skill to create and maintain a safe environment for all to be engaged in the discussion

Good listening habits

Has a natural gift for providing structure for discussion (parameters, objectives, time boundaries, etc.)

Fearless in questioning to challenge thinking and create new possibilities while not steering the discussion or offering opinion

Is more proactive rather than reactive in groups

Is not rigid in process and will allow necessary conversation to happen for forward progress

Can connect with the group

Will hold the group accountable to the clock

Has a high level of social intelligence
Now begin to think about how you choose your facilitator. Your internal facilitator should be chosen for their knowledge of your business and their facilitation skills. You'll want an internal facilitator who can be coached when needed by an external coach. This will ensure they are confident in the process and tools (whether you use an outside coach or not). Often a good choice is a high performer interested in their own personal development who is unbiased and who is strong enough to challenge your team during the process. Note: It may be important for them to know their job in not dependent on the result.
Once the choice is made, you're still not done. You must also prepare your chosen facilitator to succeed. Give them a copy of our Meeting Facilitation guide; explain that they are to provide facilitation without taking the reins on content, and that they will be a process (not content) facilitator. This means that they will set meeting guidelines, manage group dynamics, prepare the structure of the meeting, confirm the objective with the CEO, utilize the company's methodology for planning, and capture outcomes. It does not mean that they will add content to the discussions.
In conclusion, set your facilitator up for success. Get P-A-I-D U-P, consider complexity, time and effort, weigh candidates against the top ten characteristics, and give them time to prepare. Make sure they take time to set up the physical space, clarify the agenda and ground rules, balance participation, identify areas of agreement and unresolved concerns, ensure that decisions are accurately documented and that next steps are defined. In short, they should concentrate on the group process so that your senior leaders can engage in the content of the discussion. Since not all teams have a member with good facilitator characteristics, don't be hesitant to give them my contact information so they can reach out for facilitation help.
Good luck and have a great planning session!
Looking for more Annual Planning information to help get you started? Check out our additional resources:
How to Conduct an Annual Planning Meeting
Annual Planning: 9 Tips to Focus & Align Your Team with a Great Plan
Annual Planning Playbook: 5 Steps to Create a Winning Annual Plan
How CEOs Can Avoid High-Cost Mistakes in Annual Planning
Best Practices for Annual Planning
Rhythm Systems Annual Planning Resource Center
Photo Credit: iStock Photo by Getty Images
Editor's Note: This post was originally published January 14, 2016, and has been updated.