Staying aligned in today's modern work environment is harder than ever. There are so many distractions in your daily work, that it is hard enough to know what you are up to - let alone your team members. One of the best ways to get aligned and everyone on the same page is to have a daily huddle with your team to share your victories, priorities and remove your roadblocks. You can implement an effective daily huddle as part of your effective meeting rhythm by following the seven rules of Daily Huddle!

They forgot the sacred rules of Daily Huddle!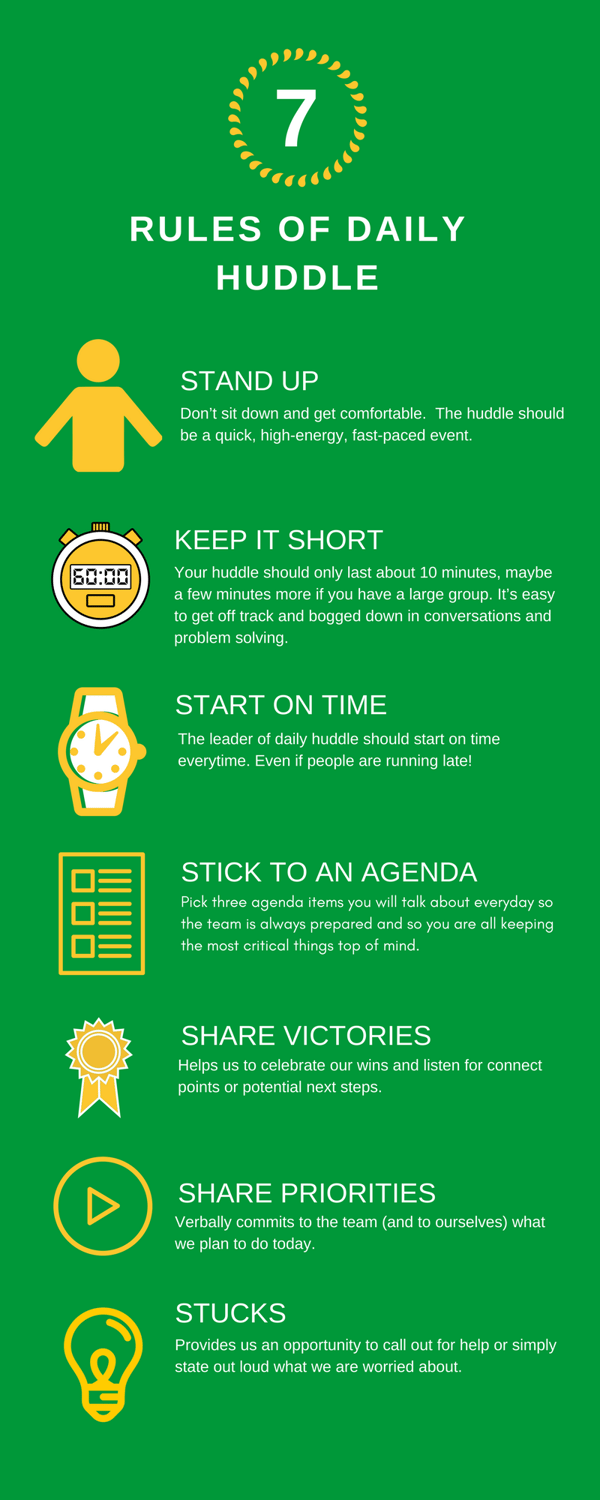 The Seven Rules to Daily Huddle:
Stand Up - Don't settle in and get comfortable - this isn't about the coffee and snacks. Stand Up to keep it fast and high energy.
Keep it Short - This shouldn't take any longer than 10 minutes. Take any issues that come up off line to solve them. The daily huddle is about uncovering the problems and a having a quick path to resolution - not about solving them in front of the whole team.
Start on Time - Make sure that you start on time each and every time to create a positive Rhythm of Work.
Stick to a Daily Huddle Agenda - Use the agenda each and every time to keep it consistent. We share victories from yesterday, top priorities for today and discuss roadblocks.
Share Victories - What positive thing happened yesterday? Focus on repeatable events that might be able to be used again to help delight customers.
Share Priorities - What is the most important thing that you need to get done today? Do you need any input from any others of your team.
Stucks: Remove operational obstacles and get help from your team and get your projects back on track quickly.
Want to learn more about Daily Huddle Rules? Check out these additional resources:


How to Lead a Successful Weekly Meeting and Daily Huddle
Implement the Rockefeller Habits with Software
Daily Huddle: The Most Valuable 10 Minutes of Your Day
The Art of the Daily Huddle: Cascading Huddles
How to Keep Daily Huddles Useful (Infographic)
Daily Huddle: Everybody Stand-up!
Photo Credit: iStock by Getty Images