Many people are working from home or have team members working remotely for the first time. It's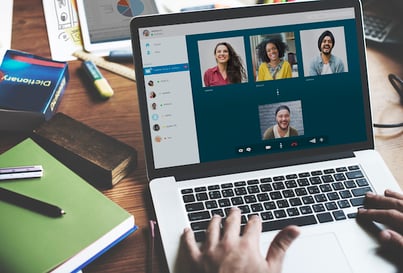 a big adjustment for many, and you may be wondering how to successfully lead your team from afar, especially in such uncertain times. If you've never had a Daily Huddle with your team, it's a great time to give this proven technique a try. We've used Daily Huddles and worked with our clients to implement them for over a decade, and this simple, 15-minute meeting could be a minor-major to keep your team focused, aligned and productive in this time of rapid change.
In addition to chat platforms like Slack or Google Hangouts, you should be thinking about the right rhythm for live collaboration with your team on a more regular basis than your standard weekly meeting. If your team is newly remote, you may have to make adjustments to your Rhythm of Work and build in new habits for daily focus and leadership. Now is the time to ensure your team is aligned around your most important strategic Priorities and feeling as strong as possible. You need a mechanism as a leader to know who needs help and why, as well as a way to ensure your remote teams don't feel isolated and scattered.
Here are some tips for your remote Daily Huddle:
Set the tone: This is your chance as the leader to set the tone for your teams. You don't have face-to-face interactions you are used to, so you need to make the most of the time you do have with your team. Maybe you go first—or last—and make sure you set the right tone to help your team get through the day in a way that's most effective and productive for themselves and the company.
Choose the right technology: If your teams have laptops with webcams and access to a video conference platform like Zoom, Webex, Microsoft Teams or Google Hangouts, you can use this for your Daily Huddle. It's beneficial if everyone can join with their camera on in order to see each other face-to-face and stay connected. If that's not an option for your team, the good news is that a conference call via phone works great, too.
Set some ground rules: Provide clarity around your expectations. Simple ground rules like allotting one minute per person to share. Take problem solving or side conversations offline, and use video when possible. If someone can't make the huddle, should they email you in advance? Should they submit their Daily Huddle information somewhere (like in the Rhythm software platform) for the team to read?
Customize the right agenda: Our standard agenda for a Daily Huddle is to share one Victory, one Priority and any Stucks. You might change this up depending on what's going on with your business. There may be a key metric that is critical to your success right now that you want the team to report out every day. You might ask for a quick health check from everyone to kick off the huddle to ensure your team is well (physically and emotionally) and identify people who may need help or additional support. At Rhythm Systems, we adjusted our agenda so everyone shares 1. How we are doing, 2. What we are learning and hearing from our clients, and 3. What we are focused on.
Keep a tight timeframe: Begin and end on time. This meeting is most productive as a quick check-in rather than a long, drawn out session. Your huddle should be 15-20 minutes long at the most. If your team is larger than about 10-15 people, can you split up into smaller groups? If you have weekly meetings on Mondays, maybe you have a huddle with half the team on Tuesday and Thursday and the other half on Wednesday and Friday. That way, you don't have to do two huddles a day or sit through an hour-long call that should be 15 minutes. This is just one idea, but do what makes sense for your company and your team.
The regular rhythm of a Daily Huddle with your remote team will help you stay connected; stay focused on the most important Priorities; and align, encourage and inform your team. If you implement it correctly, this might become the most important 15 minutes of your day.
If you have tips on how your team conducts an effective Daily Huddle remotely, please share your best practices below.
Want to learn more about Daily Huddles? Check out these additional resources:
The Daily Huddle: A Key Component in Mastering the Rockefeller Habits [Video]
How to Lead a Successful Weekly Meeting and Daily Huddle
Daily Huddle: The Most Valuable 10 Minutes of Your Day
The Art of the Daily Huddle: Cascading Huddles
How to Keep Daily Huddles Useful (Infographic)
Daily Huddle: Everybody Stand-up!
Photo Credit: iStock by Getty Images