The topic of women in the workplace can be a bit controversial, and sometimes emotional. While there is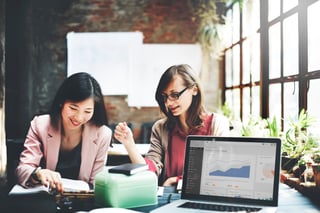 undoubtedly a pay gap in the American workforce, with women making about 80 cents for every dollar a man makes in the same job, and a gap in women in leadership roles compared to men in those senior positions, people disagree over the reasons for those gaps. Is it that women don't put in as many hours because they are also primary caretakers at home? Is it because they don't want to be at work, or because they don't have the desire to take on more leadership roles? Or is it because of unconscious bias in the workplace that doesn't allow for as many opportunities for their advancement? Just about anyone you'd ask would have a different answer.
Because the topic is so emotional, our friends at Gallup wanted to arm us with some real data points to have the right discussion about women in the workplace. Their report, "Women in American: Work and Life Well-Lived," digs into the question, "how can businesses create an ideal work culture for women?" The report is based on data from over 300,000 American adults. Their aim is to help your company apply the data around what attracts, engages, and retains a gender-diverse workforce to your unique situation so that you can create the right conditions for everyone in your company to succeed. How does gender-diversity help everyone succeed? "Gallup is just one of many research and academic institutions to link gender diversity to improved profits and revenue."
Here's what you can do to create an Ideal Work Culture for Women:
Keep Up with Shifting Expectations:

Find out What Women Want:

Encourage Flexibility and Well-Being:

Focus on the Right Managers:
To hear more from Gallup on employee engagement, come to our Breakthrough Conference in October. We're also featuring a Women in Leadership Panel Breakfast so you can join in the conversation about what an ideal work culture for women might look like at your organization.
Photo Credit: iStock by Getty Images
Photo Credit: iStock by Getty Images