This past Fall, my family and I took a week's vacation in Kennebunkport, Maine. We have been there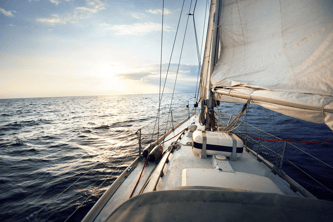 several times in the past, but this was the first year we decided to take a sailing tour with Captain Rich on the Schooner Eleanor. It was a gorgeous, sunny and early September day as we sailed through the channel and out into the Atlantic for a couple of hours up and down the rocky coastline. As the captain steered back towards port, it became obvious that he was waiting for something rather than making a direct turn back into the narrow waterway between the rocky outcroppings where the ocean and river met. When asked about the pause, he quickly responded that while the way may look calm and easy, there were incredibly strong waters just under the surface that could make the way back to port treacherous for the inexperienced. Many of us on the boat were distracted by dinner plans, being a few extra minutes late for happy hour and getting back to the hotel. While we possessed a desire to accomplish what we were certain was important, and we were sure that we knew the destination, we were missing one key ingredient. After twenty plus years of sailing, Captain Rich had a keenly developed a sense of what was necessary to make it back safely to shore that evening—discipline.
It is common that as leaders of companies and teams, we can rush through the planning and execution process with a strong desire to make things happen, to succeed, to grow, and to have a lasting impact.
Our passion runs deep to reach the destination on the projects we manage, hit the updated sales targets, and manage others in a way that gets results. But no matter how strong your desire is, it will never get you to your destination without the discipline to get things done.
The challenge that most of us face is while we have plenty of desire, and we know the destination we want to reach, we exchange our discipline for distraction—which leads us to frustration, stagnation, and sometimes even defeat.
Desire + DISTRACTION = Defeat
At Rhythm Systems, we have developed a crystal-clear framework to help CEOs, business owners, and leaders consistently kill distractions and reach their destinations. We have seen hundreds of businesses execute thousands of successful strategic plans, because those involved chose to embrace the disciplined rhythms of Think-Plan-Do to create focus, alignment and accountability.

If you have reached a ceiling of complexity; are facing an unexpected challenge; or struggle with continuous, below-target results; integrating each of these cornerstone components of the larger Rhythm of Work™ framework can transform your company, your culture, and your results.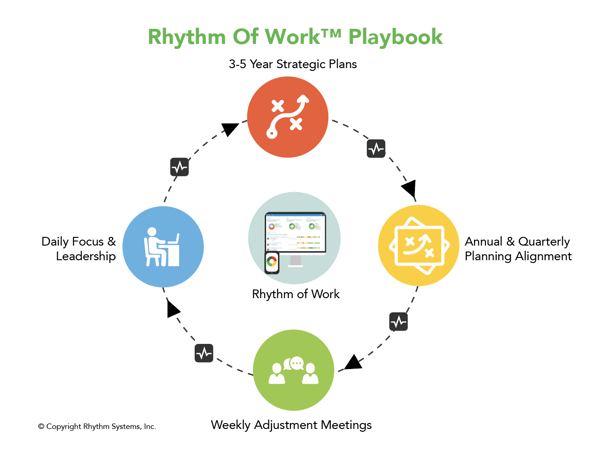 Desire + DISCIPLINE = Destination
The Think Rhythm is about working on the future of your business through strategic thinking. It offers three benefits:
It helps you strengthen your foundation for future growth.
It ensures that you have a continuous supply of Winning Moves in your 3 year business plan to provide purposeful revenue growth.
It helps your teams focus on what to do annually, quarterly, and weekly to advance your Winning Moves.
The Plan Rhythm is about execution planning that helps teams and individuals understand what they are supposed to do. It requires figuring out the company Priorities that will drive your strategy forward and then making sure that everyone understands and is aligned with those priorities.
The Do Rhythm is your process of getting work done and executing your plan well. By being accountable to your execution plan, you can discover which critical adjustments need to be made and brainstorm options and opportunities. When we make adjustments proactively, we achieve our goals faster.
If you are tired of having the right desires but never quite reaching the destination of your dreams and goals, connect with the Rhythm team today. We are here to help you kill distractions and build the disciplines of Think-Plan-Do in order to grow your business, develop your team and execute towards success.
If you enjoyed this post, here are some others you may like:
A Leader's Template: 6 Questions to Ask in Your Next One-on-One Meeting
5 Insights You'll Learn from Executive Coaching
Employee KPI Examples: How to Measure What You Want to Move
The Five C's of Team Accountability
Strategic vs. Tactical Leaders: Which Are You? [Video]
11 Books Every CEO Should Read
Daily Routines of Successful CEOs [Infographic]
4 Easy Steps to Fix Your Weekly Staff Meetings [Video]
Photo Credit: iStock Getty Images
Photo Credit: iStock by Getty Images