As a general rule, CEOs need easy access to a few key performance indicators—they need a CEO KPI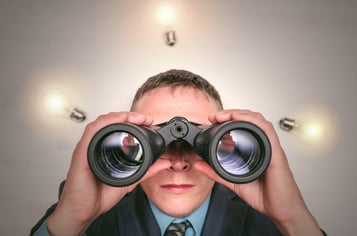 dashboard that allows them, at a glance, to monitor how healthy the business is at a given point in time. With all the data you can have at your fingertips these days with mobile and tablets, it would be easy to go blind trying to interpret too many KPIs at once. And it can be frustrating to be blindsided by problems or missed numbers when you don't have the right data easily accessible. Identifying a handful of metrics, you need to see daily, or weekly is imperative. According to an article in Inc, "For busy CEOs, the KPIs you monitor should tell a quick story and give you insight into both external and internal trends." The CEO KPIs are critical to the overall health of your business and should be chosen carefully!
But, which KPIs belong on the CEO Scorecard?
Business leaders need to keep up to date in real time (or as close as possible) to have the actionable insights needed to adjust their priorities. I checked the KPI Watchlist for ten of our top performing client CEOs in various industries, and here are some examples of KPIs that our CEOs are keeping an eye on with their CEO scorecard for their BSC KPI dashboard:
Revenue Growth: Monitoring how quickly or slowly a business is growing can indicate where further improvements may need to be made to increase profitability.
Operating Profit Margin: Measuring the difference between revenue and expenses helps to determine the success of operations and the areas that may require operational tweaking for optimization.
Customer Satisfaction: Understanding customer satisfaction levels ensure that strategies are being implemented with customer service as top priority, helping businesses to retain customers for longer periods of time and increase sales opportunities.
Employee Engagement & Retention: Ensuring high employee engagement levels means understanding what employees value most from their job experiences and providing programs that are tailored towards their needs, creating a more positive work environment.
Quality of Deliverables: Tracking the quality of deliverables produced by various departments in a business allows leaders to identify improvement areas that can help firms produce better outputs while enhancing customer confidence in products or services offered.
Market Share: Examining market share can provide an accurate picture of a business's competitiveness against rivals in its industry, helping it assess performance gaps and areas for improvement where necessary taking into account other players in the competitive landscape.
Product Innovation Rate: Keeping track on the rate at which a company is diversifying or introducing new products or services allows it to monitor how quickly it can keep up with changing consumer preferences or industry trends so it keeps up with competitors accordingly in terms of offerings available on the market..
Cash Flow Management Rate: Observing how well a business manages cash flow processes indicates whether there is an adequate level of liquidity available for further growth opportunities or to cover unexpected costs that may arise during operations over time.
Brand Recognition & Reputation Management: Examining metrics such as online engagement rates gives deeper insight into how customers view a brand's reputation, allowing companies to take corrective steps where necessary depending on consumer responses so they remain competitive against rivals within their own industries while maintaining an attractive public image among potential buyers outside said industries too .
Efficiency - Evaluating each department's operation efficiency helps organizations optimize production processes and procedures in order to maximize output with minimum input, cutting back costs wherever possible without sacrificing product quality standards at any point along the way
Download the List of KPI Dashboard Examples
I don't think it is an accident that these successful people are using CEO metrics that fall into one of the 4 categories on a well-balanced Rhythm Scorecard. As CEO, you need to keep your eye on one or two key metrics in each of these areas to have a balanced business dashboard and a data-driven approach to making decisions:
Customers - Do your customers love, appreciate, and refer you?

Employees - Are your employees engaged, productive, delivering results, and excited about the future?

Revenue - Do you have the right product/service offerings and marketing/sales strategies to support your current and future revenue goals?

Processes - Do you have healthy operations and disciplines that you can scale for the future?
Thinking about your business, what Customer, Employee, Revenue, and Process KPIs are key for your company's success? Your list will be unique based on your industry and specific goals, but the ideal KPI dashboard for CEOs should include one or two metrics from each of the four areas to ensure a balanced scorecard of your company's success. Don't be selfish as the CEO; make sure that you share leadership accountability for these KPIs across your leadership team.
Remember that there may be more than KPIs on your CEO dashboard. You'll also want to keep an eye on the key projects - or quarterly rocks in Rockefeller Habits - that help drive your numbers toward your strategic plan. So, if implementing a CRM is key a business project that you are undertaking to improve your sales KPIs, you'll want to make sure that you keep track of that project on your dashboard as well. This will help ensure that you are looking at the key numbers and what you are doing to improve those numbers. This will give the executive and management the performance dashboard they need to keep the business performing at a high level over the long term to help your bottom line today and well into the future.
You may also enjoy our additional resources on using Key Performance Indicator KPIs and CEO Metrics:
New Middle Market CEO: 11 Tips to Get Started as a New CEO
33 KPI Examples to Measure Productivity
Does your KPI Dashboard Measure What Matters?
25 KPI Examples For Manufacturing Companies
21 Production KPI Examples to Improve Manufacturing Performance
Key Performance Indicators for Employees
27 Recruiting KPIs for the Staffing Industry
40 KPI Examples for the Service Industry
Photo Credit: iStock by Getty Images
Photo Credit: iStock by Getty Images