When storms blew through San Antonio on April 12, baseball-size hail smashed homes,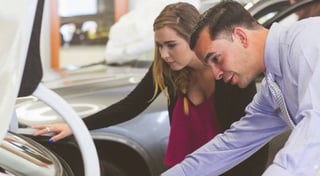 businesses—and cars. Lots of cars.
As the storm blew in, the service team of Principle Auto Group was away from the business—on a leadership retreat at a ranch with no cell service. About 10:30pm, the team walked to their cabins and into an area with cell coverage.
They saw stories and pictures of the storm—winds gusting to 60+ miles per hour, torrents of rain, and the hail. Big hail. "Bigger than baseballs," according to the National Weather Service.
Knowing the potential damage to not only new and pre-owned cars but also to their customers' cars, the team quickly packed and drove to the dealership. They found that other members of their team—dozens of managers and employees—had also come to help.
Working into the night, they drove as many cars as possible into the shop, to mitigate loss of electronics due to rain. They used seven rolls of "crash wrap" to protect and keep the rain out of other cars with broken windows.
And then, everyone slept for a couple of hours.
In the morning, before the store opened, the team huddled together to map out a recovery plan. Not only did they need to assess damage and find body shops for repair of the inventory of 1,000+ new and pre-owned cars on the lot, they also had 250 customer cars in for service—and most were parked outside during the storm.
Their plan:
List all the cars and quickly categorize the damage.
Help clients with next steps.

Call local body shops and get priority service for all cars at Principle.
Call body shops within a 50-mile radius of San Antonio and establish relationships, so their customers can get service there, too.

Be transparent with internal people and clients.

Call clients with no car damage to let them know the good news.
Call clients whose cars were hit by the storm to let them know the extent of the damage and the process for repair.
As I write, employees of Principle are scheduling auto body work and helping customers navigate the repair process. It's not all smooth sailing. Twice in the past month, hail storms hit the Dallas area, too, and repairs there have wiped out the supply of windshields and glass from BMW of North America. The Principle team is working to find more supplies and a workable answer for their customers.
It's a great story of teamwork and customer service, isn't it? A company that came together, focused on customer needs, and rocketed into action.
It's also a story that began long before the hail storm rained down on San Antonio.
Mark Smith and Abigail Kampmann established Principle Auto Group in 2014, and from the beginning, they've been on a mission to change the industry and the public perception of car dealers.
They started from the inside out.
First, a mission statement: "We live to provide exceptional care." The company name, "Principle," was chosen to remind everyone of their guiding principles (check out the full description but here's a shorthand version):
GUIDE:
G - Great People
U - Unparalleled Service
I - Integrity
D - Defining Excellence
E - Enthusiasm (fun!)
"Exceptional care" isn't limited to customers. When they took control of the dealership, Smith and Kampmann met with employees, who gave them a list of needs, starting with equipment upgrades.
Smith and Kampmann invested in the facility and equipment—upgraded tools in the shop, which improved work processes for associates; a new machine that does the physical labor to break down and mount a tire, so technicians can focus on more complex fixes; remodeled offices and locker rooms for the team. They also recruited technicians—going from a staff of 35 to 72—and invested heavily in training and mentoring.
Smith and Kampmann wanted to set up the service team for customer success every day—to create an environment where employees actually enjoyed the work of being a technician—even on the crazy days. They found a good partner in that objective when they hired John Yerby as service director.
Yerby begins each day with a 10-minute huddle before the doors open. The service team gathers, and he shares two or three emails from customers who have written about their positive experience at Principle. The team celebrates the success, and then shares a quick snapshot of the coming day. Is there anything new happening? Is there action they can take to help customers have a great day?
Each Friday, Yerby leads his team in a deeper meeting. They dive into survey results and address issues that need improvement or change.
Caring for the team—first—has resulted in the dealership's ability to deliver service excellence to customers. Significant, measurable good service.
On the service side of Principle Auto, customers used to be told they had to schedule service five weeks in advance. With the new hires and changes, the team can now offer clients next-day service. Customer satisfaction has jumped to 97%.
On the sales side, Principle recruited talented, bright people and invested in their training, including classes on how to dress, how to identify customer needs and find the right car to fit those needs, and even Dale Carnegie classes on communication, interpersonal communication and life skills.
Results? In only 60 days, the dealership went from selling 100 new cars a month to selling 200—doubling sales. Pre-owned car sales jumped from 40 cars a month to 200 cars each month. Principle Auto Group continues to grow and is set to open a new Infiniti dealership this spring.
It IS a great story of integrity, teamwork, and success, isn't it?
I particularly like it because Principle has employed some of the strategies and tools that we use at Rhythm Systems and offer our clients—setting clear priorities, aligning teams, equipping staff, daily huddles, weekly adjustment meetings and celebrating successes.
Storms are part of life—and thankfully most do not include baseball-size hail. Rather, they take many forms—from financial downturns to product recalls to personal crises. It's worth the effort to develop a great team that can respond to whatever storms may come.
Photo Credit: iStock by Getty Images