We recently held our 6th annual Breakthrough Conference, although it was our first ever virtual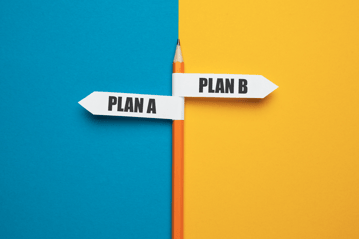 conference, and I want to share a few ideas from one of the two sessions I facilitated: Planning for an Uncertain 2021.
These are extraordinary times we are living in right now, and traditional approaches need to be challenged. As we enter into the busiest time of the year for annual planning, I hope you will find these tips useful.
First of all, I recommend you plan as early as possible and look hard at your long-term strategies to determine if you need to hold a separate strategy session or two to work on them. I have a lot of clients that are doing this and pressure testing their long-term vision and 3-5 year strategies for growth and profitability. There may be new opportunities that you want to capitalize on based on how customers have shifted the way they consume your goods and services.
Next, I would create an execution plan and budget based on realistic but desired targets.
Then, create a Plan B based on what you think could happen based on what you learned in 2020. Some people call this scenario or contingency planning. Whatever you call it, it is a good thing to do so you can pivot if needed. I have seen companies create Plan Bs based on a 20-30% reduction against their original targets. Some had to adjust a lot more—while others grew and had to scale up! Think about the adjustments you had to make this year and which ones you may need to make in 2021.
Ask yourself:
What has to change if we are off pace to hit our goals?
What if sales are down or certain markets are flat?
What if cash becomes tight?
What annual or quarterly priorities would change?

How would we restate them?

What would we do differently?
Plans need to be focused and tighter than ever. I have seen a few companies take a very specific market approach to where they are going to get new business this year. Some markets will still be influenced by COVID in a negative way, while others may provide greater opportunities. Being selective can be a good strategy.
I see companies focusing on 3 primary areas as they create their plans:
Cost Savings
Organizational Structure & Processes
Diversification & Growth
Think about what Plan A looks like in these areas and what would change for Plan B.

Here is a list of questions you can use with your team as you develop your plans:
What effects might COVID have on 2021?
How do we explore new opportunities and at the same time protect core business?
Should we revisit long-term plans before launching into 2021 plans?
Are your 3-5 year strategies (winning moves) still valid? Do you need new long-term strategies?
Do you need a separate strategy session before your AP session to work on winning moves?
How do we plan for international business with ongoing travel restrictions?
How do we shift our leadership team's mindset from crisis management back to a steady rhythm of planning and executing?
What Strategies are needed to assure safety and motivate workers to come back to the office?
How do we plan for and minimize supply chain disruptions?
How do we conserve cash? (This has been one of the most critical things this year.)
How do we address Diversity & Inclusion with what is going on in the world?
The next thing I recommend is to be agile and ready to pivot. Use data to make decisions and closely monitor what is working and what is not. Set up stop sign dashboards that have the right Key Performance Indicators (KPIs) on them that will provide you with the insights necessary to act quickly. Speed is your friend right now. Although I normally recommend staying the course and working your 13-week plan, times are different and may require more frequent adjustments. You will have different KPIs on your dashboard based on the industry you are in, although here are a few that are more general to get you thinking:
Revenue
# Months Cashflow Runway
Client Payment Issues
Healthy: Cash in - Cash Out – YTD
Profitable: Net Profit – YTD (Actual –Budget)
EBITDA
AR > 30 Days
Employee Ratio to Sales
Net Promoter Score
Customer Retention
Employee Health
A good Plan B allows you to take action immediately if you find yourself in an elevated crisis management situation. As noted by Peter Drucker and others, a prudent plan can be a viable strategy for predicting the future. In these uncertain times, a Plan B can be used as a practical tool for achieving a desired future outcome if things do not align with Plan A. Here is a minor major: do not stay the course just because you set it. Now is the time to be agile and adjust as necessary.
So, work your plan hard, make adjustments and solve problems. Create a Plan A and a Plan B.
Make sure the lines of communication are strong and open so you can discuss when and how to pivot. Hold Daily Huddle Meetings and have effective weekly meetings while asking the right questions. Listen for signs and new patterns to gain insights. Keep the big picture in mind, but you may need to make more frequent adjustments. Remember that speed is key and to make adjustments as quickly as possible so that you can hit your desired goals.
Good luck with your planning, and please share your thoughts and questions. Best wishes for a successful 2021! Alan
Interested in learning more about strategic planning?
The CEOs Strategy-Execution Gap...And How To Fix It
How to Prepare for an Effective Strategic Planning Session
Choose Your 3 Year Strategic Growth Initiatives Wisely With This 4 Step Process
5 Steps to Getting Started on 3 Year Strategic Plans with Winning Moves
Have You Validated Your 3 Year Strategic Plan?
Strong 3 Year Strategic Plans to Grow Revenue and Stay Competitive
16 Strategic Planning Tips to Keep Your Strategic Plan Alive
Don't Confuse Strategic Thinking And Strategy Execution Plans
Photo Credit: iStock by Getty Images
Photo Credit: iStock by Getty Images