With the emphasis on core subjects in budget crunched public schools, art programs are being asked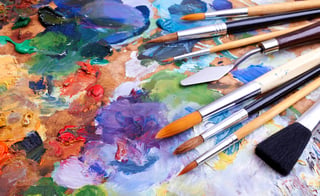 to pack their paint brushes and go. Isn't it interesting how creativity has moved from #10 to #3 in the list of Top Skills for 2021, according to the World Economic Forum's Future of Jobs Report?
Here's the list of the Top 10 Skills from the report: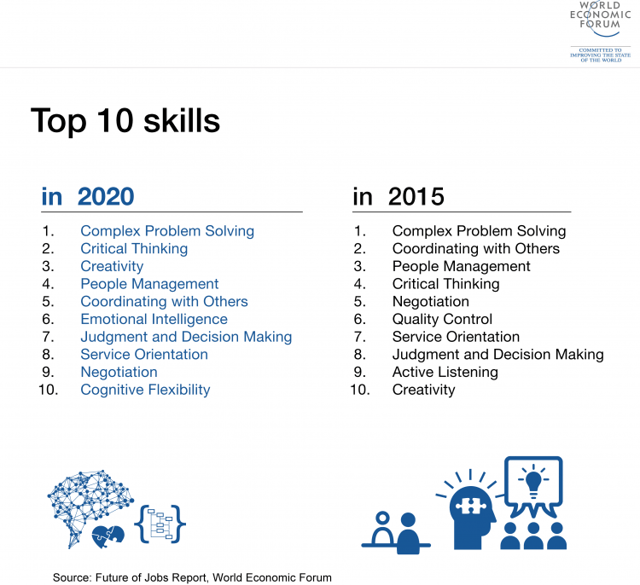 Other changes in the 2020 list compared to the 2015 one are interesting, too. Quality Control was scrapped by Emotional Intelligence and Active Listening was - let me reflect back to you what I just heard - muted by Cognitive Flexibility.
We are to be creative and flexible in how we behave or act in different situations while multi-tasking. Not surprising, really, when you consider the bombardment of information thrown at us today and the ways we need to synthesize it and take appropriate action to do all things (squirrel!) at once.
These 3 skills - creativity, emotional intelligence and cognitive flexibility - remind me of "Secrets of the Superbosses"in a recent Harvard Business Review. Sydney Finkelstein shares that superstar bosses when faced with a small pool of talent:
"Find unlikely winners ... [and] consider credentials, of course, but they're also willing to take chances on people who lack industry experience or even college degrees. ... [Superbosses] focus on intelligence, creativity, and flexibility ... [and] value these three attributes above all others."
I was lucky enough to work for a Superboss in 2000 who looked beyond my lack of coding and ecommerce experience and rolled the dice on my education, vertical knowledge in manufacturing, and passion for on-demand learning. I was pulled from manufacturing floors and classrooms into electronic support tools and elearning. Huh? George was a trendsetter fifteen years before his time, and I had the "emotional intelligence" (hey, it's a real thing... I just didn't know what to call it back then) to pull off the interview. The rest is history.
As we plan to attract and sharpen talent to meet our future demands, we should tap into #3 and get creative.
As you align "the list" with Job Descriptions for future positions, you may consider who may be intelligent, creative and flexible enough to move into these roles and what educational and onboarding programs are needed to supplement the traditional skills and knowledge you look for today.
Now, unpack your paint brushes and get to work.
Photo Credit: iStock by Getty Images
Photo Credit: iStock by Getty Images