Max DePree noted, "Management has a lot to do with answers. Leadership is a function of questions,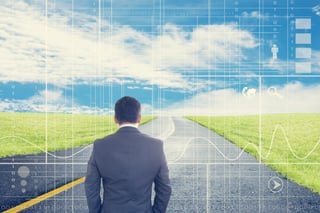 and the first question for a leader always is: 'Who do we intend to be?' Not 'What are we going to do?'"
Vision Casting is easy for some of us; it's much more difficult for many others. For leaders who have a natural tendency for big picture thinking, creating a vision might not be so hard. Yet, these types of leaders can have trouble expressing a focused vision. On the other hand, for leaders with a natural tendency for the here-and-now, day-to-day tasks that need to get done, moving toward the esoteric world of vision-casting can be daunting. A great leader is painting a picture of a bright future, while fighting the daily fires.
Either way, there's a business reason for vision-casting. A challenge, though, is that many leaders simply don't see the relevance of vision. Or, they aren't good at thinking in 'visionary' terms so they ignore the whole thing. Or, they help create a vision as if it's a 'task' to be completed. Once it's done, it's simply checked-off the list. This is a problem: A vision isn't a 'task' to be done. This isn't about creating a vision statement and checking it off from your to do list.
What is Vision Casting?
A vision is supposed to be compelling; it's supposed to be a bit inspirational; it's supposed to help people know that they're a part of a company that's moving toward something bigger and better; it's supposed to denote a sense of pride. Jim Collins breaks the task of Articulating a Vision into two components: 1) Core Ideology, which consists of Core Values and Core Purpose, and 2) Envisioned Future, which consists of a 10-20 year BHAG and a Vivid Description.
We find that many companies do a fairly good job of stating their Core Values, Core Purpose, and BHAG, but often stop short when it comes to the Vivid Description or Vision Statement. Many of these statements just aren't inspiring, captivating, or engaging, you can't just have a vision, you need to cast a vision. Therefore, it might help to look at a couple of examples before
Vision Casting Example: Computers
Company #1's Vision: We believe that everyone will want a personal computer for the holiday season, and because of that, sales will soar! (Not so inspiring…)
Company #2's Vision: Personal computers will help our stock rise to new heights. (Not so inspiring…)
Company #3's Vision: Personal computers are going to change the world. They will transform how we work, educate, and entertain ourselves. Therefore, we get to take the lead in changing the world. And to do that, we get to Be Different. (Much more inspiring, and is courtesy of Steve Jobs/Apple Computers)
The first two companies aren't in business anymore; as we all know, Apple has far outlasted them all.
Vision Casting Example: Manufacturing
When I started working with this manufacturing company, no one knew the vision. However, it was finally discovered hanging from the rafters (front and center for everyone to see!). The vision: Sustained profitable growth and continued expansion of markets. (No wonder no one ever looked at it…)
Then, they hired a new GM who understood the power of a truly great vision. As the GM got to know the company, he discovered that he inherited an array of massive quality problems, low morale, command-and-control leadership styles, and more. As the GM and I worked with this company's team of 22 plant supervisors over a period of time, they created an incredible future vision for "their" company: To be the most trusted and respected entity in the electrical equipment industry in manufacturing, repair, and maintenance…worldwide.
What is a vision statement?
Here is their Vivid Description for achieving this Vision (which targeted major turnarounds to the huge challenges they had faced for years):
Therefore, we promise…
1. To create value for our customers by…
…providing quick responses to customer needs and/or problems through accurate and timely communication
…meeting our customers' needs and desires through providing products and services when and where they need them
2. On-time delivery
Achieve on-time delivery through high quality FPY
3. Highest level quality
Innovation & R&D expansion into new markets
First-class training program to encourage success in employee retention
4. A team-oriented environment
Become a top-tier employer where people have the opportunity to become the future of the company
WE ROCK!!!
Result: Just a few short weeks after sharing the newly formed vision (which also consisted of these 22 supervisors understanding how to "lead" people toward that vision), the energy within the plant was in hyper-mode. Improvements to the plant floor spontaneously started emerging from front-line operators, without being asked. Quality issues had plagued this company, yet within just a few short months major strides had been made toward their new quality targets. Silo mentality had ruled this company; in just a few weeks, cross-functional teams were formed and solutions to age-old problems were being jointly created. People were learning how to talk to each other. They were learning that the company was a 'system' vs. merely being 'component parts.' As one supervisor noted, "I'm watching my people do things like paint a wall that's all chipped up, or get with someone else in the plant to solve an age-old problem, or rearranging a work area so we can enhance our Lean efforts. I've never seen such pride in this plant. In fact, the whole Lean efficiency journey has been like pulling teeth. But not anymore. This is amazing."
What Meaningful Vision Casting Can Do for your Business?
It can engage your workforce to solve their own problems, which expedites everything from Point A to Point Z.
It can teach your people to think more strategically vs. waiting to be told what to do.
It compels a sense of pride; people want to work at your company.
Top talent (aka, "A Players") want to be a part of something bigger than themselves. Creating an inspiring vision gives you the opportunity to attract, and then retain, that top talent.
As we can see in the example from Steve Jobs/Apple: A strong vision gives you the opportunity to tell your company's story - to talk about the journey of where you once were, to where you are now, to where you're headed in the future.
A great vision tells people the seeds you've planted and what the fruits of those seeds will be.
An inspiring vision provides a sense of logic to your strategic intent. When you look at your strategic roadmap for this year, you should see what you're doing today that links to getting you where you want to be in the future. It provides your people with a 'line of sight' that connects all the dots.
And finally…
You may not think that crafting a vision is really all that important. Yet, vision is a truly strategic endeavor. It isn't just fluff stuff. "If you want to build a ship, don't herd people together to collect wood and don't assign them tasks and work, but rather teach them to long for the endless immensity of the sea." - Antoine de Saint-Exupery
You may aspire to be a truly good company. But if you want to be a great company, dream a little; find the possibilities.
If you enjoyed this post, here are some others you may like:
How CEOs Grow Accountable Leaders & Teams [Video]
A Leader's Template: 6 Questions to Ask in Your Next One-on-One Meeting
The Five C's of Team Accountability
Strategic vs. Tactical Leaders: Which Are You? [Video]
4 Easy Steps to Fix Your Weekly Staff Meetings [Video]
Photo Credit: iStock by Getty Images