It's an interesting experiment to informally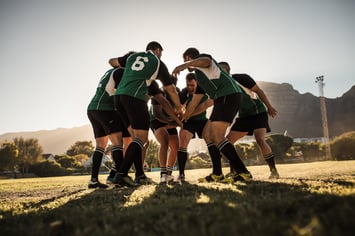 poll your friends and ask them about their planning habits. Do they plan on a daily basis? Weekly? Digitally? Analog? Cruise through YouTube and see how bullet journaling is the new scrapbooking and you'll see there's no end to how you can plan. It's hard to argue with the logic that planning out your day gives you a better chance of accomplishing what you set out to do. Sure, there are days that go off the rails, but that can happen in any business. Having a plan will help you roll with those unexpected scenarios and keep everything on track to hit your goals.
What about your team? If you're not currently doing a daily huddle, consider the benefits. This is a daily meeting that you have with your team that sets the focus on what needs to be accomplished. These meetings are short, focused, and are often done with everyone standing up (called a daily stand up meeting or daily scrum). No one wants to stand all morning, so the quicker this meeting is, the quicker people can get started on their days! This team huddle can be done quickly to address issues that are facing the team and get everyone aligned on how to have a productive day.
When you implement a daily huddle with your team, expect a little pushback when you announce your new plans. "Really? We have to meet every single day?" Maybe not, but carving out that time each morning or at the start of your team's shift gives you the opportunity to have the meeting if it's needed.
To have an effective meeting and not waste time, you need to have a daily huddle agenda that everyone follows and a moderator to make sure that you keep things on track, not run ad hoc. Any obstacles should be taken offline. The daily huddle meeting should never be longer than 15 minutes and should involve remote teams via video.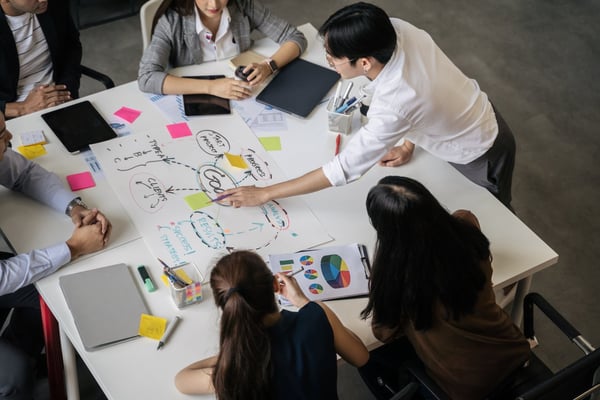 Here are five tips for implementing and running an effective daily huddle:
Start the day before. At the end of your day, take the last 10 minutes before you leave and plan out what you need to cover during your daily huddle the next morning. Remember you can always modify this list first thing in the morning. This helps you wrap up today and get ready for a productive day tomorrow. Record this in your project management software or Rhythm's strategy execution software.
Have a consistent start time. It may not make sense for you to start your daily huddle the minute people walk in the door. Consider starting your daily huddles 15-30 minutes after everyone is scheduled to start (or at the start time in many industries). That gives team members some flexibility, a chance to get a cup of coffee, and accounts for the random traffic delay or failed alarm. It also gives your team a chance to get into "work" mode. They'll have had a few minutes to look through some emails and start thinking about their days and what they need to get accomplished.
Keep it short. A daily huddle shouldn't be more than 10 or 15 minutes. This daily huddle isn't the time to take a deep dive into a customer issue or a big problem that you need to solve. Quick problem-solving? Absolutely. Encourage people to share if they're stuck and let the team crowd-source some solutions. For the bigger issues or larger problems, save those for weekly or monthly meetings.
Encourage participation. This conversation shouldn't be one-sided. While you share some company updates or need-to-knows, ask your teams to share a quick win from the day before. Have them state their top priorities of the day and you can all hold each other accountable to accomplishing that task or completing that priority.
The show must go on. If you are going to be out of the office, appoint someone to run the daily huddle in your absence. Having another member of the team lead the huddle gives them a chance to work on their leadership skills and how effectively they can share information or delegate tasks that need to be done.
Over time, you'll find that the team looks forward to the daily team huddles. Everyone is part of the process and everyone stays engaged and gets some face to face time with their colleagues. By being able to share basic updates more frequently, you'll find that your weekly or monthly meetings have a lot more room on the agenda. That gives you the opportunity to work with your team on moving their quarterly rocks as part of the Scaling Up (Rockefeller Habits 2.0) framework forward each quarter or helping them problem-solve. Ultimately, the team will be more focused and engaged with the overall 3 year strategic plans and quarterly plans and their actions throughout the week and in those daily huddles will support that by getting your team together every 24 hours.
Want to learn more about Daily Huddle Meetings? Check out these additional resources:
How to Lead a Successful Weekly Meeting and Daily Huddle
Scaling Up Your Business with Rhythm Software and the Rockefeller Habits 2.0
Implement the Rockefeller Habits with Software
Daily Huddle: The Most Valuable 10 Minutes of Your Day
The Art of the Daily Huddle: Cascading Huddles
How to Keep Daily Huddles Useful (Infographic)
Daily Huddle: Everybody Stand-up!