It's fairly understood that great leaders don't lead processes; they lead people. You're probably aware,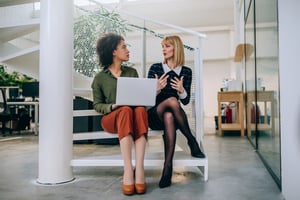 too, that great bosses have truly honed their skills in the areas of communication, information sharing, clarifying expectations, and celebrating wins.
Within the context of great leadership, though, comes crazy-busy days, last-minute interruptions, sudden calls to meetings, paperwork, and more. If you're spinning in one of these moments in time, this at-a-glance checklist might help you focus on maximizing your leadership impact when you're in a pinch.
These aren't necessarily questions that apply when you're having a 'difficult' performance conversation. And, they're not questions suitable for your weekly team meetings. These are questions that you should consider routinely asking your people in a one-on-one conversation.
Get to Know Your Leader Questions Template
First: Remind myself of the goal--
The goal of having these one-on-one conversations is to learn what I can do in order to be a stronger resource to those around me and to learn what the company is doing well or needs to do differently.
My Six Leadership Questions:
1. What's going well for you?
Potential Probing Questions:
What are you learning about yourself?
What are you learning about the team?
What are you learning about your customers?
What is going on in your market?
2. Relative to your own day-to-day work, what's not going as well as you might like?
Potential Probing Questions:
What do you see as being a roadblock to the team (or company)?
How can I help with that?
What might we do to make this a better situation?
3. What are your aspirations around your own continued growth? How might you continue to add to your expertise?
Potential Probing Questions (Note: The probing questions here can vary greatly, depending on the person.):
What inspires you?
What courses or certifications would align with your personal aspirations for continued development in your area of expertise?
How might you become a mentor to someone on the team?
4. What do you think this division (or company) needs to improve?
Potential Probing Questions:
How might this work better?
What ideas do you have for turning this around?
Who else might we involve in improving this?
5. How can I be a better resource for you?
Potential Probing Questions:
When have I helped the most?
When did I get in the way?
When was I very clear?
When was I somewhat confusing?
What is one thing I can start doing for you?
What is one thing I should stop doing?
6. During our time together today, what key decisions did we make?
Potential Probing Questions: These questions should clarify any expectations that were set, any 'next steps,' due dates (if needed), etc. This is a great way to simply check for understanding.
If you enjoyed this post, here are some others you may like:
How CEOs Grow Accountable Leaders & Teams [Video]
A Leader's Template: 6 Questions to Ask in Your Next One-on-One Meeting
Employee KPI Examples: How to Measure What You Want to Move
Leadership Accountability: The Five C's of Team Accountability
The Five C's of Team Accountability
Strategic vs. Tactical Leaders: Which Are You? [Video]
4 Easy Steps to Fix Your Weekly Staff Meetings [Video]
Photo Credit: iStock by Getty Images
Photo Credit: iStock by Getty Images