At Rhythm Systems, we have been helping companies build strategic execution plans for the last 20 years. We've learned a lot in that time, and the latest version of our software includes enhancements that our expert facilitators use to build complete, execution-ready plans. With these power tools at your fingertips, you, too can plan like a pro!
Get Organized:
Everything you need for creating a strategic plan and seamlessly executing that plan is all in one place. The process starts with organizing your planning meeting, and you can set up all your logistics, invite the team, plan an agenda, and assign pre-work all in our Planning Meetings tool. Set up the meeting with the dates and times, location (or virtual meeting link), success for the meeting, and the participants' list. Download the meeting to your calendar, and keep all the tasks, comments, notes, and attachments for the planning session in one spot.
If you want to run a great session without a ton of heavy lifting, you can use our Best Practice Agenda & Slides which have everything you need to create a plan with your team. You can also build a custom agenda and include attachments for other slides or materials you might need.
Start with the Vision:
Set the stage for a great year by painting a picture of success. Identify your year's main thing or theme to get everyone laser-focused and aligned around the most important thing you need to accomplish as a company. In Rhythm, you can share your theme and how you'll measure success, and give that extra motivation by planning a reward or celebration for when you hit that goal.
You can also do the "time machine exercise" and write a Destination Postcard to yourself from the future. This is a great way to visualize success and map out some of the key milestones to get there. You can capture this to share and inspire your team, and even include a picture to paint that vivid picture and excite and inspire the team. Anchor back to this throughout the year to keep momentum going, even when things get hard.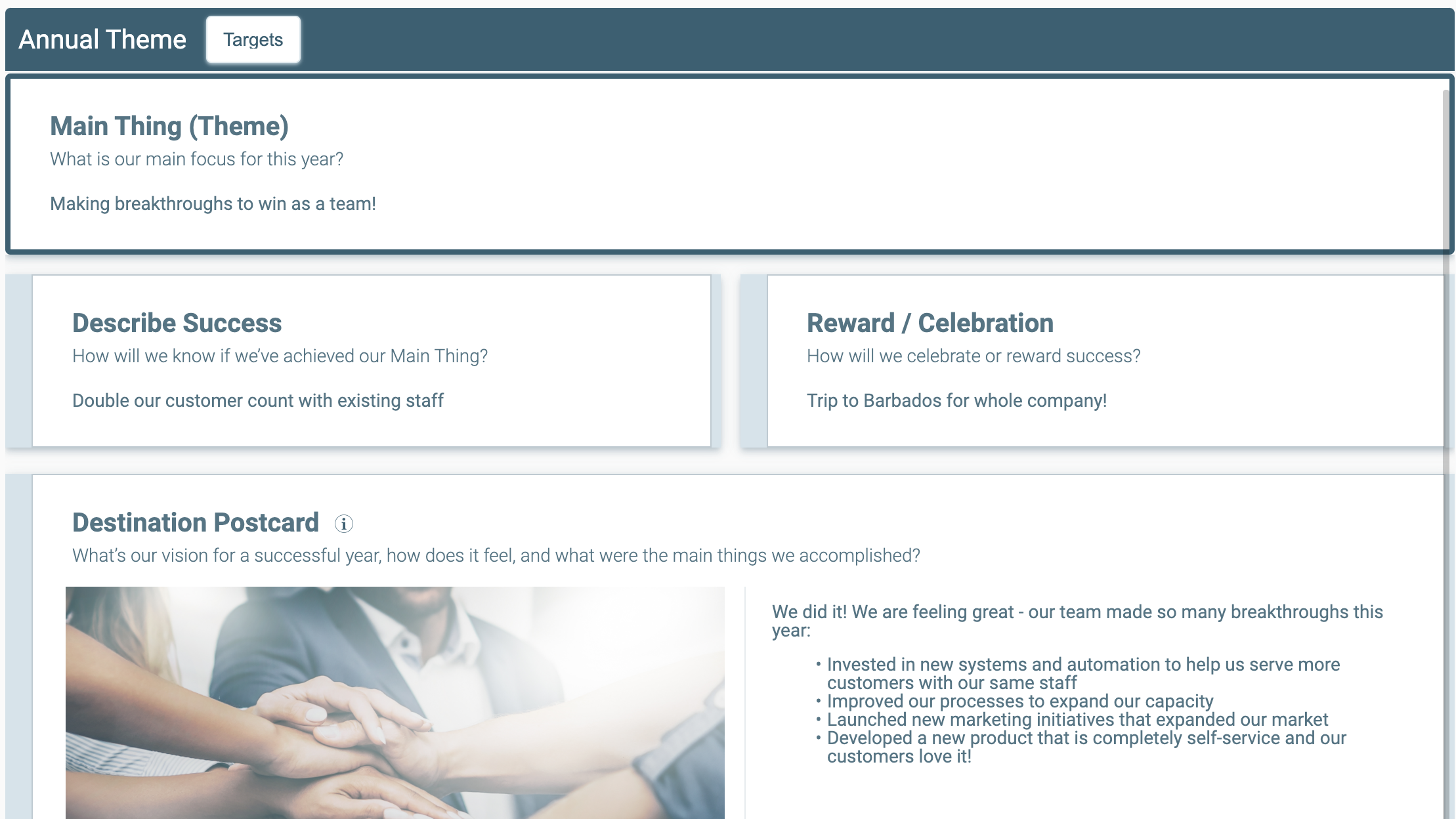 Brainstorm Ideas:
You can create multiple Idea Boards for brainstorming before or during the planning meeting. We recommend having the team complete a simple Start, Stop, Keep exercise before coming to the planning session. You can also have them do a SWOT exercise to prepare or run through a "20 ways to..." brainstorm in the meeting.
Once all the ideas are out on the table, you can use Rhythm to rank them on impact and ability and plot them on a quadrant chart. You can ask the team to agree with the ideas they like best and sort by the top vote-getters. You can re-categorize ideas any way you'd like, and once you've discussed, debated, and agreed on ones to take action on, you can create a goal from your idea with a simple click.
Map Out Your Year:
When you are ready to start mapping out your plan for the year, we have a place for you to put in some potential annual priorities and map out what you'd need to do each quarter to achieve success. Our facilitators usually break the team up into small groups to focus on each potential annual priority, put in potential priorities for each quarter, and then come back together to discuss and decide what to focus on when.
The view in Rhythm allows you to see at a high level which quarters may be overloaded with too many priorities and have the hard conversations to make trade-offs, drag priorities into future quarters or decide not to do certain things if there just aren't enough resources and time to do them well. Get aligned and focused on the right few things to do this year, and when you're ready, convert those potential Annual and Quarter Priorities into execution goals with just a click.
You can refer back to this Planning Canvas in each of your quarterly planning sessions throughout the year to see how you're doing year to date and whether you need to move around potential Quarter Priorities or make adjustments to the plan.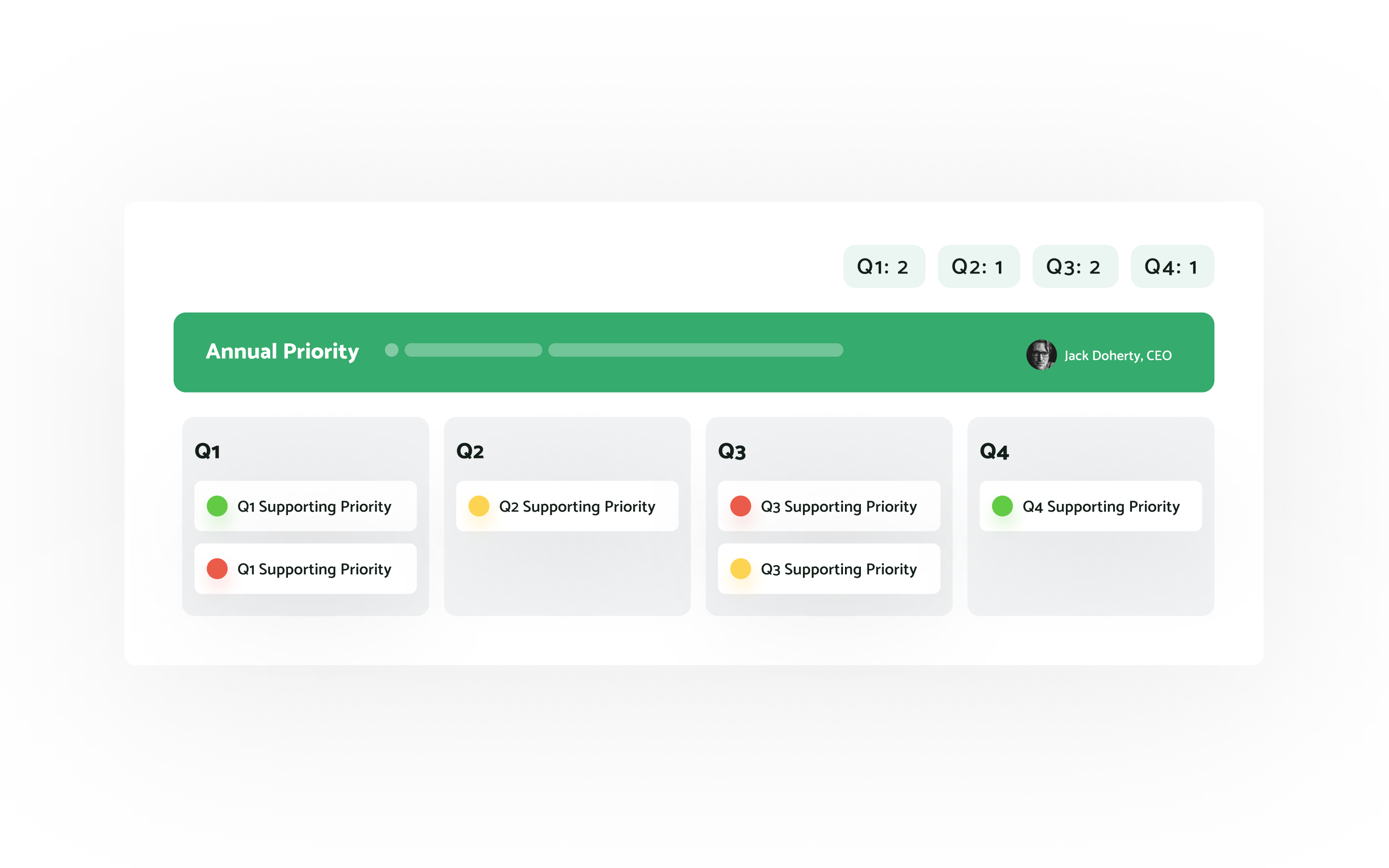 Create a Focused Plan:
Pull your top 2-3 Target KPIs for the year and your top 3-5 Annual Priorities into a Goal Dashboard. You've got one place to see the plan for the year at a high level and how the execution of your plan is going. This control tower view lets you see the goals you care about most and eliminate the noise.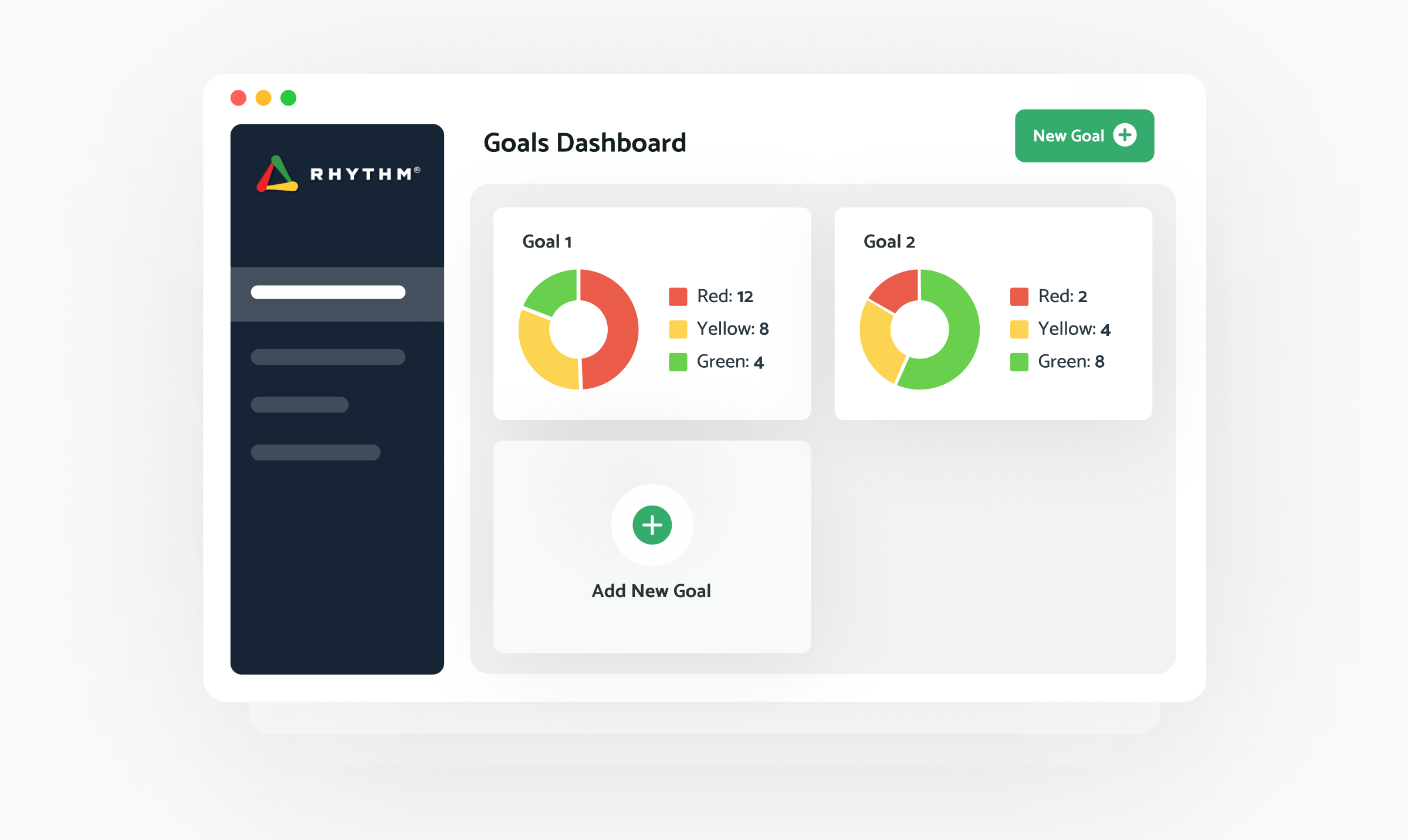 Test the Plan:
Once you've set up your Annual Plan, you'll also need to set up your Q1 plan. Rhythm software automatically runs your plan through 4 tests to ensure it's ready for execution; the Focus, Financial, Energy, and Accountability Tests. The software alerts you of overloaded teams and constraints on resources. You can click to resolve any gaps or issues with your plan easily.
The best part? Now that you've done all the hard work to set up your plan for the year and the quarter, your weekly meeting is a breeze to facilitate. You just have to look at your Quarter Plan Dashboard and drill in on Reds and Yellows to solve problems together and keep the plan on track. You'll never lose sight of your strategic plan or wonder if you're on track for a successful year.
Looking for more Annual Planning Meeting information to help get you started? Check out our additional resources:
Photo Credit: iStock by Getty Images