As a Rhythm Business Growth Coach, I love studying the patterns and operations of winning teams. I find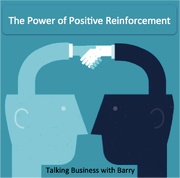 that it's an interesting form of research and, as I work with different entrepreneurial teams around the world, I see patterns evolve that, once identified, can be examined, studied, and duplicated. These are patterns that can be taught to others.
I've also been successful in reverse engineering this approach, that is, finding people who, based on expertise, have the ability to identify patterns that may not be as familiar. Over the years I've found myself using the phrase "check their references." Although most of us know that phrase or have received that advice, there is laziness in the application - and that will cost you. Get lazy in hiring your accountant and you'll pay in lost deductions, misfiled documents (here comes the IRS) and possibly a bankrupt business due to making decisions with the wrong data. Get lazy in hiring your operations manager and you could pay in safety, waste, inefficiencies, team member development, etc. Get lazy about developing yourself as a leader, and you'll pay in missed deadlines, failed projects, lost revenue, missed advancement, and more.
Following my own advice of 'check their references,' when I wanted to know about recognition driven leadership, I looked for someone with experience and position to know the successful patterns. I was looking for someone that had studied and researched hundreds, perhaps thousands of people as leaders. That "keeper of the patterns" for recognition leadership is author Chester Elton. Chester is a prolific writer and has authored several books: All In: Managing with Carrots; The Invisible Employee: Realizing the Hidden Potential in Everyone; The Carrot Principle: How the Best Managers Use Recognition to Engage Their People, Retain Their Talent, and Accelerate Performance; The Invisible Employee: Using Carrots to See the Hidden Potential in Everyone; The Daily Carrot Principle; The Orange Revolution: How One Great Team Can Transform an Entire Organization; and All In: How the Best Managers Create a Culture of Belief and Drive Big Results.
Having grown up with the management phrase 'Carrot and Stick,' I wanted to focus on Chester's book The Carrot Principle, a previous New York Times and Wall Street Journal bestseller.
Chester, what is it about the Carrot Principle concept that is different from other published books and business concepts?
The difference has been in the research. We surveyed 200,000 people in North America and another 10,000 globally to test our theories on recognition. Leaders appreciate that data, and we also sprinkle in a healthy dose of case studies to show how other leaders have taken these ideas and created better work environments.
What has changed in organizations and the business climate overall since you first started publishing? Did those changes affect the main idea that you and your co-author, Adrian Gostick, spread to the world?
While the economy has collapsed, interestingly that hasn't changed our message. In fact, it has made it all the more relevant. In fact, we issued the second edition of the Carrot Principle in 2009, with findings from a global study conducted by Towers Watson in the midst of the recession, and the book has actually outsold the first edition. Leaders right now are looking for solutions to engage their people – more than ever.
Does recognition-driven leadership still have the same pull in an organization that is undergoing drastic changes, such as layoffs, closing departments (or whole divisions), change in leadership, etc.?
Recognition is even more important when you can't give substantial raises and bonuses. Great leaders find ways to inspire, appreciate and engage on a very personal and human level. That is where the Carrot Principle really has impact: great leaders learn that by caring about their people and recognizing their great work, particularly in tough times, they build higher levels of trust and engagement.
Those are areas that drive superior results and pull companies out of these tough times. After all, it's not your products or services that will bring you out of a difficulty; it's the quality of your people. Just about every CEO we talk with confirms that.
And one last point, we love it when we hear from people who have taken the Carrot Principle from the workplace into their homes. It is a principle that helps build better relationships with our spouses, kids, friends, and all the people who are important in our lives. Let's face it, everyone is having a tough day, and a little carrot, a purpose-based thank you, goes a long way.
You can find more about Chester Elton's books and projects at www.carrots.com.
Think back - you've seen it just as I have – the power of reinforcement. It causes children to try harder and athletes to reach deep inside and pull out one more ounce of energy. It drives team members to overcome insurmountable odds. Reinforcement creates a team that would follow their leader into any battle.
Now think again. When was the last time you consciously practiced looking for, and sharing, reinforcement with a family member? What about a personal relationship? How about a team member? If you easily remember more than one occasion, congratulations – research supports the approach. If you can't easily remember several, put it in your schedule; there's still time to put the research on your side. We're talking business and I look forward to your reinforcement in comments below.
Photo Credit: iStock by Getty Images