It is that time of year again when I am developing a workshop for our annual Breakthrough Conference. This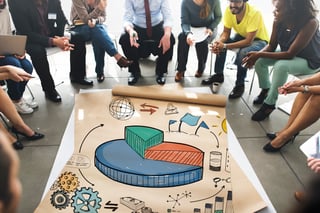 year, I am working on a topic that is near and dear to my heart. I think that is why I asked was asked to create and deliver the workshop. The title is "Create a Culture of Innovation to Improve Your Competitive Advantage."
Here is what you will learn in the workshop:
1. Define innovation and how it drives growth and helps you capture market share. During this section of the workshop, I will talk about what an innovative culture is and give some examples of the most innovative companies of our time to help you begin thinking about how to enhance your own innovative culture.
2. Approaches and the different types of innovation. Being innovative does not just refer to inventing the next great consumer product, like Amazon Echo, or next big thing. There are many ways to be innovative that include creative business models, products, services, processes, and organizational structures. We will explore some very interesting examples to get your innovative juices flowing.
3. We will move on to explore various innovation models and tools like The Lean Startup methodology, EXO Models, The 4th Option, and Outhinker and tools like the Idea Board in Rhythm 4.0, 6 Thinking Hats, and the 36 Chinese Stratagems. Ideation is great but useless unless you can manage it and execute on it.
The session will offer plenty of learning and time to work on your own company's innovation potential so that you have a jump start on some things to go back and work on with your team.
We are expecting a great turnout this year, and I am getting very excited as I work to pull the content together.
I hope to see you in Charlotte on October 19th and 20th. I guarantee you will meet some great people, learn a lot, and have a fun time. Here is the link to register.
See you in Charlotte, and get your creative hat on! - Alan
Photo Credit: iStock by Getty Images
Photo Credit: iStock by Getty Images