At Rhythm Systems we help middle marketing companies get the most out of their meetings, from annual planning meetings to weekly team meetings to help companies get the most out of their strategic plans. Recently we get some questions on how to conduct a technical review meeting and establish a review process.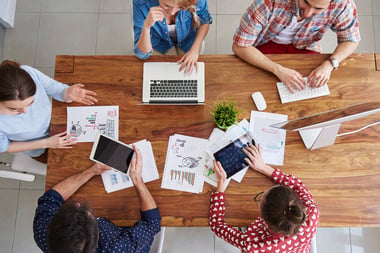 A technical review meeting is very similar to how it sounds. It is a meeting of project professionals to discuss detailed planning and technical issues such as engineering, manufacturing, etc. The technical review meeting allows you to identify specific issues and concerns.
What should you include in your technical meeting agenda?
1. The Purpose
What is the purpose of this technical meeting? Define a clear purpose to get the most out of your meeting. Are we trying to reduce the number of bugs, hit the production date, reduce re-work and other high level objectives of the meeting
2. Materials to be Reviewed
What do you need to work on during the meeting? One helpful way to see what you need to review is a comprehensive project dashboard. In Rhythm, you can review all the project associated action and priority items. What do the attendees need to review prior to the meetings? Do they need to review the product backlog, any reports - what does the technical team need to do prior to the meeting in order to have great discussions at the technical post mortem meeting.
3. When, Where, and Time
As with every meeting, you need to have a date, time and location for your participants. Make sure to let meeting participants know about the meeting well ahead of time so they can plan and organize their thoughts.
4. The Meeting Timeline
Make sure you set out a detailed meeting timeline, and enable enough time for questions and answers. Make sure that you start on time and end on time and keep the meeting on track by effectively using a parking lot to put great, but off topic, discussions on the list to be discussed at a different meeting.
5. Pre-work
Communicate any items that you want participants to work on or think about before the meeting with plenty of time for them to prepare.
Once you have set your agenda, sent it out to your meeting participants and enjoy your meeting! If you are a Rhythm Strategy Execution software, you can now set up custom agendas, add Actions for pre-work or follow up, include links to documents or other software systems, brainstorm and organize ideas to solve problems, and collaborate before and after your Technical Review Meetings using the Other Meetings feature.
Additional Rhythm Systems Meeting Resources:
How To Have Effective Weekly Staff Meetings (With Sample Agenda Template)
Download our weekly meeting agenda
Are You Having Weekly Meetings with Yourself?
Management Meeting Agenda: Make Your Management Meetings More Effective
Weekly Adjustment Meetings vs. Weekly Status Meetings (Infographic)
Consider using Rhythm Software to run your weekly meeting, where the status and agenda are automatically created every week to keep you on track!
Photo Credit: iStock by Getty Image
Photo Credit: iStock by Getty Images