"Remember that failure is greatness waiting to happen" - Robin Sharma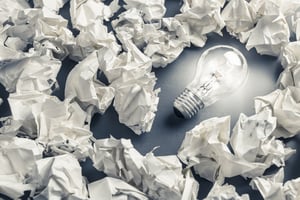 Even though I know that we all make mistakes, I still hate making them. If you are even just a little bit of a perfectionist (like me), then you probably can relate. I am detail-oriented and precise, and it kills me when I overlook or forget something. But, I am coming to see that I need to shift my attitude about mistakes.
In the time I have worked with him, I have heard Patrick Thean say on multiple occasions that if we aren't making mistakes, then we aren't learning fast enough. This perspective reminded me of Robin Sharma's presentation at the recent Fortune Leadership Summit in Orlando. Sharma, who wrote The Leader Who Had No Title, suggested that we are all paid to be scared; we should be pushing ourselves to expand our mastery by doing things that are outside of our comfort zone. Forcing ourselves to experiment with new ideas or ways of doing things and making mistakes in the process is the only way that we can truly grow, learn, and using core competencies examples in business to innovate.
Think about the last time you made a mistake at work (or in your personal life). Did you learn something from that experience that will influence the way you act in the future? Was experiencing the consequences of your mistake more powerful in changing your behavior or mindset than hearing advice from others? Chances are, the answer is yes. So, you can see why mistakes are powerful learning opportunities when we approach them with the right attitude.
Think about the last time one of your team members or direct reports made a mistake at work. What was your response then? Did you shut your people down by immediately taking over the situation to fix it yourself? Did you punish them or embarrass them, making them less likely to admit to future mistakes? Or, did you turn this into a learning opportunity for your team? Did you coach them to raise their own level of mastery by asking questions about what happened and how to resolve it and how to prevent it from happening again? Patrick is fond of saying that he doesn't mind paying for tuition as long as he only pays for it once, which I understand to mean that mistakes are okay as long as we learn from them.
Sometimes, with customer service, making a mistake and far exceeding your customers' expectations by going above and beyond to make it right is the best way to build ambassadors for your brand. John DiJulius talks about this in his book, What's the Secret, and I'm sure we've all experienced some versions of this phenomenon first hand. Once, my dry cleaner returned a dress to me with spots all over it that were not there when I dropped it off. Not only did they get the spots out by the next day, they also refunded my credit card for all of the other garments I had taken to the cleaner that week. I was so pleased with the way they handled this mistake that I recommend this particular dry cleaner whenever I have a chance.
Do you think that your culture is one that encourages learning from mistakes? If not, think about all of the opportunities you could be missing to build leaders on your team and ambassadors for your brand. If you don't have a culture where learning from mistakes is the norm, here are some tips to consider:
Be vulnerable. Share your own mistakes with your team and tell them how you learned from them. Model the behavior of talking openly about mistakes and taking ownership of solutions.
Set expectations. Let your team know upfront that you know they will make mistakes at some point, and that is okay. The important thing is how mistakes are handled when they happen. You can brainstorm some potential mistakes and how they could be handled in positive ways.
Create safety. Build trusting relationships with your team so that you have open lines of communication. If they trust you and feel safe with you, they are more likely to admit to making a mistake than if they feel uncomfortable with you and fear punishment. That is not to say that leaders should not hold team members responsible for consequences of mistakes, but leaders can build accountability and trust at the same time.
So, be brave, try something new, make some mistakes, and let us know how it goes. Good luck!
Looking for more information about Leadership? Check out our additional resources:
Five Key Leadership Skills Every Leader Must Master
Seven Lies about Leadership You Need to Stop Believing
Strategic vs. Tactical Leaders: Which Are You? [Video]
You Have a Corporate Strategy. So... What's Your Leadership Strategy?
Develop Accountable Leaders & Teams
Photo Credit: iStock by Getty Images
Photo Credit: iStock by Getty Images