I bet you're not going to create an Annual Plan this year thinking, "Gee, I'd really like to have a pretty slow year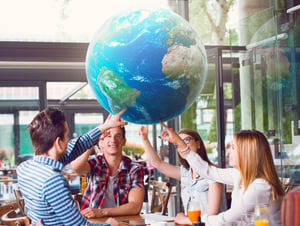 where our company doesn't accomplish much." I bet you have big dreams for the year ahead - important initiatives you want to kick off, lofty revenue goals you're shooting for, new products you want to launch or customers or acquisitions you can't wait to land.
How can you get your team as fired up as you are about the year to come? How can you turn your annual planning meeting from a boring rehash of your strategy and updates from this year into a session where everyone's participating, brainstorming, and innovating? How can you come out of your session with a plan that inspires your entire company to act rather than just think, "more of the same - sell more, do more, yada, yada, yada…"?
We recommend using a "Time Machine Exercise" to write a Destination Postcard during your planning session to help you with an inspiring annual plan. Patrick Thean details our process for completing this activity with your team in chapter 6 of his book, Rhythm. The process is summarized in the infographic below: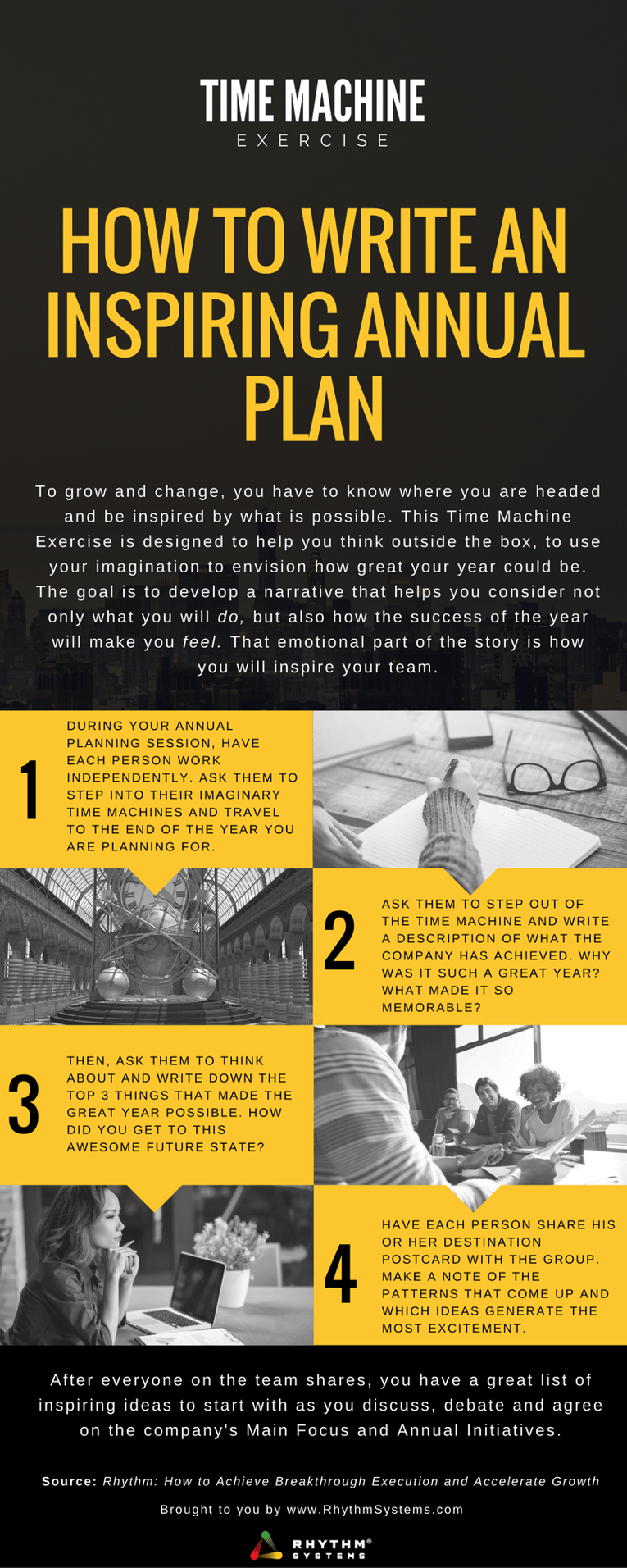 Here's the trick: do not stop here. Once you use this activity with your executive team or department to set an exciting vision for your year, don't forget to share it! When you communicate your annual plan to the rest of the company, don't just show them the targets and annual initiatives. It is important that they understand the plan, but it is almost more important that they understand the vision - the inspiring Destination Postcard that led you to create the plan you did. Always craft your message about your plan to include this emotional part because this is why people will care about getting the plan done. If you share a compelling vision, your team will go above and beyond to achieve the plan for the year.
So, dream it, share the dream, and marvel at the end result!
Photo Credit: iStock by Getty Images
Looking for more Annual Planning information to help get you started? Check out our additional resources:
Annual Planning: 9 Tips to Focus & Align Your Team with a Great Plan
Annual Planning Playbook: 5 Steps to Create a Winning Annual Plan
How CEOs Can Avoid High-Cost Mistakes in Annual Planning
Best Practices for Annual Planning
How to Conduct an Annual Planning Meeting
Rhythm Systems Annual Planning Resource Center
Photo Credit: iStock by Getty Images