I grew up in a manufacturing family. My grandmother had her own manufacturing company, and my father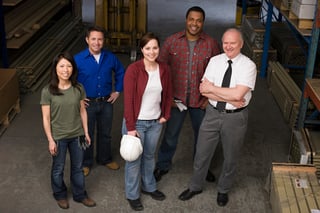 was a partner in a local manufacturing company. I still have very fond memories working in and running the business. It was like one big happy family - most of the time, that is. We had employees that stayed with us pretty much from the beginning and that would be close to forty years in some cases. How do you get employees to stay with you for the long term and contribute to the best of their ability? One of the answers is to ensure they are treated with respect, appreciated, and given the opportunity to be fully engaged in their work environment. Employee engagement for factory workers is the key to creating a high performance manufacturing culture. Being fully engaged means different things to different people, but here are some key approaches to consider for manufacturing workers.
According to a recent study from Manufacturing, engaged employees have productivity rates that are 70 percent higher than those of non-engaged workers. They also enjoy a 78 percent higher safety record, 70 percent lower employee turnover, 86 percent greater customer satisfaction, and 44 percent greater profitability.
Employee Engagement Ideas for the Manufacturing Industry
Make sure employees feel valued and appreciated. This is even more important than pay. I have always found it helpful for people to know how their work contributes to the company's products, services, and overall success. Make sure you take the time to tell people how much you appreciate their efforts, skills, and attitude. This needs to come from all manufacturing employees, team leaders and the executive team - not just human resources.
Implement training and development programs. Cross train and rotate jobs to keep things fresh and strengthen the organization. Create a path of progress for each employee so that they have a personal plan for growth and something to look forward to and be excited about.
Listen to their ideas on how to improve efficiencies and the workplace environment. Implementing LEAN methodologies and creating the right culture goes a long way to providing employees the opportunity to use their minds and have a positive impact on the shop floor.
Provide as much flexibility as possible with scheduling. If possible, let employees make up the schedule for job and shift rotations so that they are part of the decision-making process.
Implement the "Great Game of Business" or some other open-book management approach. When I was younger, I always wondered how to get employees to think like owners. By teaching people how the business makes money, sharing key information, and sharing in the profits, employees begin to understand how their efforts fit in and are more likely to act like owners.
Create opportunities outside the workplace for employees to gather and socialize. This builds relationships across all levels and gives people the opportunity to get to know one another on a personal level. People that play together stay together. It also connects people and engages them more at all levels. This employee experience allows them to increase teamwork and cross functional team alignment.
Attend industry trade shows and virtual events with employees. This shows you are willing to invest in them and gives them the opportunity to engage at a different level with others outside of your company.
Allow employees to be creative and innovate. It is a fact that some of the best product improvements or new product ideas come from the people who know the product best. Give employees some free time to work on new ideas and prototypes. 3M gives their employees up to 15% of their scheduled time to do so with the "15% Rule." Engineers and scientists can doodle around, as they call it, to play with new ideas for products.
Hire people who fit the job requirements. Create Job Scorecards for each job and place candidates in positions that closely match their personality type and skills to get the most successful results. Put people in the right jobs so that they can work to their strengths.

When people feel good and enthusiastic about the work they do, they give it their best and stay with it.

Love your employees. If you don't, somebody else will! Being interested and caring towards your employees makes a huge difference. I must tell you; I have never felt so much love at work as I do at Rhythm Systems, and it makes a difference on how engaged I am. Be open and vulnerable and give your employees the chance to engage with the real you. These connections can be powerful and encourage people to give everything they have. All through history, soldiers have put their lives at risk for great leaders they believed in.
When you have employee engagement, the result is a stronger company that retains loyal employees and customers, and that can provide better products and services that result in a stronger bottom line for manufacturing organizations. Actively working on employee engagement in manufacturing industry will improve your bottom line.
I once heard someone say, wouldn't it be great if we could get people to have the same passion and work ethic on company time as they do with their hobbies at home? I believe that by following some of the tips above you can! Increase employee interactivity and engagements with these tips applied to the manufacturing sector.
Get your manufacturing employee engagement plan together to achieve optimal organizational performance, Alan
Photo Credit: iStock by Getty Images
Editor's note: This blog was originally published on March 14, 2017, and has been updated.
Want to learn more about Employee Engagement? Check out these additional resources:
3 Employee Engagement Stats that Will Make You Take Action
The Shadow Side of Employee Engagement
White Paper: The Unbeatable Return on Payroll of Engaged Employees
The 10 Best Employee Engagement KPIs [Video]
5 Minute Rhythm: Improving Employee Engagement [Video]
5 Employee Engagement Blunders to Avoid
How to Fuel Employee Engagement with a Recognition Culture
Are Employee Motivation and Engagement the Same? [Infographic]