It's hard to believe Annual Planning season is just around the corner again! Many of our teams have already scheduled their dates and are starting to prepare.
Below are 7 steps to get you going on your upcoming Annual Planning Session:
1. Set the date. Make the commitment and set your dates now. You will need a minimum of two days. It should be before budgets for the next year are finalized. Scheduled well in advance and make sure the team knows it isn't optional.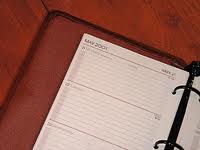 2. Select the Facilitator. Who is the best person on your team to lead the session? Some CEOs take on this role. Sometimes facilitation is a strength of someone else on the team. Others find it very difficult to both facilitate and participate, so they bring in a coach to facilitate. If bringing in a coach, schedule now so you are sure to get your dates!
3. Select the Location. To avoid the regular distractions of the office, reserving space off site is highly recommended. It also gives people a different or fresh perspective by simply having a change of venue. Declare your location a "no distraction zone," asking everyone to leave phones and email off.
4. Choose a Meeting Coordinator. Designate someone to cover all the administrative aspects of the day. Food, snacks, drinks, A/V setup, note taking, etc.
5. Prepare Meeting Materials. The facilitator should start preparing for the session a few weeks in advance. Use the materials, agendas and slide decks in Rhythm University to jump start your preparation. Rhythm Elite clients should begin prepping with their coaches. As part of the process, identify materials that you will need at the session. Flip charts, markers, whiteboards, tools, videos, etc.
6. Email Agenda & Pre-work to Attendees. Set your team up for success by helping them prepare in advance. Get them thinking with the Start-Stop-Keep Exercise. Send the team the agenda ahead of time as well.
7. Secure Last Minute Details. Inevitably there will be last minute details that come up. Be sure to confirm the room, A/V requirements, food, travel, etc. well in advance to head off any issues.

With a little advanced preparation, you will be well on your way to getting the best out of your team for Annual Planning. Happy planning!
Photo Credit: iStock by Getty Images