I recently had a CEO share with me that he "thinks" everything is fine in his company. After all, he said,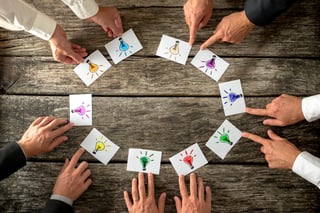 "We know what we know!" In his world, spreadsheets were the name of the game. Yet, there's a problem brewing at his company: people are realizing how easily key details or metrics get buried. If no one sees the information, then it's an "out-of-sight/out-of-mind" corporate mentality. But, this mentality serves only the self-serving leader; it doesn't serve the company very well at all. Yet, we like our spreadsheets. We know how to use them (at least some of us know), and we like what we know, so why change?
If you want to grow a viable company, though, you need to check yourself and your leadership team. Are you relying on "yesteryear thinking?" If so, how do you know? Here's a quick glance at how you might recognize old-time thinking.
1. You still use a ton of spreadsheets or Word documents to track your most important metrics.
2. You don't leverage technology.
3. You do not have a culture of transparency.
4. You use data to make decisions.
5. Most of your leaders are transactional.
6. You have few, if any, Winning Moves.
7. Leaders are frequently fighting fires.
And this brings us back to spreadsheets. Yesteryear thinking is a celebration of "lists" and "to do's" and "tasks" that are either sitting on someone's desk or buried in a massive spreadsheet. Almost without noticing it, you're celebrating mediocrity vs. excellence.
While changing the way you run your company can be a bit disruptive, that doesn't mean it shouldn't be done. In fact, you'll know you're making progress in stretching the way people think when you hear some grumbling about having to do something differently. So consider using a tool such as the Rhythm Dashboard to get away from digging through spreadsheets just to see how something you strategically identified as important is doing. Create a culture of transparency by talking about what's going well and what's not going well. Hold yourself and your leaders accountable for creating meaningful connections with their people. Cascade your Annual Plan and get ideas from your employees for solutions, process improvements, new ideas and concepts, etc.
It's amazing what focus, alignment, and transparency can do to raise the level of thinking within your company.
Photo Credit: iStock by Getty Images
Photo Credit: iStock by Getty Images