There are many views or definitions of strategy. Renowned Harvard Business School professor and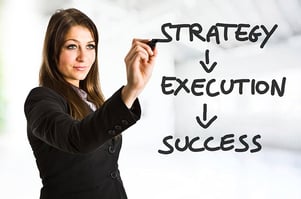 strategy expert Michael Porter provided one that I like because of both its simplicity and clarity. Porter defines strategy as:
The creation of a unique and valuable position, involving a different set of activities.
Porter argues that tactical improvements or operational efficiencies are not strategies but that the essence of strategy is to perform a different set of activities from that of your rivals. For many businesses, regardless of size, strategy work may get completed annually but there is a disconnect between strategy and performance. There have been many books and articles written on the topic of "Execution". An Execution framework is critical to be certain, but outstanding execution will not rescue strategy that lacks focus or differentiation. To be successful, a company must master the three areas of Strategic Growth: Strategic Thinking, Execution Planning, and actually Doing the Work.
Data from a Bain Consulting study, notes that seven out of eight companies in a global sample of 1,854 large corporations failed to achieve profitable growth, though more than 90 percent had detailed strategic plans with much higher targets. The Harvard Business School (HBS), in a 15-year study, has looked at root causes of the disconnect between strategy and performance. They have learned that most organizations do not have a strategy execution process. Many have 3 year strategic plans, but no coherent approach to manage the execution of those plans. You have to perfectly balance your long-term goals with the short-term needs of your business, which can be challenging - which is why you need a quarterly plan.
Consequently, many key management processes remain disconnected from 3-year strategic plans. Some interesting data points from the study include:
Many organizations don't have a consistent way to even describe their strategy, other than in a large strategic planning binder. They believe strongly that organizations need to find a consistent, coherent way to translate their strategy into operational terms.
60 percent of typical organizations do not link their strategic priorities to their budget, virtually ensuring that key strategic initiatives do not get funded and resources may not be supplied to deliver on the strategic plan.
Two-thirds of HR and IT organizations develop strategic plans that are not linked to the organization's strategy.
70 percent of middle managers and more than 90 percent of front-line employees have compensation that is not linked to the strategy.
Most devastating, 95 percent of employees in most organizations do not understand their [organization's] strategy.

This may seem like large enterprise challenges versus the challenges faced by nimble, focused, and entrepreneurial organizations. The scale may be different, but the challenges are consistent, along with a new set that go along with being a smaller enterprise. Whether it is time, skills & knowledge, access of critical resources or money, small business may have an additional set of challenges that impact both strategic thinking and execution planning. What are the opporunities and threats facing your company?
The foundational building blocks of many organizational strategic plans are its Mission, Vision Statement and Core Values. Most organizations have spent some time on the exercise, but few have the continual focus that allows the foundation to both shape direction and impact results. Not a criticism, but an observation from having talked to thousands of business leaders over the past 25 years. Nod your head if you have ever rolled your eyes after having been invited to another Mission or Vision building exercise? Point being that you saw limited value based on previous experiences and data would clearly support that there is a disconnect that is impacting performance.

So, how might you solve this common challenge?

As the new President of a 300-person mid-sized software company I was introduced to the One Page Strategic Plan Methodology. I used it as the new leader to focus and align the entire organization and to get them on the same page. Over the course of the next five years, we used the framework as our weekly, monthly, quarterly vehicle to help us execute for growth. By the end of year 3, we had doubled the revenues and quadrupled the profit contribution of the business. The team executed very well and the model we used (along with tools) changed people's perspective for the positive about the role of Strategic Planning.
Please download our free 3 year strategic planning template to get started and check out our professional facilitation services if you need expert help to get you started.

Want to learn more about 3 Year Strategic Planning? Check out these additional quarterly planning resources:
Value of Outside Facilitation for Quarterly and Annual Planning
The Anatomy of a Great Quarterly Plan (Infographic)
Lean Quarterly Planning: How Complex Companies Drive Out Waste
10 Tips for a Successful Quarterly Planning Session (Video)
How to Choose the Right Priorities During Your Quarterly Planning Session
Tips to Help You Prepare to Facilitate Your Next One-Day Quarterly Planning Session
How Much Time Should I Allocate for My Quarterly Planning Session?
The Definitive Guide to Quarterly Planning
Rhythm Systems Quarterly Planning Resource Center
Photo Credit: iStock by Getty Images