For many, it's time to roll out those 2021 plans and kick off some new initiatives to help your company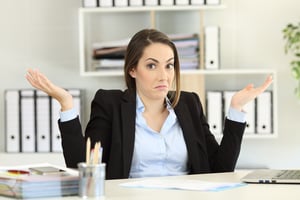 build back or accelerate growth in the new year. This may present additional challenges in the current environment in which many teams are working remotely or in hybrid scenarios where some are in the office and some are not. Truthfully, even if your team is all together in the same room, getting aligned around your company's new initiatives can still be a big challenge.
Why is it so important to set clear expectations for your company's goals? It takes a long time to think, discuss, debate and decide on the annual company goals; why isn't it enough to come out of your planning process with a list of goals? Presenting your team with a list of goals without clarifying expectations for each will result in many execution issues.
Some of the execution issues that happen when you don't take the time to provide clarity on each goal include:
Confusion, frustration and rework. If you don't clarify expectations around your new initiatives, your team members may make assumptions to fill in the gaps and work hard on the wrong things. This is wasted time, money and effort for your company and your team.
Lack of buy-in. Your employees have plenty to do already, and if you come to them with a vague list of new goals for the year and no practical definition of success or clear actions for them to take, they'll shrug off your list of goals and go back to what they were already working on.
Cross-functional miscommunication. If you leave teams to their own devices, you are setting them up to work in silos and could end up creating some real issues. If your executive team doesn't clarify the goals, each departmental leader will be left to communicate their best guess at what the goals mean to their teams. And just like the game of telephone, chances are the further through the organization the goals are communicated, the further from your original intent they may get. You could end up with an expensive mess if your sales leader interpreted the new product goal differently than your production leader; what if you sell twice as many products as you make?
Don't frustrate your teams. Activate your employees' energy and enthusiasm by clearly communicating goals and expectations. If your team members know which goals to focus on, what success looks like, and who is doing what, they will be empowered to execute flawlessly and avoid costly mistakes.

Here's how to clarify expectations for each of your company's goals:
Write each goal with a verb. This way, everyone knows what you are actually doing. It's very tempting to use shorthand or categories and think, "Everyone knows what we mean by 'tradeshow' or 'India,'" but that's just because you've been talking and thinking about it for so long. Including a verb is a simple way to make your goals more clear and actionable to your team.
Set start and end dates for each goal. If you knew you had to create a new program in 3 weeks, you'd probably approach it a lot differently than if you had 3 months. Setting specific deadlines helps you clarify what's realistic to achieve in that time frame and helps with managing cross-functional dependencies.
Assign one owner to each goal. Many people in your company will be working on your big initiatives for the new year, but if you don't assign one person to own the goal, your execution will suffer. If "everyone" owns something, who will follow up when deadlines are missed? Who will call the meeting to brainstorm solutions when it goes off track? Who will pull in additional resources? Who's going to be thinking about it on the commute or in the shower? Putting one person's name on each goal is a powerful way to ensure someone is accountable for achieving it when many may be responsible for doing their part.
Define Red-Yellow-Green success criteria. This is often the missing link for company goal-setting. Often, my clients think they've done a great job writing a clear goal that anyone can understand until I ask them, "What's the green success criteria?" or "What's the successful outcome for this goal?" Many times, they can't answer it, or worse, they argue among themselves about what the outcome really should be for the goal by the due date. Until you have a meaningful conversation about what success looks like and document that, you don't have clear expectations.
Break it down. Each goal should have "child" goals that break down more specifically which teams or individuals are doing which parts of the work. Some of your goals will be broken down into a simple task list and some will have more complex sub-goals that different departments need to complete for the bigger goal to get done. You need a more detailed plan either way so that your employees are clear on who is doing what and by when.
Once you've put each of your goals for the year through this process and documented the five items on this list, you'll be ready to share it. How you communicate the plan is everything. You can't just send an email or throw together some slides for your next company town hall. Doing these things are great, but you can't stop there - you have to communicate the plan in a way that each person on the team understands the overarching goals and their individual contributions. We recommend cascading the plan so that individuals hear it, think about it, and then meet with their own managers and teams to discuss how they will contribute to the company's goals.
To keep alignment on the goals throughout the year, we recommend using a visual dashboard to track progress and identify where things are going off track along with having weekly meetings to address issues and solve problems. If it sounds like a lot of work to clarify expectations to help your team members succeed, it is—but think about the cost of not doing it. Achieving your company's goals and doing it as effectively as possible has never been more important.
Check out our additional goal setting resources:
Goal Setting 101: How to Write Effective Goals
OKR vs KPI vs MBO and What the Best Goals Have in Common
SMART Goal Setting Theory: To Create SMART Goals, Start With "Why"
Using Red-Yellow-Green Success Criteria Examples That Are SMART
Role Clarity: Setting Clear Expectations with Goals
Photo credit: iStock by Getty Images
Photo Credit: iStock by Getty Images