At Rhythm Systems, we've been using Zoom for many years as a way to share screens, audio and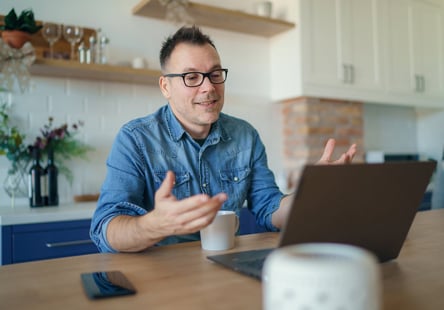 video with our clients who are all over the world. About half of our team also works from home, so we've used it for our internal meetings as well. However, though I am far from new to Zoom, even I have been taken aback by how ubiquitous it has become in the last two months. In addition to all the regular work calls over Zoom, I've also been to a few Happy Hours, some playdates and story times, an Easter celebration, a birthday party and even a gender reveal party virtually with Zoom.
For many of us, Zoom is going to be part of the ongoing landscape of how we communicate—personally and professionally. With that in mind, now's a good time to ensure we are using it well.
Here are some tips and tricks for a great virtual meeting using Zoom:
1. Set the stage. If you have an important customer meeting or are about to deliver remotely on a service over Zoom, you better give some thought to making yourself and your background look as professional as possible.
Get your lighting right. Don't sit in front of a bright window or lamp; that will give you that "witness protection program" dark, shadowy look. Put a lamp behind your webcam so your face is well-lit. Use a softer, more yellow light rather than something bright and harsh. Natural light is good, too, just be sure you aren't sitting in a shadow.
Consider your background. Since I work from home with my children, I am constantly having to do a pre-Zoom sweep for stray toys, dirty clothes, giant stuffed bears, etc. In addition to being sure the background is not distracting, consider arranging it with something professional, like a bookshelf or a table with a lamp. Consider hanging your framed diploma or other professional credentials on the wall behind you (check out one of our long term clients, Church Hill Classics, if you are in need of a frame). If you don't have a space that looks nice, you can use a virtual background on Zoom. Be sure to experiment with this before jumping on your important meeting; you don't want to choose a background that is distracting or use a virtual background if it distorts your appearance.
Make yourself look good! Don't have time for full hair and make up (or maybe haven't had a chance to touch up those roots in a while)? That's OK! There's a setting in the Zoom video settings to "touch up my appearance." You can turn it on by going to your Zoom preferences.
Position yourself in the frame. You want to be centered in the frame, and be sure the camera is about an inch above your eye level. This will give you a flattering camera angle and when you "make eye contact" by staring into the green dot on your webcam, it will feel more natural (if that's possible). When you've set up the webcam in the right spot, be sure you are still comfortable typing, using your mouse, etc. If this seems impossible, consider using a different camera (maybe on a second monitor or using your phone.) Be sure that your background still works for you, and that you aren't sitting with a lamp coming out of your ear.
2. Make it secure. We've all heard the horror stories about "Zoom bombing" at this point. To avoid any unwanted participants in your meeting, here are some steps to take:
Keep your Zoom app up to date. They are releasing new security features every week, if not more often. Keep checking for updates and be sure to use the latest version.
Set up a unique link for each meeting. Don't use your "Personal Room" for every meeting. To make it easy to create a unique link for each meeting, we use a Chrome Extension called Zoom Scheduler. It lets us create Zoom links with a click of a button right from our Google calendar. Send those links directly to your meeting participants rather than posting them anywhere.
Enable the Waiting Room. For extra security, you can turn on this feature which assigns all your participants to a virtual waiting room. As the host, you get a little notification when someone enters your Waiting Room, and you can click to let them in. If you don't know someone or are not expecting them in this meeting, they won't be able to join without your permission.
Learn to use the Security panel. If someone does get into your meeting uninvited, you can quickly lock the meeting and remove the problematic participant. Don't let this catch you off guard; go ahead and practice using these features before your call.
3. Prep your participants. Most people are used to Zoom by now, but you should still prepare the meeting participants in advance so they are as comfortable as possible using the tool.
Send technology ground rules in advance. You don't want to surprise people with a "video is mandatory" expectation when they are still in their PJs and not expecting anyone but their cats to see them that day. Give them a warning so they can be ready to engage in the meeting fully.
Help them get to know your tool. Some people use Microsoft Teams or Webex or something else and aren't as familiar with Zoom. You can shoot over a quick tutorial link so everyone knows how to mute themselves. This is especially important if you are planning to use any advanced features (like the Breakout Rooms). You don't want to spend a lot of time in your meeting troubleshooting technical issues, so get ahead of it by sending out some basic instructions in advance.
Enlist an assistant. If you have a large number of participants in your meeting (maybe more than 8), you may want to enlist someone to help you with the technology and answering questions about how to use Zoom so you can focus on the content of your meeting. Meet with this person ahead of time to talk through who's going to do what on the call so it is seamless.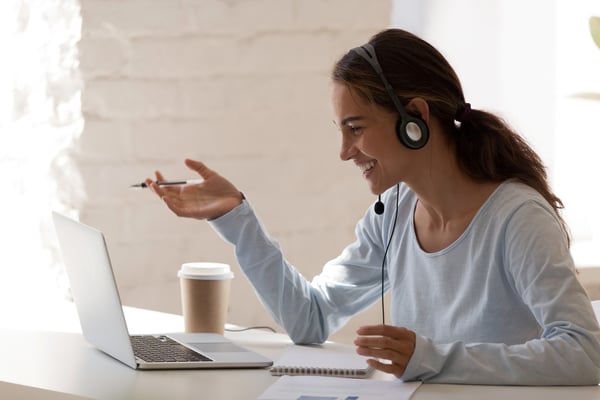 4. Have a great meeting! Now that you've done all the work to set it up, it's time to crush it.
Open the meeting early. If you have people who have never used Zoom before, be sure to start the meeting 10-15 minutes before the meeting starts to give people time to login, test their audio/video equipment, and get ready. You should be there, ready for some small talk to help them feel welcome just as you would in person.
Use the "Brady Bunch View" to see all the participants. If you have a second computer screen, turn on the dual monitor setting, and use the Gallery view on your second screen to see all the people on your call. I recommend clicking on your video and choosing "Hide Self" so you don't get distracted staring at your own video…I know it's tempting, and you do look great!
Maximize the technology. If you have a large group of people, use some of the Zoom features to help you manage the meeting. You can use the Breakout Rooms to have smaller group discussions. We love this feature for our meetings. There's whiteboard capability if you need it. You can also use the Chat for handling technical issues as they arise or letting everyone know if you have to step away—and if you just want to get a quick reaction, there are buttons for that, too.
Don't over-engineer it. While you should explore the platform features that can help you have a great meeting, don't use every bell and whistle just to use it. Not every feature will be helpful in every meeting, and if you've spent more time explaining how to use the Zoom features than on the content of the meeting, you've done too much.
Hopefully, these tips will help you use Zoom for a great virtual meeting. At the end of the day, remember to set an objective for your meeting, and stick to it. Virtual meetings are only as productive as your preparation and plan allow. If you have other tips and tricks, please share them! :)
Additional Virtual Strategic Planning Session Information:
5 Best Practices to Manage Remote Employees
How to Engage Remote Employees
How to Use Daily Huddles to Stay Aligned with Remote Teams
5 Steps to Having a Productive Virtual Monthly Meeting
The Anatomy of a Great Quarterly Plan (Infographic)
Rhythm Systems Quarterly Planning Resource Center
Photo Credit: iStock by Getty Images
Photo Credit: iStock by Getty Images