After recently reviewing hundreds of 2017 Annual and Q1 plans, I can say without a doubt that improving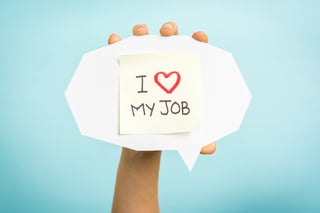 employee engagement seems to be top of mind for everyone this year. How on earth do you keep today's dynamic and diverse employees happy, engaged and productive? It's the million dollar question.
According to Gallup, companies with highly engaged workforces outperform their peers by 147%. Gallup also concluded that 87% of employees worldwide are not engaged. So, how do you know if your company is on the right side of those statistics?
As with most things, the first step is to start measuring.
Here are the Top 10 Employee Engagement KPIs I've seen from Rhythm clients:
1. Employee NPS - Determine your Employee Net Promoter Score (NPS). The Net Promoter Score is a method developed by Fred Reichheld and explained in his book, The Ultimate Question. In a nutshell, it's based on a direct question and the scoring is on a 0-10 scale. Ask your team if they would recommend a job at your company to a friend or family member.
2. Absenteeism - If not showing up is an issue at your company, engagement is suffering for sure!
3. Turnover/Retention - Employees who are not happy will simply leave to find a place where they can be happy. Pay close attention to the tenure of employees who quit. Are you losing A players who have been there a long time?
4. Production/Profitability - Quite simply, if employees aren't engaged, the proof will be in the pudding.

If sales are slow or production is down, consider low engagement as a possible cause.
5. Employee Health Index - This one is interesting. It's simply a "gut-check" KPI that each employee statuses each week. As an example, I'll share our Red-Yellow-Green success criteria for the Rhythm Consulting team. SuperGreen means "Bring It On" or I have the bandwidth to take more clients or help another consultant. Green is "Balanced" or I feel full but it's just the right amount of work. Red means "I need help" or I don't have the bandwidth to take on additional clients or projects right now. As a team, we discuss our Employee Health Index in our weekly meeting to make sure everyone gets the support they need.
6. Glassdoor.com Rating - GlassDoor is a website that allows employees to write reviews of their employers. Reviews are evaluated and companies are rated 1-5 stars. For larger organizations, watching this rating can provide insight not only to how current employees feel, but how those who have left feel. Also, it's great to know what is being said about your organization in the marketplace from a recruiting standpoint.
7. Vacation Days Used - On the surface, the value of this measurement may not seem very insightful; however, a healthy work-life balance promotes employee engagement. Vacation Days Used can also be an indicator of your culture. For example, do people not feel comfortable taking time off? Are they so overloaded a vacation just isn't possible? Do they feel no one has their back if they were to take a few days off? If people aren't using them, there's usually a reason.
8. New Hire 90-Day Failure Rate - Engagement is a mindset. However, employees can become engaged if given the proper tools and training. If new hires are leaving in the first 90 days, they either weren't the right hire from the beginning, or the onboarding process didn't set them up to be engaged.
9. Customer Happiness - This one follows the logic that happy employees equal happy customers. Measure Customer Net Promoter Score. If it's low, consider the possible impact of low employee engagement is having on customer happiness.
10. Rhythm Usage - For those of you using Rhythm software, measure employee engagement with the tool. Are they statusing and commenting on their priorities? Are they collaborating with the team and problem-solving in week meetings? If they aren't excited about the strategy and supportive of the execution of the strategy, they aren't an engaged employee.
Looking for some KPI Examples to help get you started? Check out our additional resources:
The Power of Systems and People: Accountable Leaders and Teams
25 KPI Examples for Manufacturing Companies
27 Recruiting KPIs for the Staffing Industry
33 KPI Examples to Measure Productivity & Prevent Organizational Drag
Employee KPI Examples: How to Measure What (or Who) You Want to Move (Video)
KPI Examples for Successful Sales Teams
Rhythm Systems KPI Resource Center

Photo Credit: iStock by Getty Images