CEOs are busy people. They spend most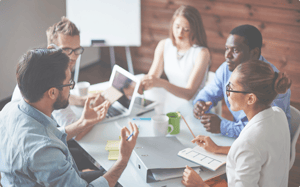 of their time working hard to run their companies effectively. Objectives and Key Results, or OKRs, are one of the most effective tools that executive teams can do in order to achieve their results.
In this article, we will explain what is an OKR, how it works, and why you should use them. We will also show you a few examples from real life. Your company is only as good as its strategy; trust us, we've been doing this for nearly two decades, so translating your strategy into actionable OKRs for your team is an effective way to align your teams. OKRs have become one of the most prominent goal setting frameworks used company wide and can help with performance reviews and coaching sessions.
What are CEO OKRs?
OKRs are objectives and key results. They are used to set goals and measure progress toward those goals. Once the OKRs are set up we can make sure that the strategy makes it down to team managers with company OKRs and team OKRs. OKRs are fantastic as they can be used with standard metrics, like KPIs. (Read OKR vs KPI article for a deeper dive.)
Why are OKRs useful for CEOs?
OKRs allow CEOs to focus on the big picture. Instead of spending hours reading reports and analyzing data, CEOs can simply focus on achieving their OKRs.
OKRs give CEOs a clear view of what they need to accomplish each quarter. This allows them to plan ahead and work on important tasks (such as cost controls and revenue growth) and avoid wasting time on unimportant tasks.
How do I implement OKRs?
There are three main steps to implementing OKRs. First, identify your OKRs. Next, define your OKRs. And finally, track your OKRs. Read the leader's guide to implementing OKRs for complete details.
Identify Your OKRs
First, identify your OKRs based on your company's strategy. For example, if your company has a growth strategy, your OKRs may include things like increasing revenue, reducing costs, growing customer base, etc.
Define Your OKRs
Second, define your OKRs using specific numbers. For example, if one of your OKRs is to grow revenues by 10% next year, you should write down exactly how much revenue you expect to generate next year.
Track Your OKRs
Finally, track your OKRs regularly. Even if you're tracking quarterly OKRs, you should review your OKRs every week at your weekly meeting so that you can your team can make adjustments as necessary to keep all of your OKRs on track.
This gives you a chance to see whether you're meeting your OKRs. If you aren't, you can adjust your actions (but not your OKRs!) accordingly. OKRs are one of the most popular performance management tools used by companies across the globe. Rhythm systems strategy execution software can help you track all of your projects, metrics, meetings, and more.
In this article, we'll share five examples of OKRs that worked well for CEOs.
#1. CEO OKR Example: Netflix CEO Reed Hastings
Netflix CEO Reed Hastings has been using OKRs since 2012. He uses them to set goals for his team members and measure progress against those goals. He says that he sets quarterly goals for each member of his team. Then, he measures whether or not they met those goals. If they did not, he holds them accountable.
For example, if a team member didn't hit a goal, he would tell him/her exactly what was wrong and give him/her specific steps to correct the issue. This accountability system works really well for Netflix. Their employees are held responsible for meeting goals. And they are rewarded for hitting their goals.
#2. CEO OKR Example: Walmart CEO Doug McMillon
Doug McMillon is another successful CEO who uses OKRs. His team members report directly to him. They are expected to come up with goals for themselves and their teams. Then, they are held accountable for achieving those goals.
McMillon uses OKRs to hold himself accountable too. For example, he sets yearly goals for his company. Then, he measures his progress against those goals. If he doesn't hit his targets, he takes action to improve his results.
#3. CEO OKR Example: Starbucks CEO Howard Schultz
Howard Schultz is an American businessman and former president and chief executive officer of Starbucks Coffee Company. Schultz has been using OKRs for over 20 years. He believes that they are a key part of any organization's strategy.
His team members are expected to come up with goals for themselves and their team. Then, they are measured against those goals. As a result, they feel motivated to achieve success and continue their global sales expansion.
#4. CEO OKR Example: Amazon CEO Jeff Bezos
Jeff Bezos is the founder and CEO of Amazon.com. He founded the company in 1994. Bezos has been using OKRs ever since. He says he wants his team members to focus on customer service, innovation, and operational excellence.
He uses OKRs to ensure that these areas are prioritized. He ensures that each of the required team members has at least one OKR associated with one of these high-priority areas. It allows them to keep the focus on getting better at one of the company's core competencies.
#5. CEO OKR Example 5: Apple CEO Tim Cook
Tim Cook is the current CEO of Apple Inc., a multinational technology company headquartered in Cupertino, California. Cook joined Apple in 1998 after serving as general manager of the Macintosh division at IBM. Since then, he has led Apple through several major transitions.
Cook has been using OKRs to guide his decisions. He says that he uses them to drive employee engagement. He says that they allow him to identify opportunities and challenges facing the company. This helps him prioritize tasks and allocate resources effectively.
These are just a handful of examples of successful CEOs who use OKRs. We can help you get into the Rhythm that you need in order to complete all of your goals! Feel free to drop us a line if you'd like to learn how to write goals, expertly facilitate your strategic meetings, and the strategy execution software to keep track of it all.
Enjoy!
Looking for some additional OKR examples to help get you started?
OKR vs KPI: What's the Difference Between OKRs and KPIs and Why You Need Both?
OKR vs KPI vs MBO: What the Best Goal Types Have in Common
Using OKRs for Your Weekly Team Meeting
OKR Video: How to Get Started with OKRs and the Best OKR Software
OKR Examples for Manufacturing: Measure What Matters for the Quarter
Using Red Yellow Green Performance Indicators Examples That Are SMART
OKR Goal Setting Steps: 5 Keys to Drive Better Results
SMART Goal Setting Theory: To Create SMART Goals, Start With "Why"
Photo Credit: iStock by Getty Images