In any industrial company, there are business goals to hit, KPIs to measure and OKRs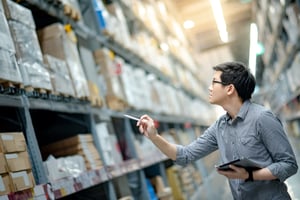 (Objectives and Key Results) to complete. In manufacturing companies, the business goals and KPIs carry a different weight because of the raw material costs, labor costs, supply chain issues, and other factors involved in getting your product to market. Strategic planning has a special role in manufacturing so you know where your business is starting from and what end goal you want to achieve. Quarterly planning is key in accomplishing those targets.
Before you take on any kind of quarterly planning, you need to take a look at several key areas of your manufacturing business. At a very high level, you and your executive team should have a full understanding of your productivity rates and efficiency ratios. Quarterly planning and goal setting is the key to driving your production and manufacturing KPIs and accomplishing large scale changes. We'll cover our best practices for quarterly planning for manufacturing and industrial companies.
Productivity refers to the number of units manufactured in a given period of time. Do you have a set goal for what the productivity output should be for your business within a certain timeframe (week, month, quarter, or year)? If your goal supports the production of 100 units per week, for example, how many actual units are produced at the end of that week? If you come up short, what adjustments do you need to make to hit production targets? What are the second-order consequences? Are you going to miss delivery dates for a key customer? The manufacturing sector, with its in-time delivery model, leaves little slack for missed shipments.
Secondly, you need to understand your efficiency rates. Of those 100 units, were any of them returned because of a defect? Do you have an identified target efficiency rate for your business? Many manufacturing companies operate around 60-80% efficiency. Does that number line up with your overall business targets and the number of units that need to be sold to achieve your business goals? If your current business efficiency number is not where you want it to be, it's important to examine your process to look for ways to improve those efficiencies, eliminate redundancies and streamline the process (check out our leader's guide to implementing OKRs.)
What's the old adage? You can make something good, cheap, or fast, but never all three. Take some time to assess your productivity and efficiency numbers and how they compare with the business goals you've set. It is extremely hard to fill all the manufacturing jobs in the United States (and globally) with enough skilled employees, so you need to ensure your development teams are working optimally.
Next, you need to look at the opportunities and threats facing your industry or market. Do new trade tariffs impact your production? Is the pipeline of new orders impacted by any external factor that's beyond your control? Are there any issues developing in your supply chain that you need to mitigate to maintain your production schedule? As an example, just a few years ago General Motors viewed their competition solely as other producers of motor vehicles, little did they know that Uber, Lyft and autonomous vehicles would provide competition.
With all of that data, it's time to get into planning your quarter. Like Ferris Bueller says, "Life moves pretty fast." Before you know what's hit you, you'll be looking at the end of the quarter when you felt like you'd just completed planning. It's important to carve out time each month to check in on and refocus your annual and quarterly plans. You have 13 weeks each quarter to move the needle on your business goals, so here are four key steps in working your quarterly plan.
Step 1: Make a Customized Quarterly Planning Agenda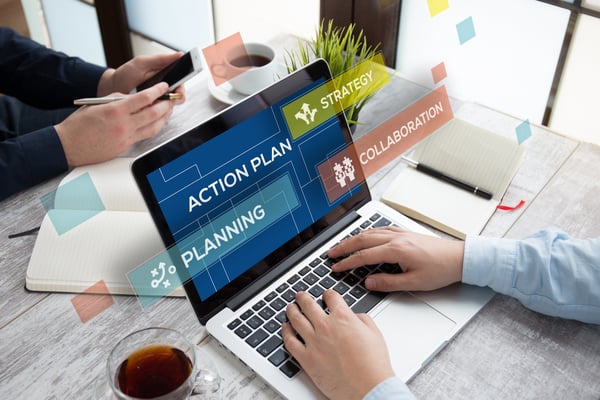 The purpose of your quarterly plan is to drive the annual plan and long-term strategy forward.
Decide how much time you need for this meeting (half day, full day, two days)
Decide how you want to deliver the information (in person, via teleconference, via email)
Gather the information you'll need to discuss and decide on your plan:

Sales
Production / Output
Quality Control (this can also cover positive and negative customer experiences)
Materials or Labor Costs
Customer Pipeline (new customers or new revenue streams)
In this step, you want to define the top discussions you need to have in planning. You also want to decide who will be the facilitator at this meeting. If your company has more than 50 employees, consider hiring an outside facilitator. This will leave you free to fully participate in the meetings with your team and also gives your team more space to bring in their ideas and suggestions.
We have a suggested quarterly planning agenda to help you get started.
Step 2: Audit and Adjust Your Manufacturing KPIs
Determine the KPIs that have the most impact for your business and industry and then see how those KPIs are performing against goal. Look at everything from the supply chain to the point of sale to the customer. Don't measure everything that moves, measure what matters. If your manufacturing KPI dashboard has more than 7-12 KPIs, you need to perform a KPI audit to ensure that you get to the essential metrics that drive your business.
Some Manufacturing KPI Examples:
Unscheduled Downtime
Quality
Production/output
Labor cost
Delivery performance
Material cost
Safety
Reject/scrap
Equipment utilization
For more examples, see 25 KPI Examples for Manufacturing Companies
Step 3: Create your Manufacturing OKRs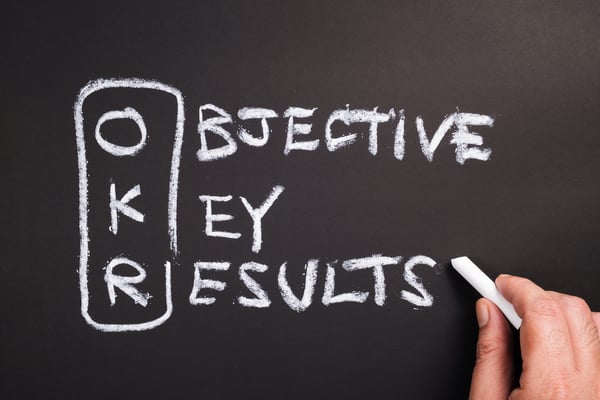 Now that you know the numbers that you need to move, you now can set up your OKRs to help align and focus your team. These are sometimes called quarterly priorities and are the projects that you need to undertake over the next 90 days to get you towards your goals. All teams and individuals need to know specifically what they need to do to help the company hit its goals, setting clear and measurable OKRs is the way to do that.
Begin by setting an objective, you define the qualitative description of what you want to achieve. The objective should be short and inspirational to the teams. Next, you need to determine the key results or the measurable portion of the OKR. If you can't measure it you can't don't have a goal - you only have a promising idea. Create visual dashboards so that you can track progress during the quarter and adjust as needed. The best quarterly plans have clearly defined goals, you can learn how to write goals in this popular blog post. OKR supply chain goals are also a highly effective way to improve just-in-time delivery.
Step 4: Involve Key Stakeholders in Your Quarterly Plan
This should go beyond just your executive team. Engage the front-line staff or team leads. Their feedback can provide some valuable insights from the day-to-day experience. This is your team that will help you identify the top priorities through discussion and debate. This is also the team that needs to be 100% on board with your plan so that it gets communicated to all employees and teams effectively and with a consistent message. National manufacturing and global manufacturing firms also need to make sure that they think about how to align across the entire organization. Often shared resources might be constrained when another stakeholder might not have been made aware of the undertaking.
Step 5: Continued Communication and Cascade the Plan
Once the quarterly plans have been decided, facilitated and are being rolled out to the teams, communication doesn't stop there. As in any business, open lines of communication are critical to ensuring that problems get addressed, new ideas have a place to be heard, and employees are engaged and plugged in throughout the entire process and understand the big picture across the organization. Continued communication is vital for building a culture of accountability.
Advanced manufacturing companies set ambitious goals, however, to achieve them they need to make adjustments throughout the quarter based on the latest information. In order to achieve this, take time during each weekly meeting and/or monthly meeting to update the team on the progress of the quarterly or annual plans and also do an accountability check for teams on their directives for the quarter. The weekly meeting is a fantastic opportunity to work out solutions, break through barriers, and move agendas forward. As you approach the end of the quarter, you should have a clear picture on where you are with your quarterly plan and if something isn't coming to fruition, it won't be a surprise as you'll have covered it during your weekly team meetings.
Strategic planning on an annual and quarterly basis takes commitment and discipline and should be a living and breathing plan throughout the year. Take some time each week or month to review your dashboards, your KPIs, measurable results on your OKRs and your business goals so you can make informed decisions throughout the business year and get to achieving your BHAG - Big Hairy Audacious Goal.
Looking for some additional OKR examples to help get you started?
OKR vs KPI: What's the Difference Between OKRs and KPIs and Why You Need Both?
OKR Spreadsheets: Why You Should Upgrade Your OKR Software Game
OKR vs KPI vs MBO: What the Best Goal Types Have in Common
Using OKRs for Your Weekly Team Meeting
OKR Video: How to Get Started with OKRs and the Best OKR Software
Using Red Yellow Green Performance Indicators Examples That Are SMART
OKR Goal Setting Steps: 5 Keys to Drive Better Results
SMART Goal Setting Theory: To Create SMART Goals, Start With "Why"
Rhythm Systems Quarterly Planning Resource Center
Photo Credit: iStock by Getty Images
Photo Credit: iStock by Getty Images