In working with hundreds of mid-market CEOs as a consultant at Rhythm Systems, I often get asked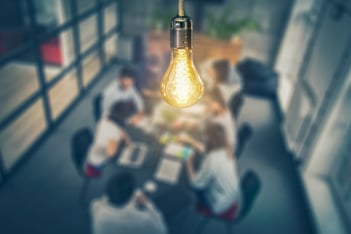 about KPIs (Key Performance Indicators) and OKRs (Objectives and Key Results). As a data nerd, I love having these discussions and helping our clients rank the top in their industry. Often, I find they are really asking, "How can I fix my weekly staff meeting to have a data-driven discussion that helps me exceed my goals?" It doesn't really matter what KPIs and OKRs you are measuring if you don't use them to drive the right discussions each and every week to make the adjustments in real time as needed.
Use OKRs and KPIs in Your Weekly Team Meeting
Mid-sized companies have a unique advantage as they can be more nimble and execute more quickly than their larger competitors. To fully leverage that advantage, you need to work on uncovering problems as quickly as possible - and then leveraging your agile staff to execute the adjustments more quickly to outmaneuver the competition to address the market opportunity.
Installing an OKR and KPI dashboard is easy: all you need is some OKR Software and a set of examples. You already have a set of OKRs that you measure. If you don't have a list currently or are just trying to get your metrics started, we have several blog posts that can get you started. Our most popular blogs cover KPIs and metrics that matter. Most software platforms can only handle one or the other, and Rhythm has a full suite to manage goals, KPIs, strategy, and help implementing OKRs.
Our top 5 most popular KPI example blog posts are:
25 KPI Examples For Manufacturing Companies
21 Production KPI Examples to Improve Manufacturing Performance
Key Performance Indicators for Employees
33 KPI Examples to Measure Productivity
40 KPI Examples for the Service Industry
Use OKRs and KPIs to Drive Team Action and Team Accountability
Now that you have a list of KPIs let's talk about the more important part - what to do with the data. The best practice is to measure these KPIs as often as possible, weekly, if you can get your hands on it. This allows you to make minor course corrections while executing your quarterly plan, rather than making a major adjustment if you are only measuring monthly. At every weekly team meeting, discuss the KPIs and make decisions based on the data. Too often, we rely on stories (often thinly veiled excuses) about what is going on with your team or your organization when we need to rely on cold hard data. The data will help you probe for the problem and alert you to the issue so the people can solve the problem.
The numbers don't tell the story, but they can help you dig deep to find the story behind the number. The actual process that isn't working so the entire team can get together and solve the problem to ensure that you achieve your key results. If you are off track, you can make minor course corrections on a weekly basis rather than major adjustments as you get to the end of the quarter or even the end of the year! If you're stuck, you can use our Breakthrough to Green problem-solving tool to get your team unstuck. If you need a breakdown of OKRs vs KPIs, we've also got you covered.
Happy Adjusting!
Looking for some additional OKR examples to help get you started?
OKR vs KPI: What's the Difference Between OKRs and KPIs and Why You Need Both?
OKR Spreadsheets: Why You Should Upgrade Your OKR Software Game
OKR vs KPI vs MBO: What the Best Goal Types Have in Common
Using OKRs for Your Weekly Team Meeting
OKR Video: How to Get Started with OKRs and the Best OKR Software
OKR Examples for Manufacturing: Measure What Matters for the Quarter
Using Red Yellow Green Performance Indicators Examples That Are SMART
OKR Goal Setting Steps: 5 Keys to Drive Better Results
SMART Goal Setting Theory: To Create SMART Goals, Start With "Why"
Photo Credit: iStock by Getty Images
Photo Credit: iStock by Getty Images