Depending on which study you read, somewhere between 50-90% of acquisitions fail to meet their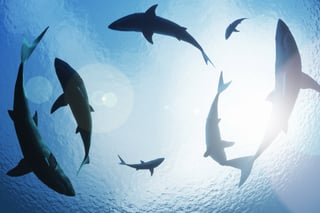 objectives. According to Bain & Company, "many acquirers - perhaps most - leave huge amounts of value on the table in every deal." They fail to successfully integrate the acquisition in three main areas: missed targets, loss of key people, and poor performance in the base business.
Failure to successfully integrate the deal you just spent months negotiating can impact more than your bottom line; the productivity, retention, and engagement costs can be significant to your company as well.
Here are 5 Integration Mistakes that Could Sink Your Acquisition:
Lack of Communication - According to Workforce, "This is a stressful time and people often need to receive information several times and by several different means before they truly 'hear' it." Over-communicating with employees during an acquisition is better than under-communicating.
Failure to Set Expectations - People can't focus on the work until they know, "What about me?" If people know where they stand, they can get back to performing at their best. You need to have expectations meetings with your leaders, and you need to provide role and goal clarity through Job Scorecards and clear KPIs for all employees.
Inability to Tame Cultural Chaos - Integrating cultures is a huge challenge, but also a key to success. According to McKinsey, "If not properly addressed, challenges in cultural integration can and often do lead to frustration among employees, reducing productivity and increasing the risk that key talent will depart, hampering the success of the integration." Unify under the same name, and bring your Core Purpose and Core Values to life. Culture is not just theoretical; according to Bain & Company, "executives from the CEO on down ... need to manage the culture actively."
Forgetting the Customer - There are a lot of people to consider when integrating an acquisition - you may have shareholders, leaders in both companies, and employees to consider, but don't neglect the person who ultimately pays your bills, your customer. Bain & Company advises, "Take particular care to make customer needs a priority and to bundle customer and stakeholder communications, especially when systems change and customers may be confused about who to deal with."
Neglecting the Core Business - Don't lose sight of what made both companies successful to begin with in attempting to integrate the newly acquired company. According to Bain & Company, "if management allows itself and the organization to get distracted, the base business of both companies will suffer. If everybody's trying to manage both the ongoing business and the integration, nobody will do either job well." Keep focused on your Leading Indicators to monitor whether your existing business is staying on track.

Managing the change involved with your exciting new acquisition can be very challenging for even the best leaders at the best companies. There's a lot riding on your ability to successfully bring the two entities together; the new acquisition needs to achieve your goals to create growth in revenue, cost savings, efficiencies or strategic value (such as intellectual property, new product lines, access to new markets, talent, etc.)
For the last 10 years, Rhythm Systems has worked with top mid-market companies to provide a straightforward system to help them manage high-stakes, complex strategic priorities, including successfully integrating acquisitions. We've worked with clients who have achieved amazing results using Rhythm as the predictable system and approach to drive expected outcomes. Having a common terminology, system, and process to get everyone on the same page and aligned to create a successful team for the future can help you to avoid the mistakes outlined above and get the maximum value out of your newly acquired company.
Culture is Key to Breakthrough Execution with Mergers and Acquisitions
The Right KPIs to Prevent M&A Failure - Rhythm Systems
How to Acquire a Business Without the Drama
5 Steps to Integrate Your Culture After a Business Acquisition
3 Ways Top Middle Market Executives Make the Most of M&A
5 Integration Mistakes that Could Sink Your Business Acquisition
4 Ways to Prepare Your Employees for a Merger
Photo Credit: iStock by Getty Images
Photo Credit: iStock by Getty Images