You just completed an acquisition in business, time to celebrate and break out the champagne. For some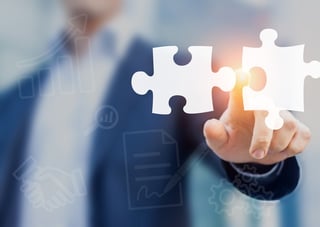 companies, acquiring businesses is their top growth strategy. Unfortunately for most companies, acquisitions fail to meet their objectives in the first year if at all. This can also be one of the most difficult ways to grow your business. That said, failure is not imminent if you do the right things to make the acquisition a success. One of these things is to focus on integrating the culture of the new company with the mothership. It sounds easy and straightforward, although integrating cultures is one of the biggest challenges and failure points after an acquisition. It takes a lot of time and effort to do it right. This is one reason that you should do your best to acquire companies that have good alignment with your Core Purpose and Core Values already to make the merger integration of the target company happen more smoothly.
Unfortunately, 50-90% of acquisitions fail to meet their objectives depending on which study you read.
Integrating a merger is more than going over the financial statements with a fine toothed comb in your due diligence period. There needs to be a people process as part of your integration plan, that needs to be more than just human resources department involved. The integration team should consider key employees from each department to be part of the steering committee to get people to know each other.
The failure rate is similar for large companies and small businesses, the key is to getting the culture right. Just because you have a board of directors, doesn't mean that you'll get everything right. Here are 5 steps to help you integrate the culture of your newly acquired company to avoid cultural chaos and succeed:
1. One Name – One Company
It sounds simple, right? But this is a step that is often overlooked. It is very difficult to change cultures, so we need to start on this day one. Unifying with the same name helps. It is very important to make the acquisition feel like part of the family and to act like one family. You need to eliminate the legacy culture by integrating the two companies early on to create organizational alignment. In order to integrate the acquisition, you need to make sure that you join teams under one name. The larger company can often choose the name, but if one of them is a high growth company with increasing cash flow it might make sense to use that name, or to merge them together. Whatever name you choose, make sure that it is a unifying force.
2. Integrate Cultures by Bringing Your Core Purpose and Core Values to Life
Hopefully, you shared these strategic elements of your culture on job scorecard when you planned for who was going to do what after the acquisition.
Now, we need to take it to the next level. Share them at your quarterly planning meetings. Cite examples of people who are living them or exemplify them. Have managers bring them to life with employees on a daily basis. Encourage team members to share stories and legends that showcase your values. Call out examples of Core Values being lived as they happen. This provides the north star for the culture of a company after the acquisition. Mergers and acquisitions (M&A) are tough times for the employees and team members as it is a very stressful time with many moving parts.
3. Don't Disappear
You and your team were most likely very visible during the acquisition. Make sure key leaders are still present and accessible once the deal is done. Be there to begin shaping the culture and integrating it. Eliminate fears, and answer questions while being as transparent as possible. One of your goals is to build trust early on so that your new team is ready to accomplish your 90-day and first-year goals. Be present and available. You can do this with town halls or use the power of video to connect to other locations. Share when team members are traveling to acquired companies so that new members know when they will have the opportunity communicate with leaders in person on a day to day basis. Just because the purchase agreements have been signed doesn't mean that your job is over.
4. Don't Forget to Celebrate and Get on the Same Cadence with All of the Locations
AvidXchange, one of our clients who has successfully integrated several acquisitions, realized that for their annual Summer Celebration, one of their acquired companies was having their celebration at a different time. Do it together as one, so you can begin acting as one company. I encourage you to celebrate on a quarterly basis to recognize wins and progress. A year is too long to wait. People need something to look forward to and need positive recognition. Try using quarterly themes to unify people and their efforts to create short-term wins. These informal celebrations also give people a chance to get to know one another better in a relaxed informal setting. You may have heard the saying, people that play together, stay together.
5. Check in Every 90 Days
Time to review the onboarding plan you created on day 1. Jay, the head of corporate development for AvidXchange, said this is one of his minor majors to keep key players going in the right direction. Doing this helped them achieve zero turnover for the first two years following one of their larger acquisitions. Determine what, if any, adjustments need to be made and update the plans. Review the job scorecards you created to make sure they are accurate, and individuals are using them as a roadmap for personal success. Review how team members are doing on their personal path of progress and provide words of encouragement.
You may have other tips to integrate cultures with your M&A integration. If so, please share them with our readers, and good luck with your growth plans this year. Feel free to read our chapter on mergers and acquisitions M&A from our best selling book, Predictable Results, below.
Culture is Key to Breakthrough Execution with Mergers and Acquisitions
The Right KPIs to Prevent M&A Failure - Rhythm Systems
How to Acquire a Business Without the Drama - Rhythm Systems
5 Steps to Integrate Your Culture After a Business Acquisition
3 Ways Top Middle Market Executives Make the Most of M&A
5 Integration Mistakes that Could Sink Your Business Acquisition
4 Ways to Prepare Your Employees for a Merger
Photo Credit: iStock by Getty Images
Photo Credit: iStock by Getty Images