It's happened to all of us. We start a new project or set a new goal with the best intentions.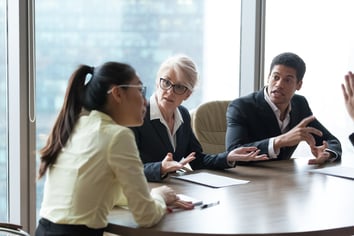 Everyone's excited to get started working, the team has visualized success, we're all pumped. Then, seemingly out of nowhere, deadlines are missed, numbers aren't hit and you've got two departmental leaders not speaking to each other.
Unfortunately, it can happen to the best of teams. And, once the dust settles, it's important to pause and reflect on where things went wrong. CEOs and leaders who ask these 5 questions of themselves first (and then of their teams) are more likely to avoid future failures.
Did I do my best to establish a Common Purpose? Did everyone involved understand WHY this project was important, how it connected to our overall strategy, etc.?
Did I do my best to set Clear Expectations together as a team? Did everyone involved know the specific desired outcome we were trying to achieve? Did we define success and failure together as a team?
Did I do my best to Communicate & Align everyone on how we were going to achieve success? Was there a clear execution plan? Did I ensure it was shared and understood?
Did I do my best to Coach & Collaborate with the team to make adjustments to the plan along the way? Did we monitor progress on the plan and work together to get the plan back on track when needed?
Did I do my best to make results and Consequences visible? Did we take time to assess the results and learn from our mistakes and celebrate our victories?
Each of these questions represents an important step for any new project, priority or goal. This might help you assess where things broke down for you and your team:
As a CEO or team leader, asking the 5 questions of yourself first can be incredibly powerful in your own leadership development. For example, you might think it's all your team's fault until you reflect and determine you didn't do a good job of establishing a Common Purpose.
In that case, it's important to be transparent, open and vulnerable with your team. If you didn't set your team up for success, talk about that openly with them and vow to do better. Modeling accountability as a leader is just as important as expecting it from your team.
Want more information on Team Accountability? Check out these additional resources:
The Power of Systems and People: Accountable Leaders and Teams leadership development program to improve team performance.
Take Our Team Accountability Assessment to see how your team stacks up.
Why You Need a Peak Performance Plan for Your A-Players
Accountability Definition in Management
Team Accountability Begins with Personal Accountability
How top CEOs Close the Strategy Execution Gap
Photo Credit: iStock by Getty Images
Photo Credit: iStock by Getty Images