The greatest athletes and business leaders in the world have coaches. No matter how good you are,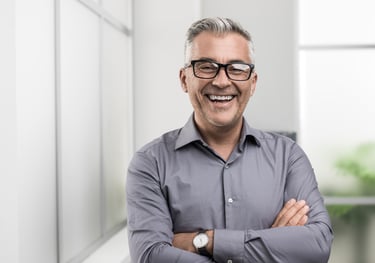 and you are probably really good, there is always an opportunity to grow personally and professionally if you have the desire to do so. So, let's take a look at 5 signs that might signal it's time for you to act.
1. You want to grow personally and professionally.
"Demand more from yourself than anyone else could ever expect." Tony Robbins
As I stated in the opening, you are ready to grow. You may want to take your career to the next level and need some insights into what is holding you back or help developing the roadmap to improve your skills and interpersonal relationships to get ready for the next position. You may also want to grow personally. A coach can help you improve your interactions with others and work-life balance. Is your significant other saying you work too much? Maybe you do and it's time to do something about it. Learn more about coaching ROI to see how quickly it can pay off for you.
2. You need a sounding board that is safe and neutral.
You have probably heard the saying "it's lonely at the top." The higher you rise in the organization, the more isolated you can begin to feel. There may be things you are working on in the business that are sensitive and can only be shared with a few people in your organization if anyone at all. A coach can be a safe, unbiased resource to use as a sounding board and for advice. A coach should not tell you what to do but can share patterns they have experienced to help you make better decisions and come to better conclusions.
3. You need someone to help hold you accountable.
"It's not whether you get knocked down, it's whether you get up." Vince Lombardi
This is nothing to feel embarrassed about or ashamed of. I work with a lot of great leaders that need a little extra help on the accountability front. Knowing that you are going to be asked about the things you committed to working on weekly is very motivating. No one wants to show up and share that nothing has moved forward. This also helps to build long term habits of being selective about what you commit to and to ensure you follow through and accomplish them. If things are getting in your way, you can develop strategies together to remove barriers.
4. You want to Become More Self Aware and Better at Reflection.
Some leaders are like steam rollers or a bull in a china closet. Are you one? It doesn't make you a bad person; you just may not be aware how you are coming across. I have been called out on this by one of my coaches in the past; I was told I can overwhelm people and sometimes my standards may just be a little too high and unrealistic. Knowing thyself and improving your emotional intelligence will go a long way to improving your leadership and people skills. Remember, people work best for people they like and respect. Also, take time to reflect on a daily and weekly basis. Sharing these reflections with your coach holds you accountable to work on items you want to improve.
5. You want to Grow as a Leader and Help Others Around You Grow.
"Executives and HR managers know coaching is the most potent tool for inducing positive personal change, ensuring better-than-average odds of success and making the change stick for the long term." The Ivy Business Journal
Great leaders are responsible for driving growth and in order to continue to grow, it is imperative that you spend time coaching and growing the people that work with and around you. The percentages are all over the board and range from 20 -80%, but regardless of which number you buy into, a big part of your job is to coach others and help them realize their full potential. A good coach can help you do this, and as a matter of association, you will learn the skills and approach they are using with you. They can also help you find positive approaches to dealing with difficult direct reports.
Good luck taking yourself to the next level and please let me know your thoughts.
Yours in growth, Alan
If you enjoyed this post, here are some others you may like:
How CEOs Grow Accountable Leaders & Teams [Video]
A Leader's Template: 6 Questions to Ask in Your Next One-on-One Meeting
5 Insights You'll Learn from Executive Coaching
Employee KPI Examples: How to Measure What You Want to Move
Leadership Accountability: The Five C's of Team Accountability
Strategic vs. Tactical Leaders: Which Are You? [Video]
11 Books Every CEO Should Read
Daily Routines of Successful CEOs [Infographic]
4 Easy Steps to Fix Your Weekly Staff Meetings [Video]
Photo Credits: iStock by Getty Images
Photo Credit: iStock by Getty Images