If you're from southeastern USA, you know full well how delicious a hot Krispy Kreme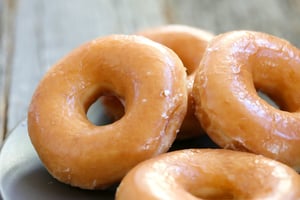 doughnut can be. The anticipation of that sweet savory melting-in-your-mouth moment is something to look forward to.
Recently, while enjoying a long weekend in Boone, NC, my wife realized she had received a coupon from RetailMeNot, an online coupon company from Austin, TX. The coupon was for a free lemon-glazed Krispy Kreme doughnut. I was intrigued. I had never considered a lemon-glazed doughnut, but it sounded like it might be good. Besides, I might get lucky and find the "Hot Doughnuts" sign lit. So off we went. As we approached, "Eureka!" I thought to myself, the "hot doughnuts" sign was lit! This guarantees a great experience just like I remembered.
My wife and I placed our order at the drive-through, one dozen glazed (you can never have enough HOT doughnuts) and one single lemon-glazed doughnut. While placing the order, I shared that I had a coupon for the lemon-glazed doughnut. At the checkout window, I was disappointed when told that they don't accept the coupon I presented. The employee further explained this was a company store not a franchise, and they didn't really take any coupons. I suggested it would have been nice to know while I was placing the order and mentioned the coupon. As we drove off, I began to eat the hot dozen, but soon realized that the savory sweet doughnuts did not offset my distaste of my denied coupon.
I reach for my phone and dialed 1-800-4-KRISPY. Once the service representative answered, I explained the above details. From there, our conversation went like this:
Service rep, "We don't accept 3rd party coupons."
Me, "Do any of your franchisees accept the coupon?"
Service rep, "No. It's an unauthorized coupon."
Me, "Well, it looks like an offer from Krispy Kreme with your corporate font/spelling, so you're telling me it's not accepted at any store whether corporate or franchise?"
Service rep, "If you've got a complaint, you'll need to take it to RetailMeNot."
Me, "It looks like a legit coupon, does Krispy Kreme have any concerns about that representation of your brand? I made a special trip due to that coupon, bought a dozen doughnuts in addition and thought that I was getting doughnut #13, the lemon-glazed one, as a gift. It feels like a reflection on your company and your marketing."
Service rep, "We didn't distribute that coupon. You'll have to call the coupon company."
I was sad. As I hung up the phone, I realized that my disappointment had turned to anger, and what may have been a complaint against RetailMeNot had, in my mind, become a problem with Krispy Kreme. On this one call, a single "customer service representative" had, through their lack of empathy or apology, negated a childhood of hot, mouth-watering memories. All the corporate effort to plan, expand, and staff growth year over year, all the media marketing investment ever made, all the goodwill they previously built with me, had been erased.
What about you? My experience with mid-market companies world-wide has proven over and over again that executives assume, but don't verify, that their team members represent well. Each executive assumes that their team members handle customers in a way that aligns with corporate values, demonstrates customer care and respect (even when they cannot honor the request), and speak with the empathy demanded in today's marketplace. Don't make the mistake of assuming.
Your policies, scripts, playbooks and training are not enough. You can trust, but you must verify. Each member of your executive team should be making anonymous phone calls, e-mails, or text requests to test your customer-facing team. If your revenues can justify, you can hire outside firms to assist. And yes, you can have a system that records the calls for you (but if you do, how often have you personally checked or reviewed recordings?). Your solution can be as simple as borrowing your son or daughter's cell phone to make the call yourself from an unknown number. It might be a call made by your brother or sister where you can listen in. I always recommend the simple and fast approach so adjustments can be made quickly. Besides, it never hurts for your team to know that any inbound communication could be a senior executive. That may be just enough leadership accountability to keep them focused on the right customer relationship.
Verify that team members are serving your customers in alignment with your core values, marketing, and sales efforts. It's easier and less expensive to keep good customers once they are onboard. In fact, a reduction of customer churn can fuel an increase in revenue. Fail to do this and you'll find yourself working too hard for too little. And yes, I'm gonna miss Krispy Kreme.
Want more information on Team Accountability? Check out these additional resources:
Team Accountability Begins with Personal Accountability
Building Team Accountability: Job Scorecards
10 Signs of an Accountable Culture [Infographic]
Growing Accountability in Your Organization
Quick Tips for Building Accountability
5 Steps to Having an Accountability Discussion [Video]
Learn more about accountable leaders and teams.
Photo Credit: iStock by Getty Images
Photo Credit: iStock by Getty Images