By now, most of us are familiar with Verne Harnish's book, Mastering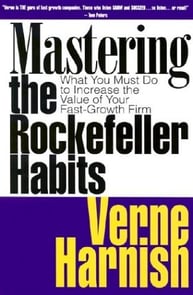 the Rockefeller Habits: What You Must Do To Increase the Value of Your Growing Firm. And, synonymous with the book is the Rockefeller Habits One Page Strategic Plan. There are so many great concepts and solid theory captured in this material, all boiled down to simple, actionable stepsthat each of us can apply in our businesses. But it's all so good, you may be wondering where in the world to start Mastering the Rockefeller Habits.
There are four key areas of the business that you must get right to be successful: People, Strategy, Execution and Cash. A quick scan of each of these areas will offer you a hint at the best place for you to start.
People: Are you happy? Do you still enjoy going to work every day? Is your executive team thriving? Are your employees getting smarter every day? Do you have a culture where team members are accountable? If the answer to any of these questions is "no," then you should start with People. Here are a few things you'll want to work on in this category:
Core Values identified and alive

Key seats identified

"A-players" in every seat

Clearly defined roles and responsibilities
Strategy: Are you growing? Is your top line revenue where you want it to be? Have you identified a few moves that could double your business? Is it easy to know when to say yes and when to say no to an opportunity? Is there anything that sets you apart in the market? If the answer to any of these questions is "no," then you need to work on your strategy. In this category, you'll focus on:
Execution: How's your bottom line? Are you making money? Are you or any of your people putting in 60+ hours every week? Are you constantly putting out fires? Are your people wasting time or money? If you're unsatisfied with your answers to these questions, you might want to start with Execution. Here you'll work on:
Cash: Can you breathe? Can you take advantage of opportunities in the market? Do you have options? Are you getting enough oxygen? Are you worried and distracted because of cash? If so, then let's start here by working on:
Shortening your Cash Conversion Cycle time

Eliminating mistakes in delivery and billing

Improving your business model

Increasing your cash runway
Knowing where to start is essential, but you must commit to revisiting each of these 4 Decisions time after time and creating a healthy rhythm of thinking, planning, and doing to improve each continuously. Then, you'll be well on your way to Mastering the Rockefeller Habits with Rhythm Software.
Looking for more help implementing the Rockefeller Habits? Check out our additional resources:
The Daily Huddle: A Key Component in Mastering the Rockefeller Habits
Power the Rockefeller Habits with Software
4 Tips to Mastering the Rockefeller Habits and Your One-Page Strategic Plan
Mastering the Rockefeller Habits' One Page Strategic Plan (OPSP)
Build a Healthy Foundation by Mastering the Rockefeller Habits: 4 Key Decisions