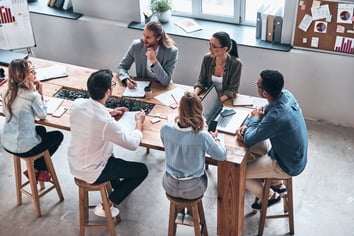 One of the most important components of the Rhythm Systems, the Think-Plan-Do methodology is to implement a planning rhythm that includes the next level of management. Taking Think-Plan-Do to operational teams creates alignment to the company plan and helps each team get focused on the next 90 days. But, how can that help teams that need to work together? How do you get two different operational teams to work together, not only in a positive way, but in a way that produces maximum impact on results and creates synergy between teams?
How to create synergy between teams:

Proximity can be worth a thousand meetings. One of the companies physically moved the purchasing team and the sales teams to sit right alongside each other. The desired outcome was to increase gross margin. The purchasing team bought the products that the sales team was to sell. Hearing each other on the phone, celebrating "big deals" across the aisles and gaining a better understanding of how each other works has helped this team completely turn around gross margin in one quarter!
Set goals as a group. As Jim Collins says, "Begin with the end in mind." In the example above, both teams should be aligned around common Red Yellow Green success criteria. What's success? What's failure? Both teams should have input and discuss, debate, agree.
Visibility is a motivator. Another company was suffering from dysfunctional communication between the sales and implementation teams. As a result, there was a huge implementation backlog and customer happiness was starting to suffer. The CEO installed large TV screens in both the sales and implementation areas of the office. Everyday the screen would display a few daily KPIs: Number of sales, number of days from sales to full implementation, number of implementations completed and customer survey results. The implementation team knew that they had to complete 3x implementations compared to number of sales per day to clear their backlog. The sales team knew exactly how many days to quote clients regarding their implementation. As a result of setting proper expectations, customer survey results began to improve.
Celebration is a team sport. In the example above, the person who made the sale or completed the implementation added it to the tally on the shared screen. They rang a bell, said a woo-hoo and kept it positive. At the end of the quarter when goals were met, there was a celebration including both teams. Sometimes there were spontaneous celebrations along the way: "Whoever gets the highest customer survey result this week gets dinner and a movie on us!
"Use Rhythm as a communication accelerator. One of the most powerful things about using Rhythm Strategy Execution software with operational teams is the amount of visibility it gives to the CEO and executive team. Teams should maximize this visibility as well. If two departments need to work closely, they should spend 5-10 minutes looking at each other's EnergyMaps at their Weekly Meetings. In the example above, the Purchasing Team should spend 10 minutes at the end of their Weekly Meeting taking a quick, high-level peek at the Sales Team's EnergyMap in Rhythm.
We would love for you to share other creative ideas for breaking down barriers and improving communication and collaboration cross functionally between departments. What have you done that has worked to create synergy between teams?
Departmental Silos: The Silent Killer (White Paper)
How to Improve Cross Departmental Processes that Impact Multiple Teams
4 Steps to Bust Team Silos & Encourage Collaboration
Creating Synergy Between Departments and Teams
5 Telltale Signs of Trouble and How to Prevent Departmental Silos
Departmental Silos Can Sneak Up on You: Get Your Teams Aligned
Silos Can Sneak Up On You: Get Your Departments Aligned
Aligning Business Units and Killing Silos
Download Free White Paper on How Mid-Market CEOs Confidently Execute Their Growth Strategies & Win
Photo Credit: iStock by Getty Images