"Having a great idea or being a charismatic visionary leader is 'time telling'; building a company that can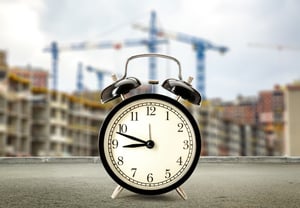 prosper far beyond the presence of any single leader and through multiple product life cycles is 'clock building'" (Built to Last, p. 23).
In their research for Built to Last, Jim Collins and Jerry Porras made a surprising discovery: the visionary companies they studied weren't a platform for a charismatic leader to make his or her mark or a vehicle to bring an amazing product to the world. It isn't about creating a product or a leader; the company itself was the ultimate creation, and the leaders and products were in the service of making the company great, not the other way around. Collins refers to this concept as Clock Building vs. Telling Time; it is building something that can endure over time rather than striking while the iron is hot only to have the business fizzle out as times change.
So what is the practical application of this shift in perspective? Collins points to the implications for how leaders spend their time; rather than getting into the details of specific products and market strategies, clock building leaders focus their think time on organizational design. Instead of getting bogged down in the day to day decisions of running the business, they keep their heads up and focus on aligning the company around the BHAG, Core Purpose, and Core Values, and become an "architect of leadership" - someone who builds great leaders around them, rather than only being a great leader himself or herself.
Here's how Rhythm can help you shift from telling time to building a clock:
Build a Cathedral: Help your employees recognize the impact their day to day work will have on the long-term success of the company. Remind people how their work is connected to Quarterly Priorities, Annual Key Initiatives, Winning Moves and the company's ultimate long-term vision. Rhythm software creates a platform where all of these elements can coexist and the connections between them are visible and compelling.
Focus on your BHAG: Use your compelling, visionary long term goal as your compass. Rhythm will help you keep your strategic direction top of mind for your team in planning sessions and as you are working through your 3-5 year plans which are the base camps on the way to achieving your BHAG.
Grow Leaders: Use your Monthly Meeting rhythm to communicate and educate the managers in your organization. This regular rhythm of learning and professional growth is a great place to start growing the future leaders of your business. To take it further, use our Performance Coaching tool to facilitate regular coaching sessions with leaders in your organization to work on specific goals to develop them into the leaders your company will need in the future as you continue to grow.
If you enjoyed this post, here are some others you may like:
How CEOs Grow Accountable Leaders & Teams [Video]
A Leader's Template: 6 Questions to Ask in Your Next One-on-One Meeting
5 Insights You'll Learn from Executive Coaching
Employee KPI Examples: How to Measure What You Want to Move
The Five C's of Team Accountability
Strategic vs. Tactical Leaders: Which Are You? [Video]
11 Books Every CEO Should Read
Daily Routines of Successful CEOs [Infographic]
4 Easy Steps to Fix Your Weekly Staff Meetings [Video]
Photo Credit: iStock by Getty Images
Editor's Note: This blog was originally published on April 6, 2015, and has been updated.
Photo Credit: iStock by Getty Images