We are proud to announce that Retail TouchPoints recently featured two of our long-time clients, Simms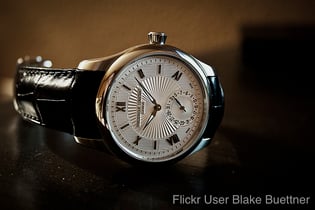 Fishing Products, and luxury watchmaker, Frederique Constant, in a report discussing the biggest challenge in the retail industry today: engaging employees. According to the 2013 State of the American Workplace report by Gallup, 70% of employees are not engaged.
This statistic continues to shock business owners and CEOs everyday. Whenever I ask the crowd at a speaking event or one of my clients if they think their employees are engaged, everyone in the room raises their hand. How can everyone be so misled? I suggest to my clients that they use Gallup's 12 Questions to Gauge Employee Engagement survey. Typically, after they take the survey they find their employees are less engaged than they thought.
So, how do our clients like Simms Fishing and Frederique Constant do it? In yesterday's blog we discussed how Simms Fishing focuses on having fewer priorities per quarter and connects the dots between strategy and the work being done to keep their employees engaged, but as a global company Frederique Constant faces different challenges.
Frederique Constant is an international luxury watch manufacturer headquartered in Geneva, Switzerland, with its executive team dispersed throughout Europe, Asia and the United States. They sell their watches through fine retailers all over the world. As a company, they face two main communication challenges: overcoming geographical barriers that limit real-time communication within their company and communicating to their retail customers through the independent retailers outside their company.
To maintain communication across all continents, the executive team connects weekly using Skype and Rhythm. Rhythm is used to collaborate on goals and KPIs while Skype lets them talk and see each other. Then later in the week, members of the executive team meet with their departments, which helps to connect the dots between the executive team and the departments. Then in those departments, they have set up sub-departments that also meet weekly. All these departments and sub-departments have goals stored in Rhythm. At a glance, anyone can see how everyone's goals help the company to achieve its plan for the quarter, and every priority makes a difference to execute well on their strategy.
What's really cool is that Frederique Constant's team is able to comment and collaborate on each other's specific priorities and KPIs, breaking down the geographical barriers that they have. What I learned and observed is that cross functional teams are collaborating and breaking down barriers and silos. At Frederique Constant, they are able to get people engaged and help each other solve problems across different geographies and timezones.
Frederique Constant also used Rhythm to help narrow the gap between the brand and the customer. Thousands of independent retailers all over the world sell their watches. They needed to give the independent retailers a reason to sell their watch over the other brands, so they focused on making their watches easier to sell by revamping the merchandising and educating the salespeople at each retailer. To do this, they needed to create merchandising standards and ensure that they were being implemented. They also needed to educate their employees on how to educate the independent dealers. Part of their process was to take photos of each display they updated with the new merchandize and log it into Rhythm. This helped to keep track of the retailers they've remerchandised and keep people accountable for maintaining the brand standards. It also allowed them to learn from each other and come up with best practices over time. The Frederique Constant sales team also had a certain number of training hours they needed to do per quarter in order to learn how to train the retailers, so they used Rhythm to track these hours which held employees accountable for keeping up with the training. The dashboards in Rhythm are public throughout the company, so you don't want to be the sales representative who is showing up "red" because you didn't complete your training hours.
The Red Yellow Green® success criteria allows companies and employees visualize what success looks like. Visualizing with clear success criteria allows the Frederique Constant team to discuss how to meet their goals before the quarter starts and allows them to work together to come up with different solutions to achieve their goals. Frederique Constant has a regular rhythm of "doing" to keep their people engaged by discussing weekly what's working and where adjustments need to be made. This process of weekly forecasting helps the team to keep the end goal at the forefront.
The Frederique Constant team stays engaged by having a rhythm of "doing," visualizing goals, and collaborating with comments within the context of each goal. As a direct effect of engaging their employees to focus on sales education and remerchandising, Frederique Constant grew by 26% in revenue from 2013 to 2014.
What's the price or loss of your team not being engaged? Is your company only 30% engaged? We can help. Give us a call.
Photo Credit: iStock by Getty Images