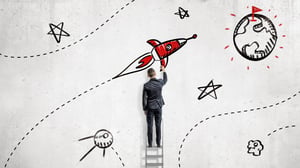 Ever feel stuck working on your BHAG? Like you just can't get the right words? You know that your BHAG is supposed to be measurable but also inspire the team; you know it should speak to the heart as well as the head. Maybe you've read our blogs or our BHAG Guide or checked out some of Jim Collins' resources. If you are still feeling stuck, we have a tool that can help you have the right discussions to get to your BHAG.
Before you get in too deep to this discussion with your team, it is important to clarify for yourself and for them what the process of determining your BHAG is… and isn't. This is an exercise to pick the right mountain to climb, not to create a perfect statement. Coming up with your BHAG is about going on the mission, not writing a mission statement; in other words, it is not a wordsmithing exercise. Your goal is to come up with your goal, not to write a beautiful sentence for your wall or website.
Determining your BHAG is not an event; it is not something that you'll figure out in one strategy session or one phone call with your consultant. It will be a process, a journey to figure it out. It takes time to get the right answer; you will need a Think Rhythm with your team to work on this. It took Starbucks nearly a year to figure out their BHAG, and Jim Collins himself was their coach!
Our BHAG Discussion Tool is designed to help you have the right discussions to work on your Hedgehog so that you can get to the best answer for your BHAG. The boxes on the left column of the tool should look familiar; these are the items in the Hedgehog concept. To the right of each box are some questions to prompt some dialogue with your team. These discussions will help you see how you bring your Hedgehog to life and whether you are really identifying the right strategic items for you company.
For your Core Purpose/passion, your team should be able to list examples of how you are living your Core Purpose as a company. How are you living out your passion? If the team has a hard time listing examples, you may not have hit the nail on the head for your passion. You may need to revisit your Core Purpose before you go further in the BHAG discovery process.
When you are thinking about what you could be best at in the world, consider the results you are already seeing. While you may not be best at this yet, you should be able to demonstrate your company's potential with some specific examples that are leading you to believe you can achieve this competency. This is a rich discussion to have with the team to help you stay realistic while also stretching your innovation muscles.
Many teams get stuck on their financial engine or Profit/x. Thinking through the kinds of decisions you would make if you were guided by this strategic metric can help you make sure you have thought this aspect of your Hedgehog through. To help you get unstuck, you can use "what if…" scenarios for Profit/x. What if it were Profit/customer interaction? How would that guide your decisions? Does that fit? What if it were Profit/location? Profit/product line? You can read a previous post for more examples to help you brainstorm.
For connecting all the dots from your Hedgehog to determine the right BHAG, try the envisioned future exercise. Imagine you are relaxing at your favorite vacation destination 10-20 years from now. Describe the success you've had that brought you to this point. What is your company known for? Are you on the cover of a publication? Which one? What's the headline? What amazing stuff are you reading about your company? This exercise is great to do with your whole team. Have everyone write a paragraph about your envisioned future and then read them out loud. Capture the vivid snippets that resonate, and look for patterns as you listen around the room. Use those to help you formulate the BHAG.
Note that this is not a tool you have to use in order. If you aren't sure about your Hedgehog, you can discuss the questions in the right column first. You can also skip around. If you get stuck at #3 (Profit/X), having the BHAG discussion first may actually help you back into the metrics. Once you have your BHAG, deciding how you will measure it may help you decide on a Profit/x. This is also an iterative process; your answer to the next question can help you re-think an answer to a previous question. Never feel like you can't go back and refine something that you've already discussed; that's the point of this process! The purpose of the tool is to shape a discussion that will help you get to the best answer in each circle in your Hedgehog and then help you triangulate that into a BHAG that is informed by your passion, how you make money, and what you can be best at in the world. Once you "complete" this exercise, you will probably still only have a draft of your BHAG; you'll want to put it through some tests and consider it carefully before rolling it out.
If you get stuck at any point in these strategic discussions with your team, consider bringing in a facilitator to help guide your discussions. Having someone else ask the right questions can take the pressure off your team so that you can truly let your creative juices flow and think deeply about the right long term strategic goal for your company. Remember that your BHAG anchors your 3-5 year plan, your annual plan, your quarterly plan, and your daily execution… it is important to take the time to get it right! Slow down and have these discussions with your team to get the best possible BHAG.
Photo Credit: iStock by Getty Images