KPIs (Key Performance Indicators) are key indicators used to measure the success or performance of a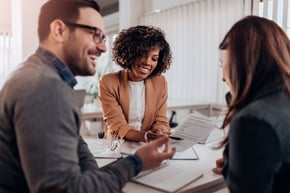 business and are most commonly used to measure sales, cash and products. In any business, client retention is just as important as sales, but so often I see my clients forgetting to measure it or measuring the wrong things. I've learned from making this same mistake in the past.
Back when I ran Metasys, an Inc. 500 Supply Chain software company, I had multiple KPIs to gauge client success and happiness. We were lucky to service many large manufacturing companies who always paid their bills on time. Then one day, I was completely thrown off when I noticed one of my favorite clients, a Fortune 500 retail-clothing icon, was 45 days late on a payment. It was a huge invoice and payroll was right around the corner, so I made the call. It turned out that we had made some mistakes on a few programs, and they were waiting for me to call to rectify the situation. I asked my customer why nobody called me. He chuckled and replied "Well, I figured that you'd call me when you wanted to get paid." That day I learned my clients are not responsible to pay me. Rather, I am responsible to deliver great service and products, so that they are motivated to pay me. Even your favorite client might choose to hold back payment until they are completely satisfied.
Today, I still use my accounts receivable as a leading indicator to measure client satisfaction. This may not be the right leading indicator for every company, since every business is different. This would only work as a leading indicator if your clients typically paid on time and did not play games with your invoice. This worked for us at Metasys because our clients were in the habit of paying our invoices regularly and on time. Therefore, it was a red flag if an invoice was past due. When this happened, the project manager would call the client to check in and make sure everything was going well without mentioning the invoice. Seven times out of 10 there was something that we needed to address or fix. They would be pleasantly surprised that we called and even ask us how we read their minds. We would share that these were customer care calls, fix the issues, then gently ask if there was anything holding up our invoice.
At Rhythm Systems, we use the following customer success KPIs to help us be proactive and retain clients:
The Net Promoter Score is a method developed by Fred Reicheld and explained in his book, The Ultimate Question. In a nutshell, it's based on a direct question and the scoring is on a 0-10 scale. At Rhythm Systems, after a client off-site session or consulting call, our Head of Consulting will send an email to the main contact with two questions asking them to answer on a 0-10 scale. We then track these scores with a composite KPI using the average to get our Net Promoter Score.
CHI – Client Health Index™
Our Client Health Index is a composite index based on a couple of key actions that your team needs to perform well, and a couple of responses you should expect from an engaged client. It is custom designed for each company, since each company is different and provides different services and value to their customers.
The right CHI allows you to focus on what matters most to your customer. You can track and monitor your clients' actions and responses and use them as leading indicators to know whether or not they are satisfied with your services, like my previous example, paying their bill on time.
There are additional customer success KPIs that might work for your company.
Order accuracy
Rework
Average time to resolution
Average reply time
Number of support tickets
First contact resolution rate
NPS (Net Promoter Score)
Top agents
Number of bugs reported
Meeting SLAs (service level agreements)
Number of client issues resolved
Call pickup time
Abandon rate
Customer retention rate
Support costs as a percentage of revenue
Having the right leading indicators, like our CHI, will allow you to take action and resolve the issue before it's too late. Track and test several KPIs to find out what works best for your business. If you're interested in having a Rhythm Consultant help you discover the right KPIs, give us a call.
See how Rhythm Systems Empowers Your KPIs to Drive Bottom Line Growth
2:35
1:03
Schedule a Personalized Demo
Looking for some additional Balanced Scorecard KPI Examples to help get you started?
Comprehensive List of 179 KPI Examples for Any Industry
4 Steps to Create a Leading Indicator KPI
21 Production KPI Examples to Improve Manufacturing Performance
27 KPI Examples for the Staffing Industry
How top CEOs Close the Strategy Execution Gap
5 Simple Steps to Create Useful KPIs (Video)
5 Tips to create, evaluate and use Key Performance Indicators (KPIs) to drive results in your business
33 KPI Examples to Measure Productivity & Prevent Organizational Drag
Employee KPI Examples: How to Measure What (or Who) You Want to Move (Video)
KPI Examples for Successful Sales Teams
Comprehensive Guide for KPI Evaluation
KPI: Customer Satisfaction how to Measure
Photo Credit: iStock by Getty Images